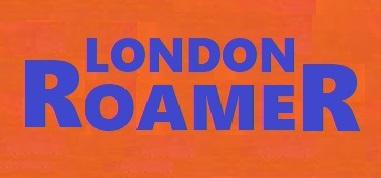 RAF HORNCHURCH AGAIN
23 April 2023
So a couple of days ago, since I was in the area, I decided to go for a walk in the park sited on the old RAF Hornchurch. I thought I'd pretty much walked all of this in recent years and had seen all the WW2 remnants there were to see, so imagine my surprise when I came across this sign, which I'm sure wasn;t there last time I visited: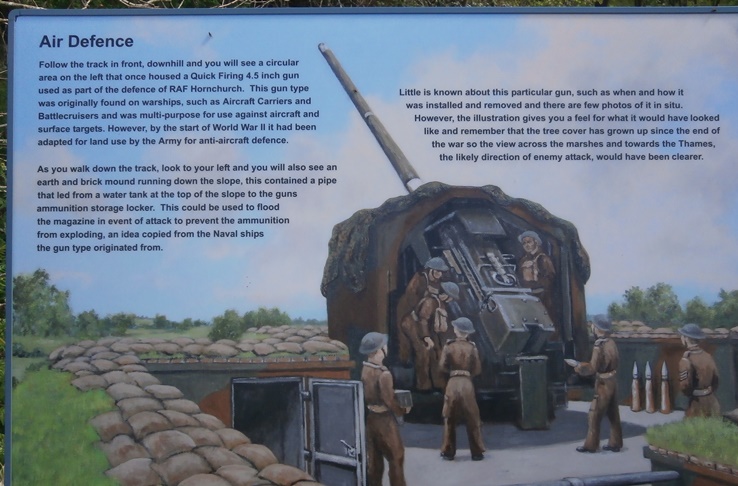 Naturally, I went down the path. I'd been down this before, I'm sure, but somehow I'd never noticed the site in question: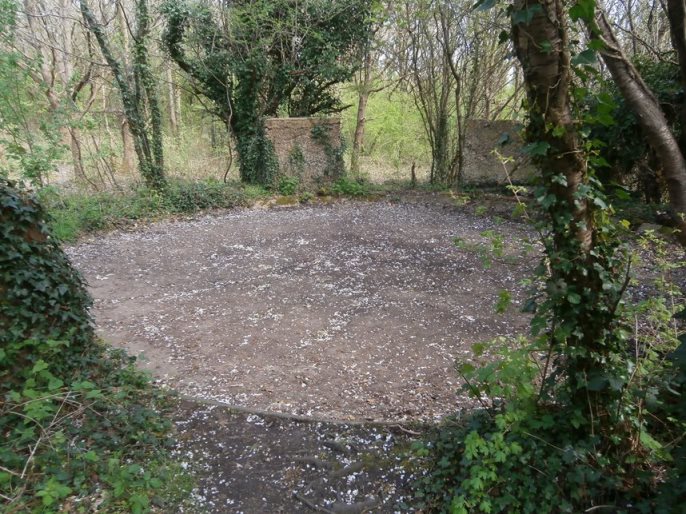 Looks almost like ancient neolithic remains...well, apart from being made of concrete: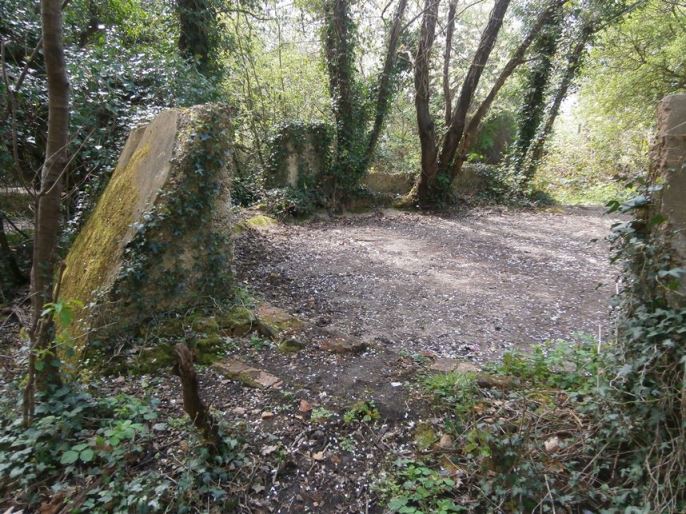 RONEO SCULPTURE REDUX
10 February 2023
I visited Romford on Wednesday and couldn't help noticing how much more visible the Roneo sculpture was. Clearly, when all the leaves are down is the right time to view it.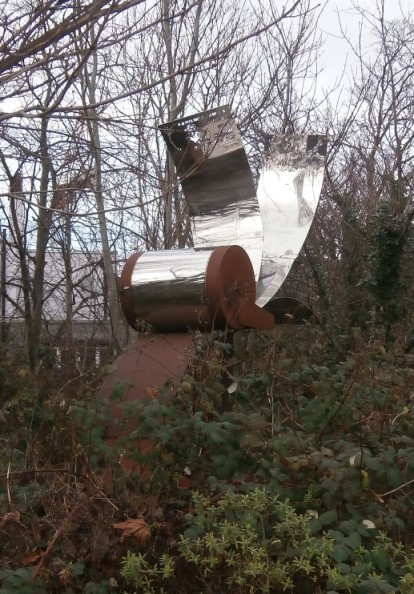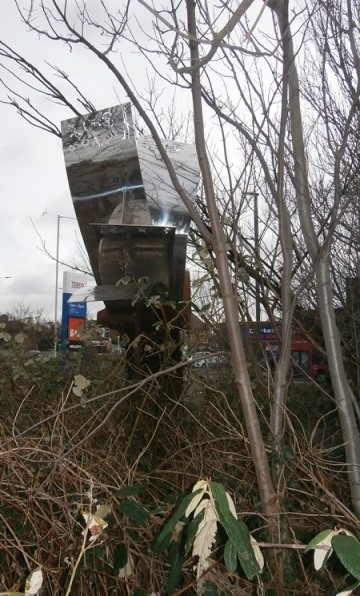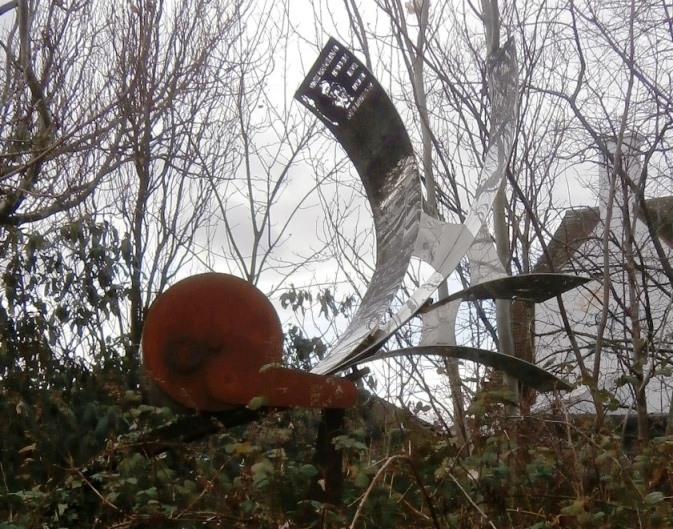 And speaking of Romford, could it secretly be the most Tolkienesque of TfL stations? What do I mean? Well, just look at the anagrams below. Yes, you have to drop the 'f' to get Mordor, but still....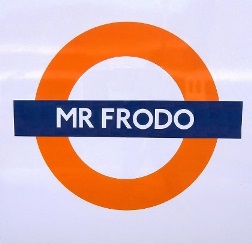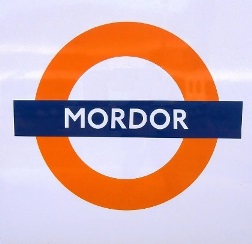 DISUSED PLATFORMS OF THE DISTRICT LINE
21 January 2023
It's been too cold recently for me to want to venture too far afield but I still need my exercise, so here's the result of an hour or two of local roaming I did yesterday.
Once upon a time much of what is now the East London section of the District Line was the London, Tilbury and Southend Railway - the initials of which can still be seen in wrought ironwork at East Ham and Upton Park stations. The wrought ironwork pictured below is at East Ham, as is what was once clearly a tearoom, or at least a kiosk that sold tea.
The modern C2C London, Tilbury and Southend line runs parallel to the current District Line but stops at fewer stations than the old LTSR did, resulting in disused platforms at those now non-stopping stations. Typically, these have what would otherwise be an island platform shared by westbound District and eastbound C2C trains, and a separate platform for westbound C2C trains. In the case of the former there will be a fence or screens separating the disused platform from the District Line, while the latter have just been abandoned and staircase access to them removed or, in one case, blocked off. That case is at East Ham, the only instance in which the staircase, while derelict, has survived. A room for electrical gear has been built between the top of the stairs and the street in the station building. As seen on the google streetview, five lines come into the station from the east. However, only four depart heading west. This is because line number 4 is a spur on which a train washing shed is located, just beyond the platforms.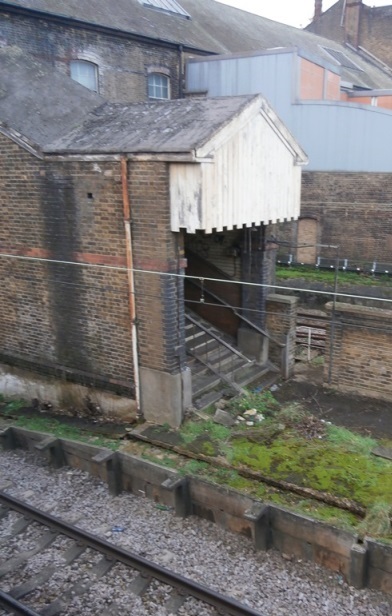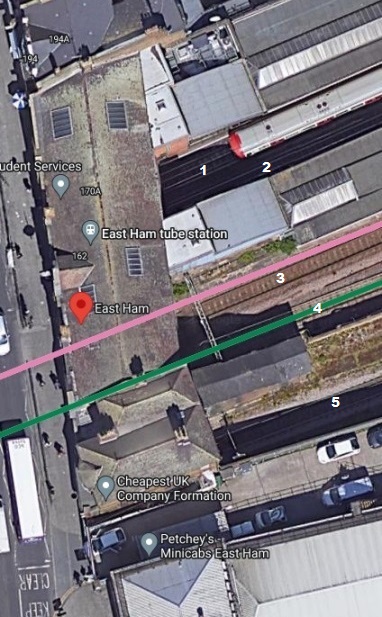 Contrast this with Upton Park where the stairs have long since been demolished but where they once were can still be seen quite clearly, both inside and outside.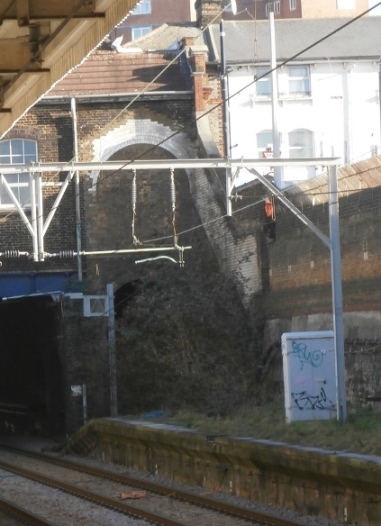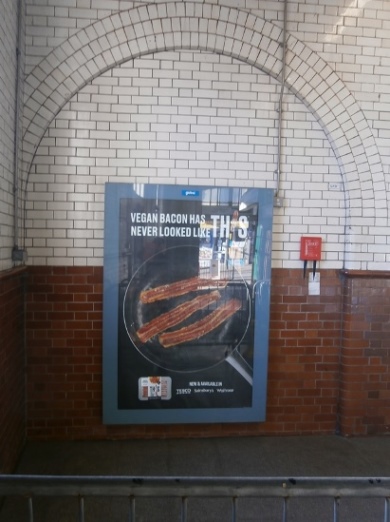 At Plaistow, the next station down the line, the place where the stairs would've been has been concealed behind a new wall outside and a ticket office/staff room inside. The internal photo of an existing stair still with its original features shows what this would've looked like.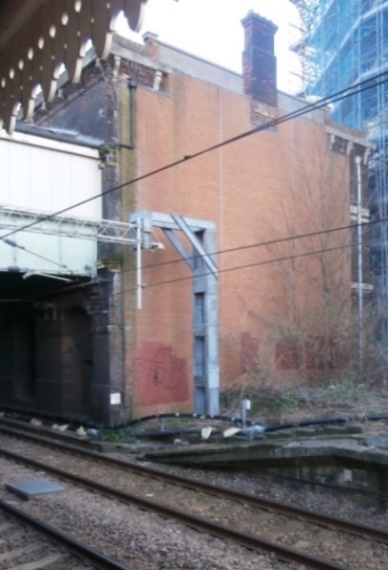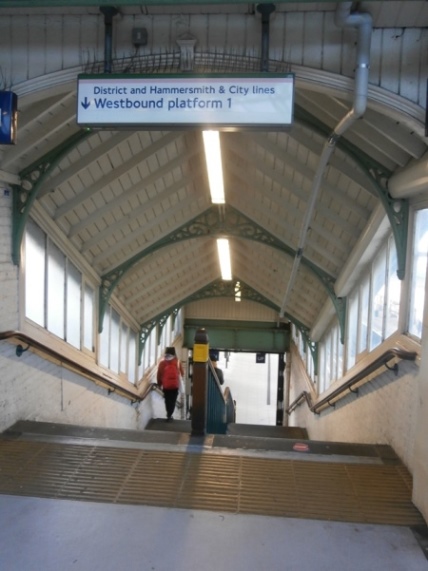 Continuing down the line brings us to West Ham, whose platforms are all still in use, and finally to Bromley-by-Bow, after which the District Line and C2C part company. The station and road bridge here have been entirely rebuilt so nothing remains of the original access to the westbound C2C platform. However, beyond the fence separating the westbound District and eastbound C2C lies only about three feet of platform, meaning that this was an unusually narrow island platform.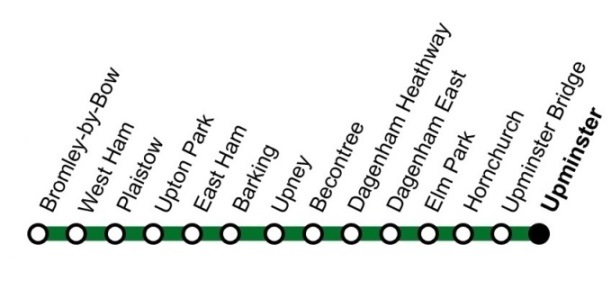 Heading east from East Ham brings you to Barking, where the platforms are in use, which is also true of Upminster, where the District Line terminates. Between these two C2C completely bypasses Upney, Dagenham Heathway, Elm Park, and Upminster Bridge, with only Becontree, Dagenham East, and Hornchurch having an island platform through which westbound District and eastbound C2C trains pass, and an abandoned platform westbound C2C trains pass through. All three once had access to that outer platform that bridged the C2C lines, but bridge and stairs have been removed. This can be seen most clearly at Hornchurch where the truncation is obvious, as witness these internal and external photos.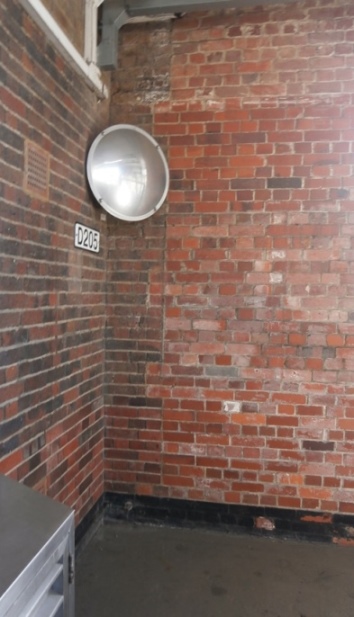 The electrification of the London, Tilbury and Southend line was carried out in 1905/8 as far as East Ham. Electrification beyond that obviously occurred after the removal of the various stairs since the gantries carrying the wires are in many cases sited where those stairs would have landed on the platform (see Plaistow above). Something else worth noting is that the original LTSR platforms were much longer than is required for an underground train and that where these haven't subsequently been shortened the surplus length has usually just been gated off and abandoned, becoming derelict and somewhat overgrown. Indeed, a couple of summers ago I saw a fox sunning himself on this stretch of platform at Becontree. The derelict nature of those gated off sections is most dramatic at Dagenham East, where it appears they actually *extended* the eastbound District Line platform so that trains could terminate at a new spur on the other side of it.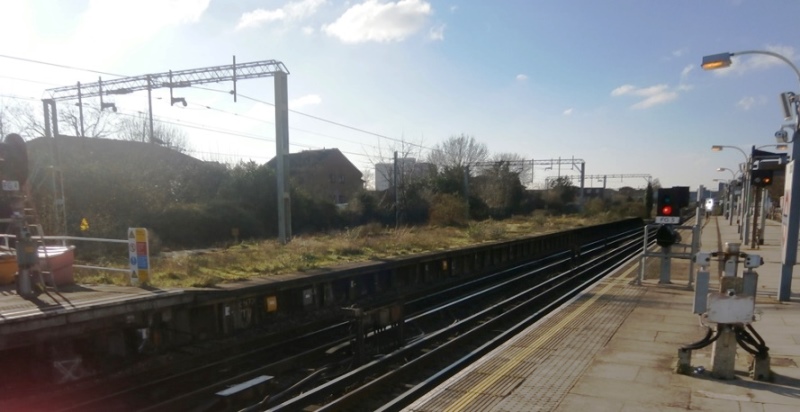 And finally, purely because I took photos of them, a couple of station roofs. Upton Park station is notable for its fine roof timbers which thankfully haven't been ill-advisedly concealed behind a false ceiling, only the mesh needed to prevent pigeons from roosting in them.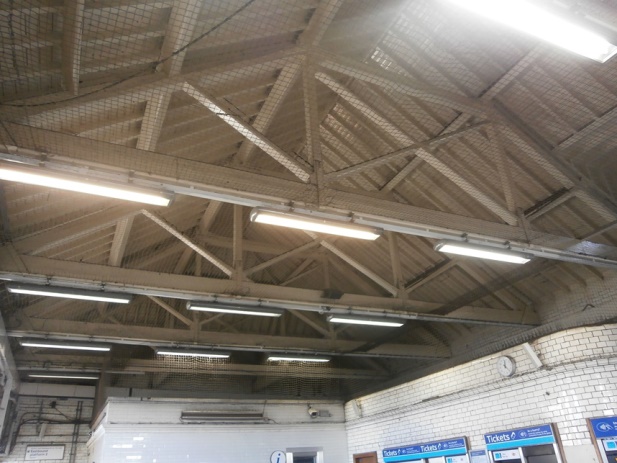 At Plaistow, the station roof joists are steel and splendid.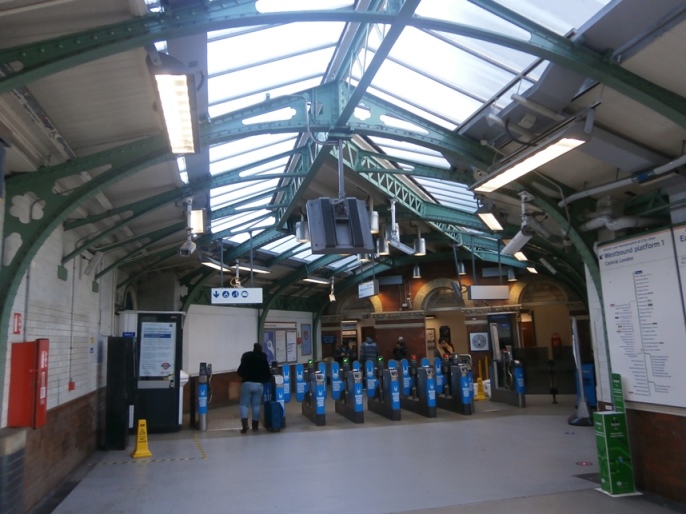 OK, so not exactly Jago Hazzard or Geoff Marshall, but hopefully of interest.
Links:
THE GUNS OF LONDON
18 June 2022
There's a fair bit of old artillery lying about London, much of it still in situ at the locations from which it was tasked with protecting the capital. Here are some photos, beginning with the Ack-Ack gun at Mudchute Farm on the Isle of Dogs: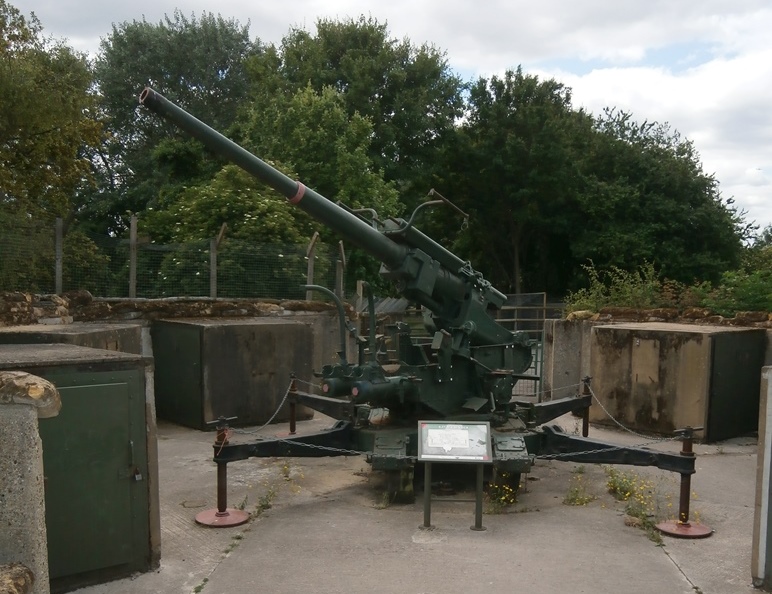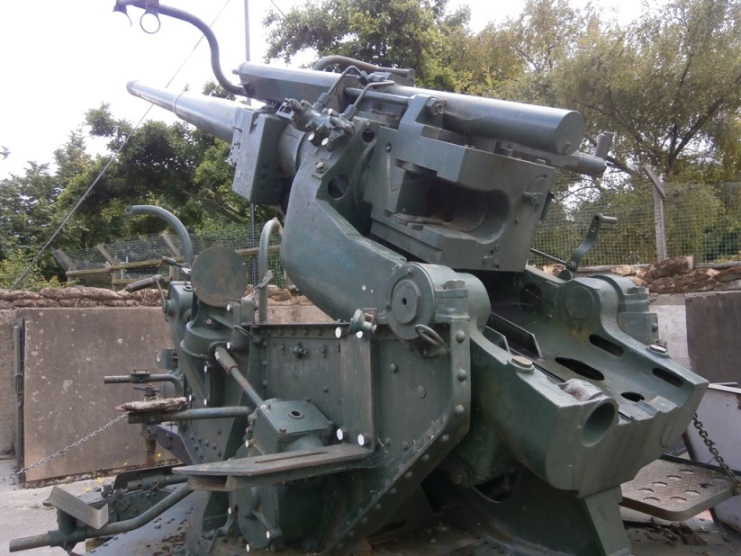 This gun hasn't stood there all this time but was acquired subsequently. The farm have converted the emplacements where the other Ack-Ack guns were located into animal pens.
A walk along the Thames heading west from Woolwich soon brought me to a pair of identical cannon which were intended to dissuade hostile ships from sailing up the river. At first I assumed these were Napoleonic era but (assuming no later ahistorical restoration) the use of I-beams puts them later than this - so Victorian: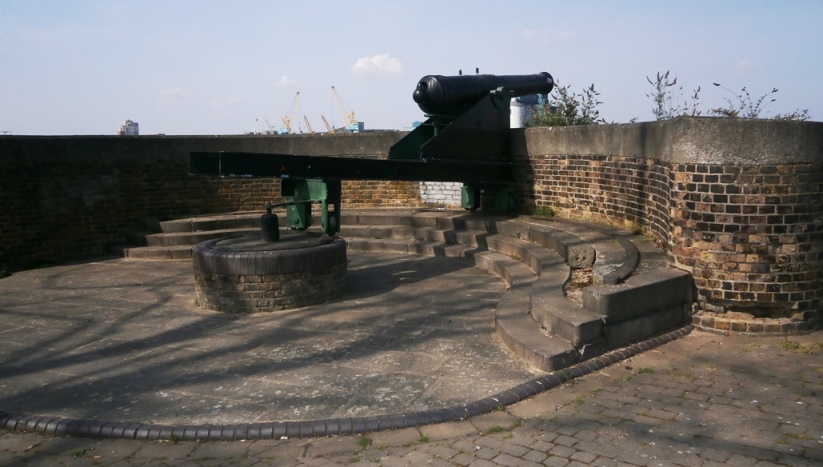 Not a gun but impressive nonetheless, a big-ass mortar that stands taller than me. Still in Woolwich, but on a hill a mile or two inland from the river. (I assume those who placed the mortar balls on display where they did knew exactly what this would look like):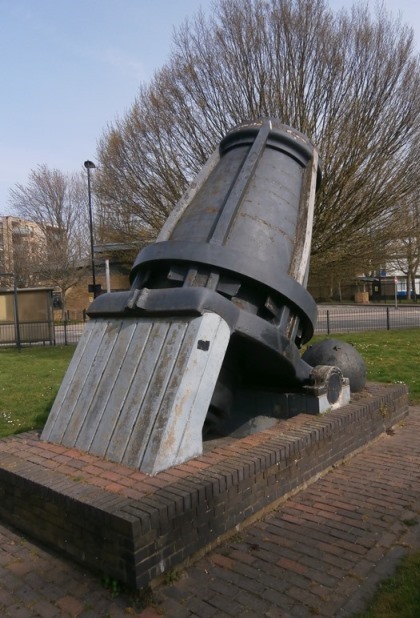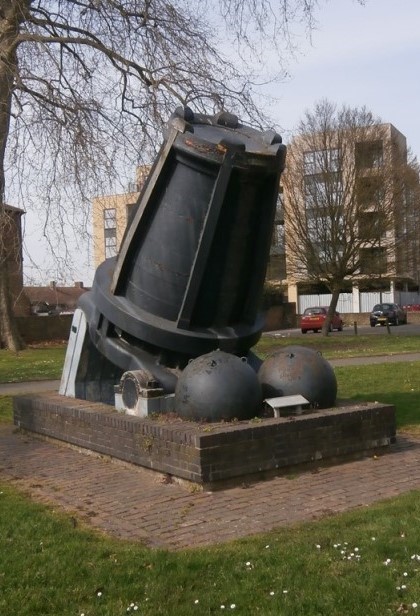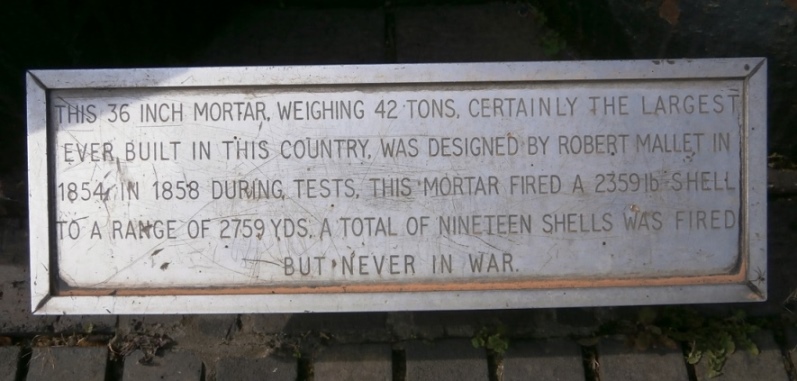 And finally a couple of photos taken one Sunday in June 1980 featuring me, Greg Pickersgill, and Linda Krawecke larking about on what looks to be a small WW2 naval gun, beside the Grand Union Canal somewhere in West London. (And, yes, I am pleased to see you):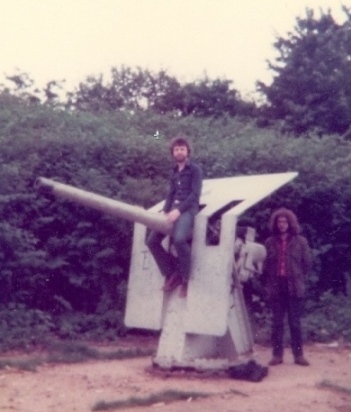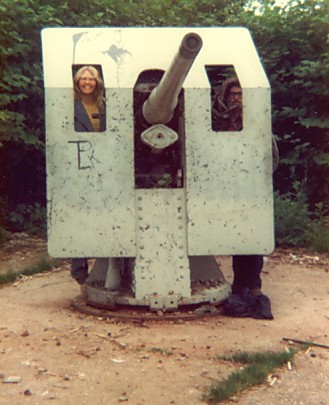 RONEO REDUX
12 June 2022
After the demise of its duplicator business Roneo eventually morphed into Roneo Alcatel and then Neopost, a company that a non-fan friend of mine worked at for many years. After seeing my earlier post on the Roneo Sculpture he sent me a bunch of photos he had taken and also some historical ones of the factory in its prime, like this one (© Roneo, 1949 - all other historical photos © D. Thomas, 2022):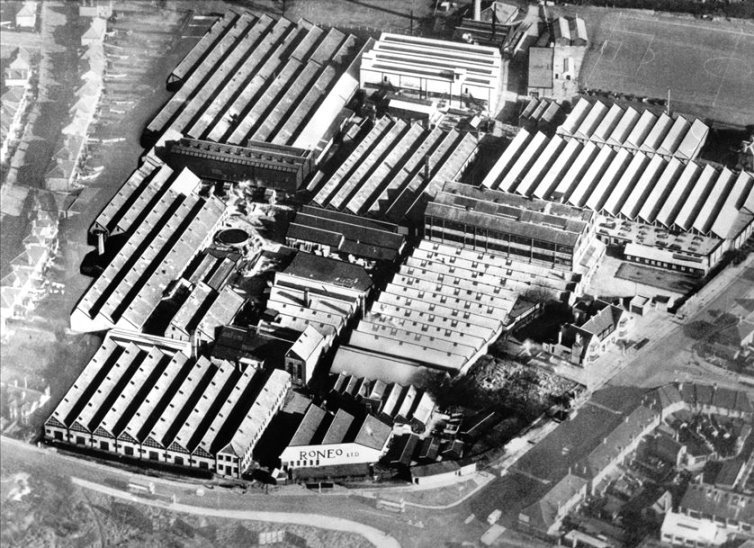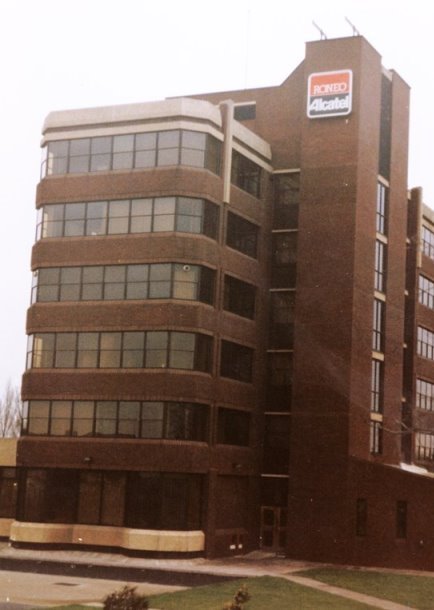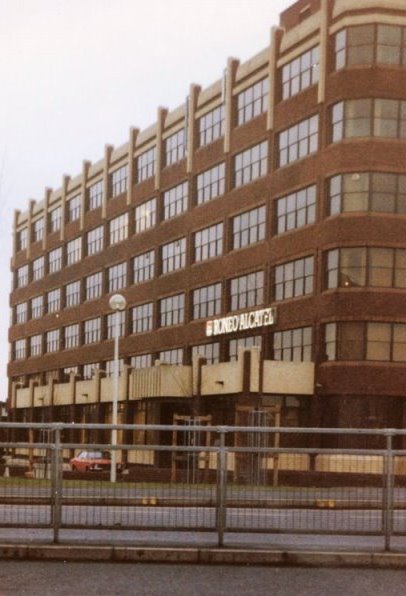 The photos above and the one below were taken in the 1980s after the site had shrunk considerably. Compare the junction as seen then and as photographed by me a few days ago. The sign has moved from the centre island to the roadside but this is essentially the same view. Note the top of the Roneo Alcatel building just visible in the first of these.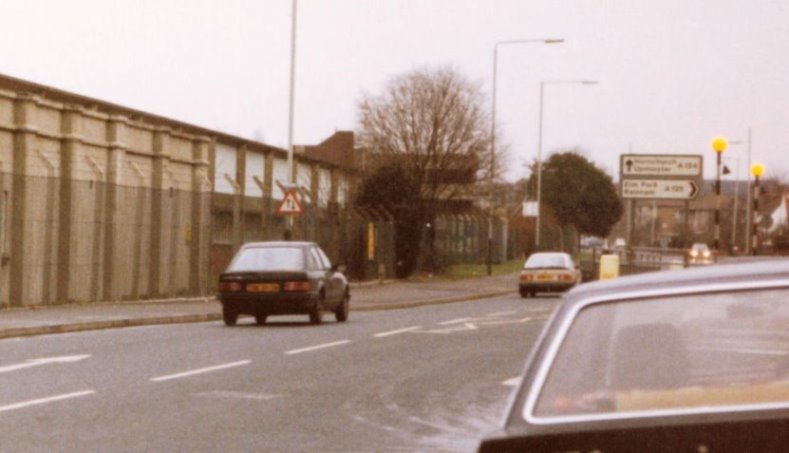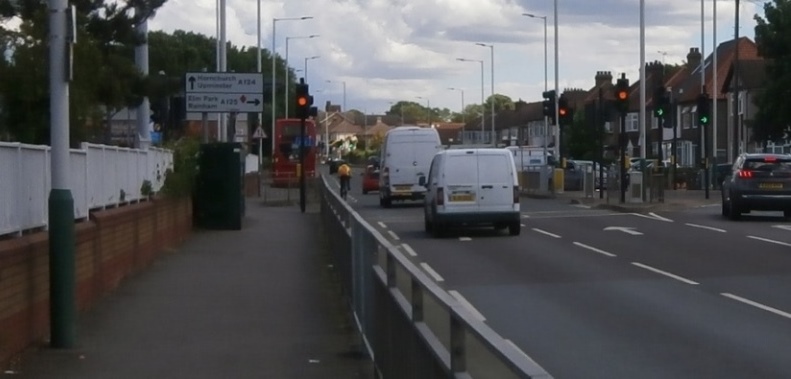 The Crown pub is a feature in the 1949 photo that still survives today. The junction opposite is Roneo Corner, while that tiny wood - or copse - next to it is where the Roneo sculpture is located.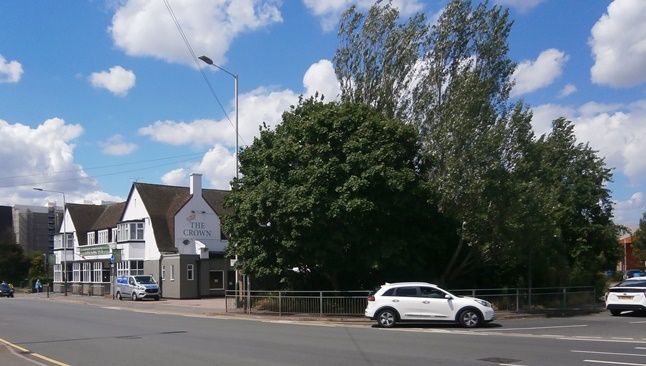 This was not, as I supposed, planted when the site was redeveloped, but predates it as this photo taken from the rear of the pub during the 2002 demolition shows: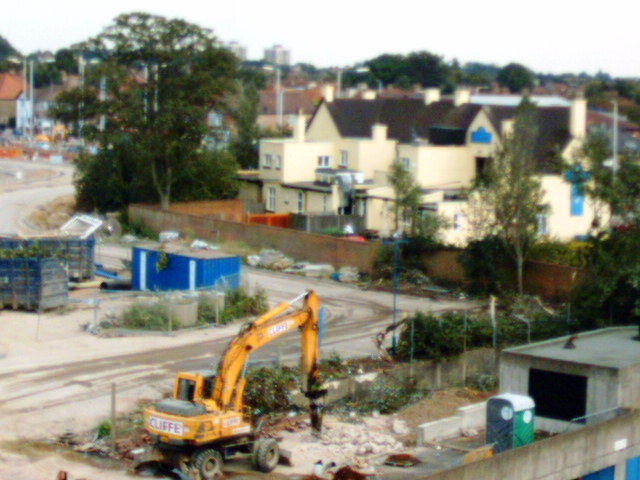 BARKING RIVERSIDE TO ABBEY WOOD
29 May 2022
Since musing about this in my last post I've belatedly noticed that there are in fact land corridors suspiciously free of homes running through Thamesmead along the exact route they would need to be for the most efficient siting of such an extension. These are currently being used as linear parks, but I don't believe that's their ultimate purpose.
So, let's try this again: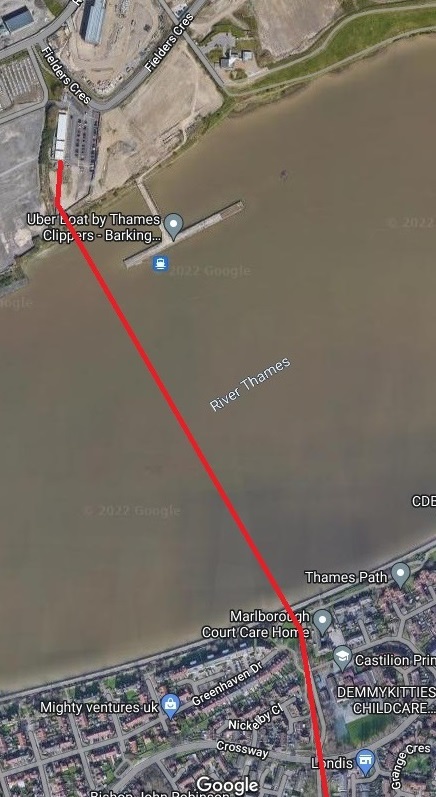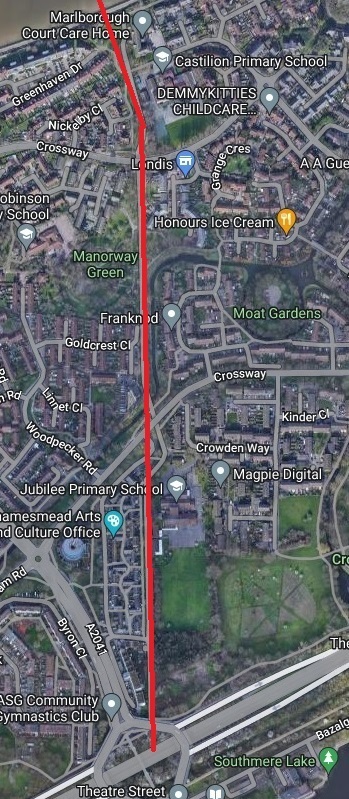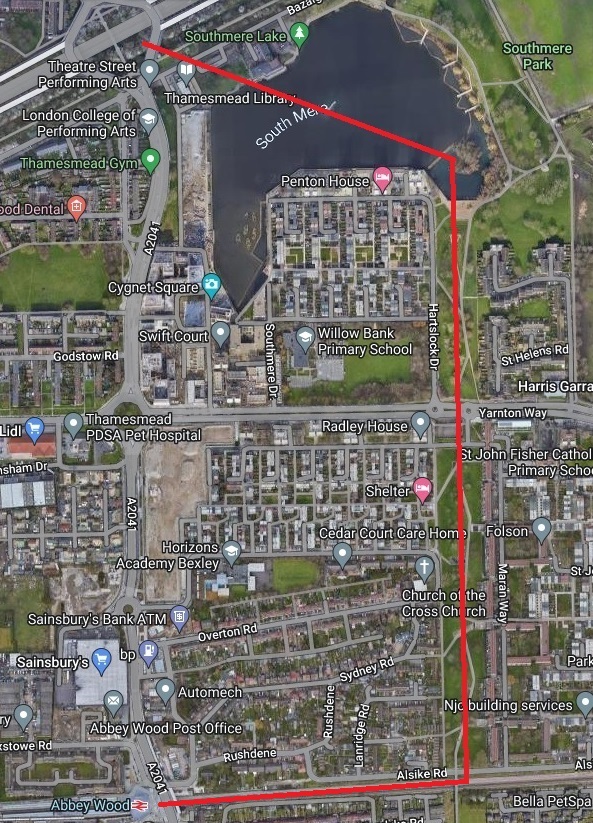 The obvious place for a new Thamesmead station remains the large Eastern Way roundabout, so that's what I've assumed. Intermediate stations at Manorway Green and where the line crosses Yarnton Way would be useful as well if the intention is to give Thamesmead the sort of service it's been missing for far too long. Also, having this line come into Abbey Wood station from the east makes more sense than it coming in from the west since this avoids the congestion that sharing a section of line with the Elizabeth would cause.
*****
In re the Elizabeth Line, one thing I didn't mention last time was that it makes use of a chunk of the old North Woolwich line, which closed in 2006 but which I remember using on several occasions. More at the link.
THE ELIZABETH LINE OPENS
24 May 2022
Today is the day the new Elizabeth Line finally opened - just not completely. You have to change trains at Paddington if going to/from Reading, and at Liverpool Street if travelling in from Shenfield. Oh, and they're still working on Bond Street, so that station isn't open yet. The map below shows the current state of play.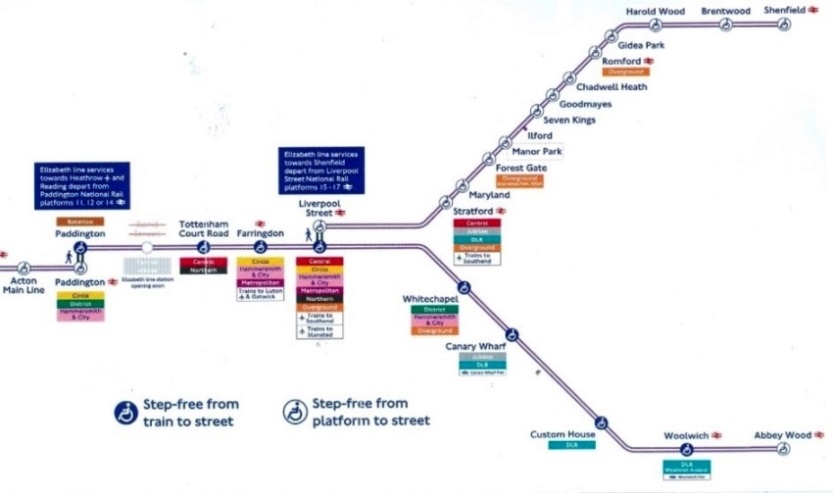 I set off this morning to explore the Paddington to Abbey Wood section, switching to the Elizabeth Line from my regular District Line from Upton Park at Whitechapel. I was hoping to confirm that using it would cut around ten minutes off the journey time from my home to Paddington, which it does. I got off at several stations and had a nose around but not all, as I'd intended, thanks to my right foot neuropathy flaring up unexpectedly. Add in the fact that that ankle is still giving me gyp and I wished I'd taken a walking stick with me.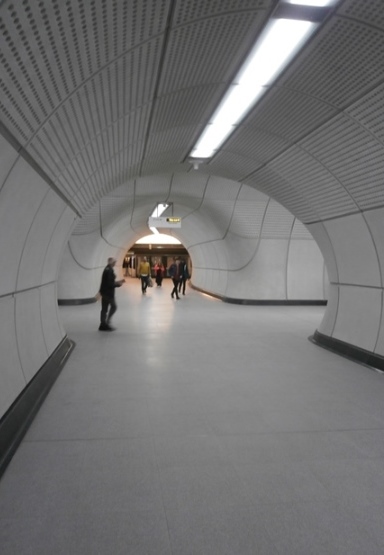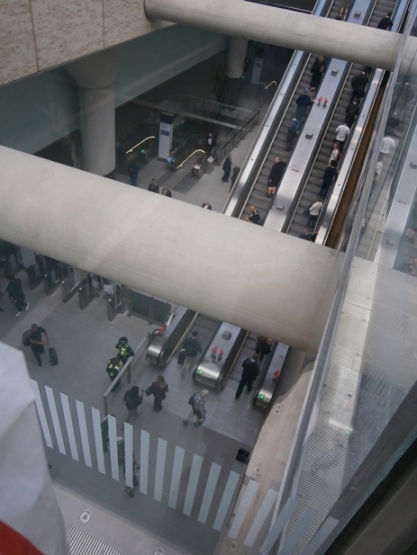 Although it travels underground through the middle of town the Elizabeth is not a tube line, the trains being the regular type found on surface level commuter lines. They're also a lot longer than tube trains. Making sure you're at the right end of the train for where you'll want to exit at your destination will be a major consideration.
Coolest discovery was that the lifts at the Barbican end of Farringdon station are inclined and travel parallel to the escalators. Given this will be where I'll be arriving an departing for future first Thursdays at the Bishop's Finger I can see me riding these quite a bit. But the thing that held my attention the longest was nothing to do with the Elizabeth Line. Outside Paddington station, across the road from the entrance to the Elizabeth Line, is a clock. It looks at first like an analogue clock with a man inside it, which at first is what I assumed it was, figuring the man must be doing maintenance. Then I realised there was no way of getting into the clock and saw that he was painting in the minute hand on the inside of the translucent 'glass' then, a minute later, scraping this off and painting in the hand in its new position. What I was actually looking at was a screen of course, but the illusion was entirely convincing.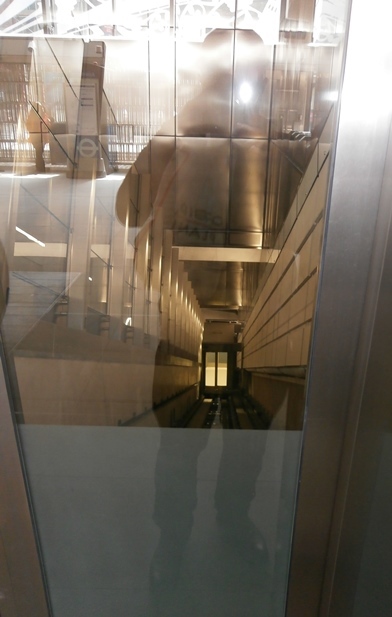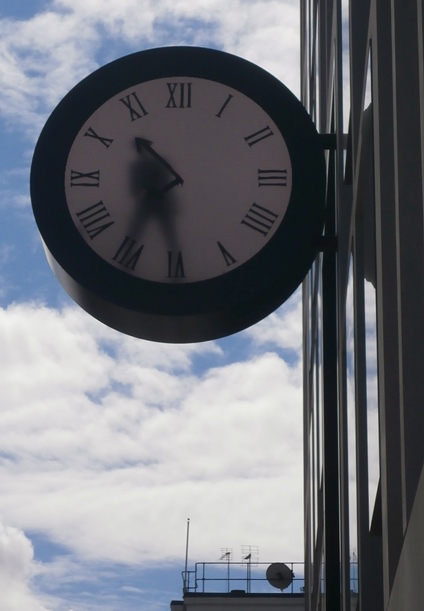 Visiting Abbey Wood inevitably got me thinking again about how the line from Barking Riverside could be extended to it and probably eventually will be, the logic of a South East to North East London line that avoids the middle of town being inarguable. I first mused about this in the initial entry on this blog, but at that time I gave no thought to what route it might take. Now I have.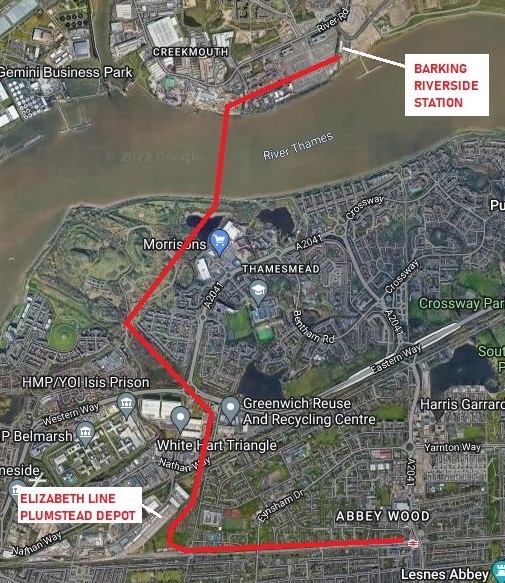 The shortest available way of accomplishing this would be to follow the route of the A2041 by means of an elevated line running directly above it, with the obvious place for a new Thamesmead station being the large Eastern Way roundabout. However, while lines above roads have been used in places like New York I couldn't see the idea being approved over here. Also, to land a bridge on the south side of the Thames at that point would mean the compulsory purchase and demolition of several riverside homes. Riverside homes tend to be expensive, which means that people with money live in them. People with money tend to be very effective at the sort of protest and objections that can delay something like this for years. So, although this would be the most effective route it will never happen.
The route that seems most likely to me is the one I've marked out on the Google image above since it makes use of land corridors free of homes. In fact the large tract of undeveloped land in Thamesmead I see it traversing has been left deliberately undeveloped because this is where the south end of the long-proposed road bridge linking up with the North Circular Road would be. That bridge would cross the river at a different angle to the rail bridge envisioned above and there should be room for both. Oh, and in this case I imagine the new Thamesmead station location would be at a point shortly before the line crosses a roundabout.
Getting from Barking Riverside to the northern end of the rail bridge would require a new length of track on that side of the river. The businesses on that land at the moment all appear to be open yards of various sorts so an elevated track passing over them would enable them to remain where they are. Something else that arises from this is the possibility of a new Creekmouth station at the northern end of the bridge, which would make the area more attractive for redevelopment.
Having said which, while I believe this link will happen eventually, the costs involved - a bridge, elevated sections - are such that I very much doubt it will be built in my lifetime.
THE RONEO SCULPTURE
18 May 2022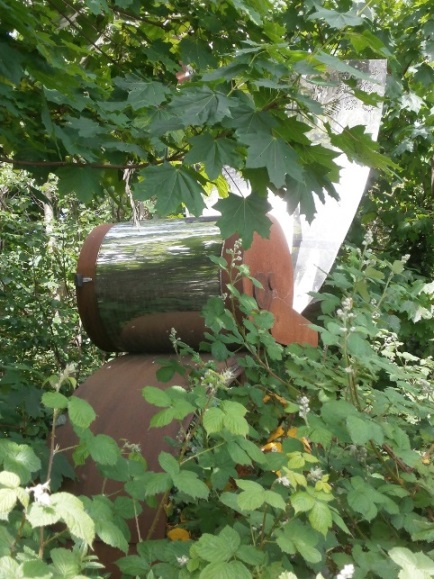 For over a year now I've been visiting Roneo Corner in East London, so named because it was the site of the former duplicator factory. Though it's not why I travel to the area I usually also shop in the Tesco supermarket there which is considerably larger than my local one with a consequently more varied range of foodstuffs. Where the entrance to the car park branches off from the main road is a triangle on which they planted a tiny wood. I'd never paid much attention to this, but today for some reason I did - and discovered a sculpture of a duplicator!
Unfortunately, everything has been allowed to become overgrown and I couldn't get as close to it as I would've liked, but I took a few photos anyway.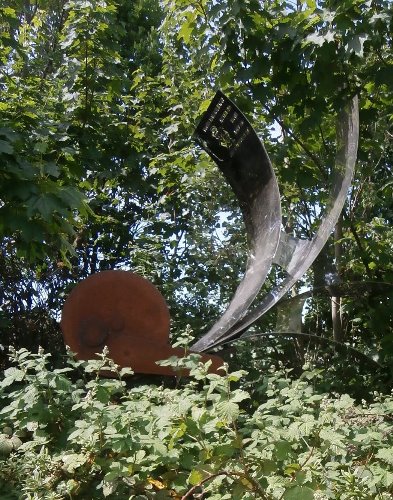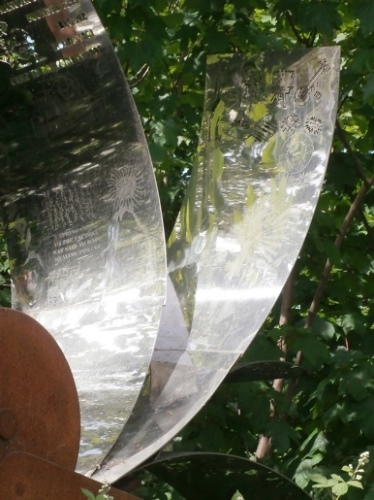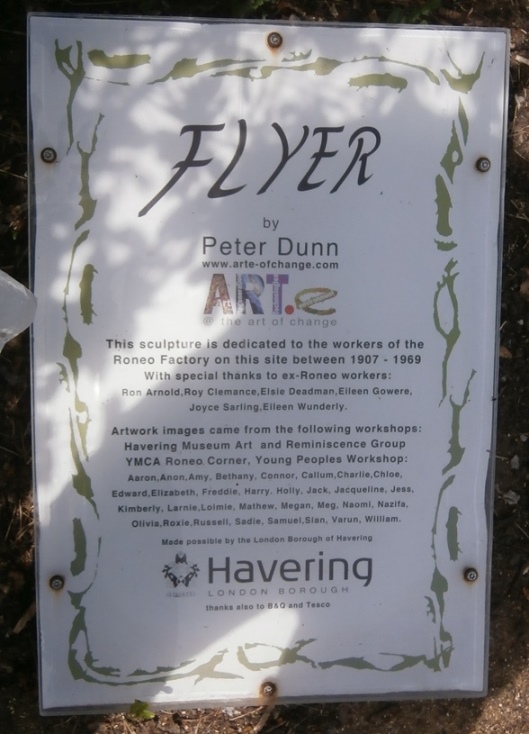 SWANS & TOTEMS
25 April 2022
Last week, on Easter Monday, I took advantage of the good weather to visit a park relatively local to me that I hadn't really explored before. As with a lot of parks in London, this was originally the grounds of a large mansion: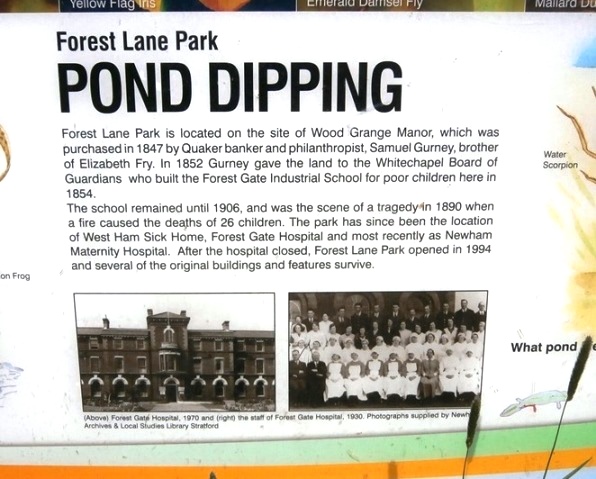 It includes a small wood, dotted among which are a lot of rather well done totem pole style sculptures, which I was quite taken with these. There are more, but this is a representative sample: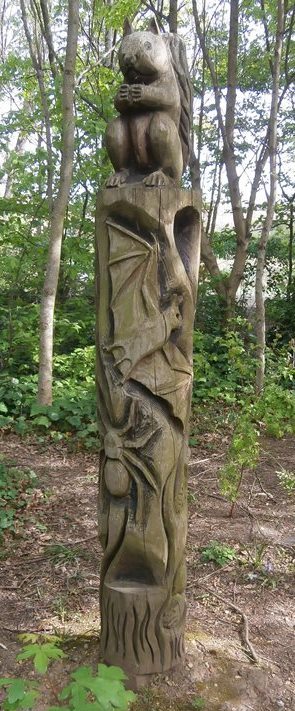 There's a lake in the park where, somewhat to my surprise, I was able to get a close-up look at a swan's nest. The female had seven eggs beneath her, which will hatch in a few weeks time. I may go back to check out the chicks then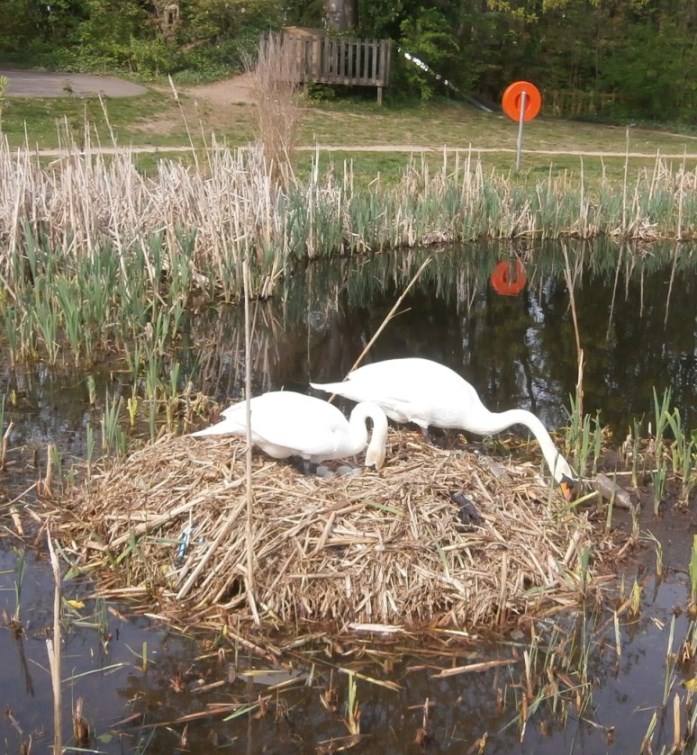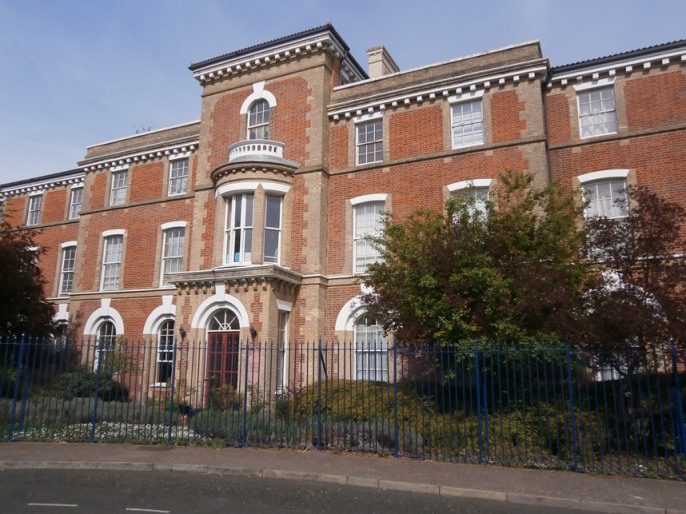 VAUGHN BODE GRAFFITI
26 Mar 2022
On East London's Greenway, which formed part of the route when I used to ride my bicycle into work, is a bridge over the District Line whose concrete walls provided a canvas for some interesting artwork over the years. Going through old photos I found these panoramas from 2008 - long since painted over, I'm sure - featuring the characters of cartoonist Vaughn Bode. I wonder what he would have made of these appearing so long after his death? (Click on each picture for a larger image)


WW2 PILL BOXES
21 Mar 2022
I was born and grew up in Cardiff, South Wales. As a child, family day trips to the seaside inevitably meant a journey by train - steam trains, early on - to nearby Barry Island, the closest sandy beach and seaside 'resort'. Barry Island contains two beaches, the larger at Whitmore Bay being the commercialised one to which half of Cardiff would decamp when the weather was nice (seriously, you'd have maybe a six foot square patch of sand which you'd strive to demarcate and defend). I've never been one for lying around on beaches so I'd often just go clambering over the rocks of Friar's Point, one of Whitmore Bay's two headlands. The big attraction to me at the far end of Friar's Point, overlooking the Bristol Channel, was the large concrete pill box that had once housed the major artillery which guarded those approaches. The guns had long since been removed, of course, semi-circular steel tracks embedded in the concrete floor being all that remained of them. To my dismay, a look on Google Earth shows no sign of the structure I remember at Friar's Point. In the half-century or more since I last visited it has been removed. These days it might well be a listed historical monument, but in the first few decades after the war, when many locals still remembered it being built, it was probably considered by most to be a blot on an otherwise attractive bit of landscape. Given that the reason so many pill boxes can still be found scattered about the country is because they were so solidly constructed that it wasn't worth the time, effort, and expense of removing them, the locals must really have wanted it gone.
Like most boys born in the decade after it ended, I was fascinated by World War Two and by physical remnants of it like this. In fact it was almost certainly standing in the pill box on Friar's Point, gazing out over the sea lanes it protected that sparked an interest in pill boxes as a whole. Here are pics of three near me. First there's this one in Beam Valley Park, near Dagenham East tube station: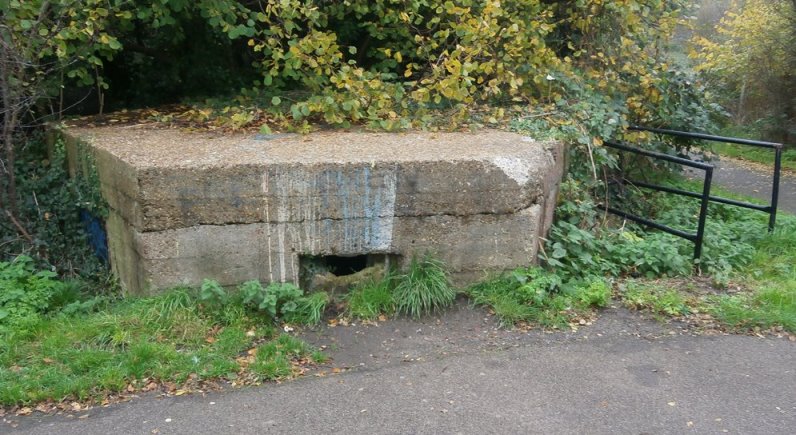 Nice of the local council to provide handrails at the now, mostly overgrown entrance. It looks like you can still get inside - if you're small and supple enough. Alun is small enough but could not be talked into attempting this.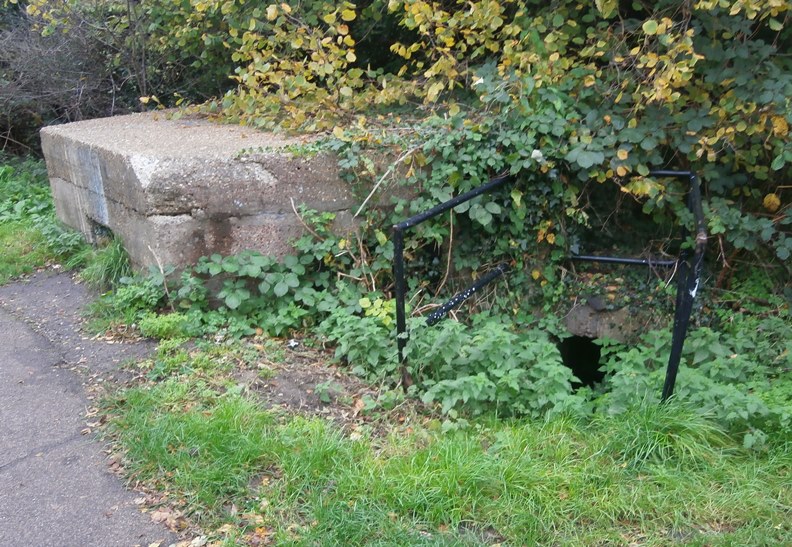 In the woods nearby are what look to be tank traps.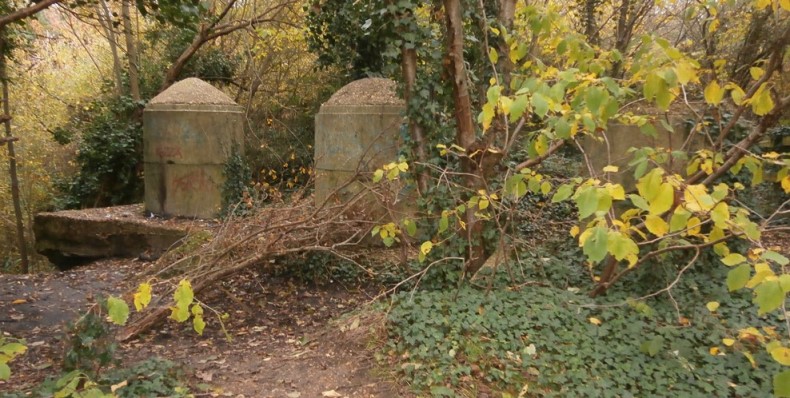 Along the southern bank of the Thames runs the Thames Path, which Alun Harries and I have explored in a number of sections since we no longer have the youth or stamina to attempt the whole thing in one go. Here, too, pill boxes are to be found. This one, as you can see, is more or less opposite Creekmouth and the Barking Creek Barrier. You can no longer get inside it, alas (note top of steel gate, which was padlocked). Peering through the gun slits revealed lots of graffiti inside, so this wasn't always the case: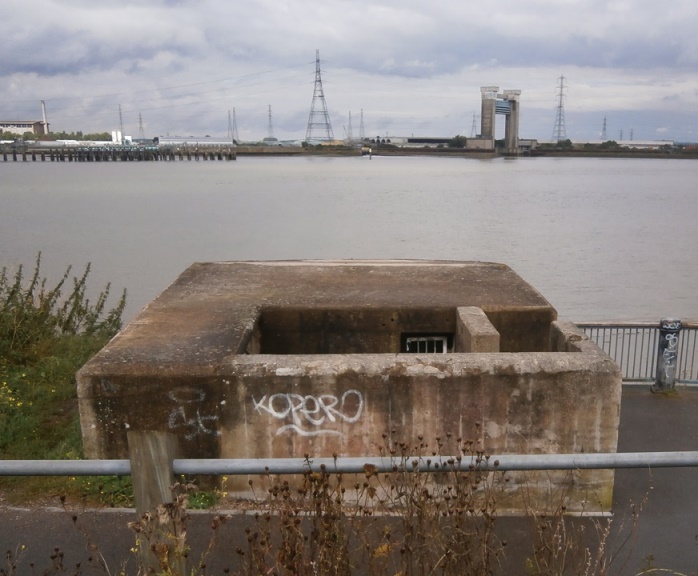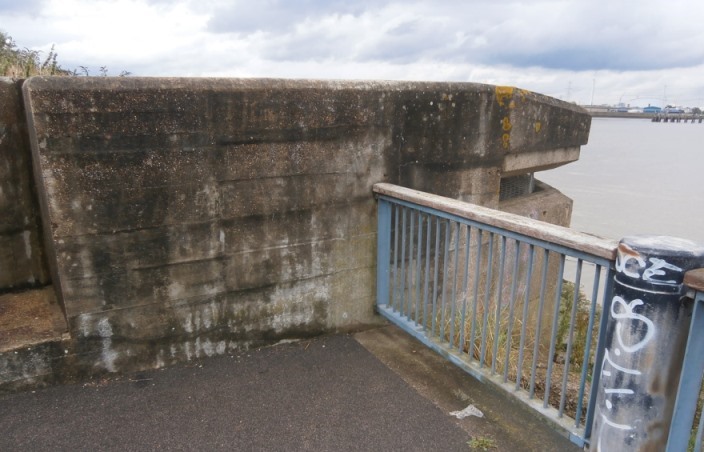 A mile or to the west of this is another, smaller one in a lot worse condition which appeared to have someone living in it when Alun and I checked it out. There was a mattress on the floor with piles of carrier bags around it whose contents we didn't examine: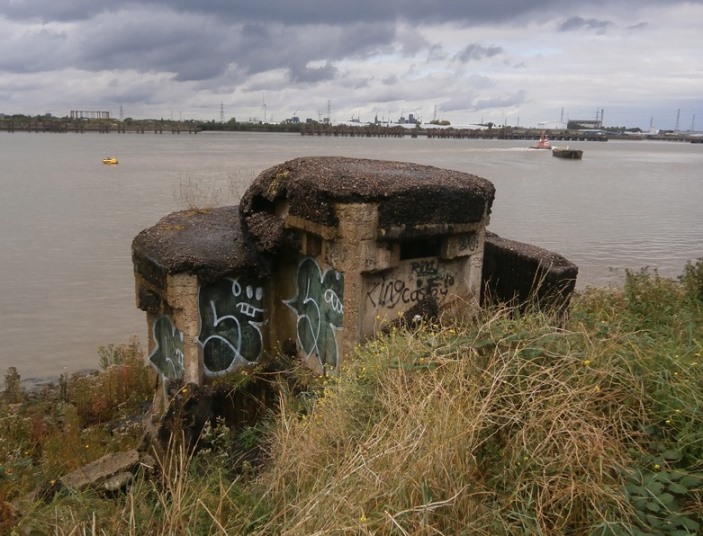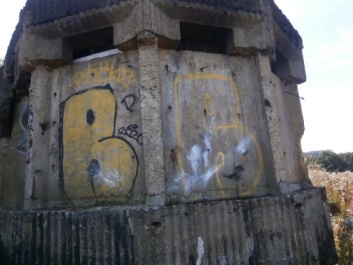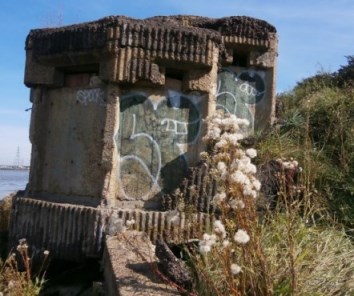 I think this is the same pill box as the one in the photo linked to below. The adjacent brick pillbox has now gone - possibly removed as a dangerous structure - and there's more graffiti.
WALKING DISTANCE
14 Mar 2022
When I was a child I was particularly taken with Trebor chocolates. I no longer recall how their product compared to those of rivals such as Cadbury, Fry, and Nestle, but what intrigued me about them was that their name was Robert spelled backwards. Odd then that I currently live about two minutes walk from their original factory on nearby Katherine Road. Of course, it's now been converted into flats and what look like an expensive penthouse built on top of the building.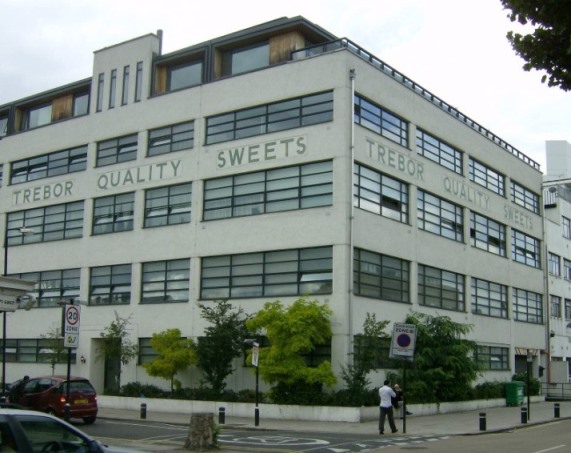 Not that this is the only photo I've taken within walking distance of Gross Manor. I couldn't pass up taking one of this shop, which demonstrates what happens when you can't make up your mind as to how the name of your business should be spelled....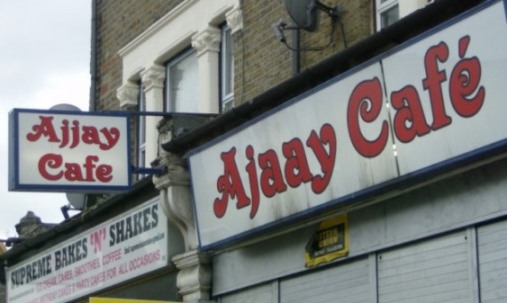 And I think this sends a mixed message: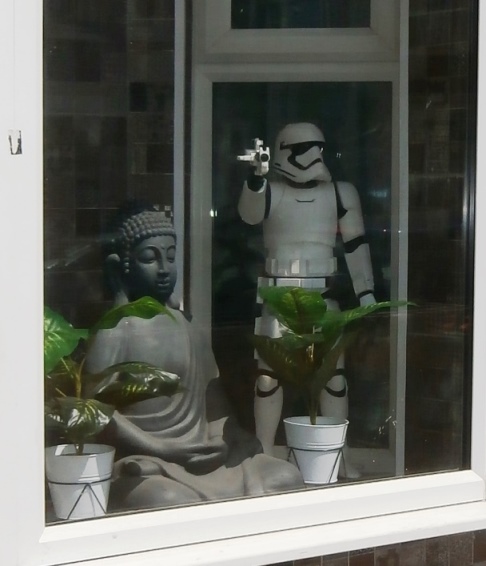 Links:
CREEKMOUTH
12 Mar 2022
An isolated, now lost village, the Lovecraftian-sounding Creekmouth used to be located where the Thames meets the Barking Creek section of the River Roding. Built in the 1850s to house the families of workers at a local chemical works, it existed for little more than a century. Now all that remains of it is the old school building which serves as part of the offices of McGrath. In its place lies Barking Creek Park.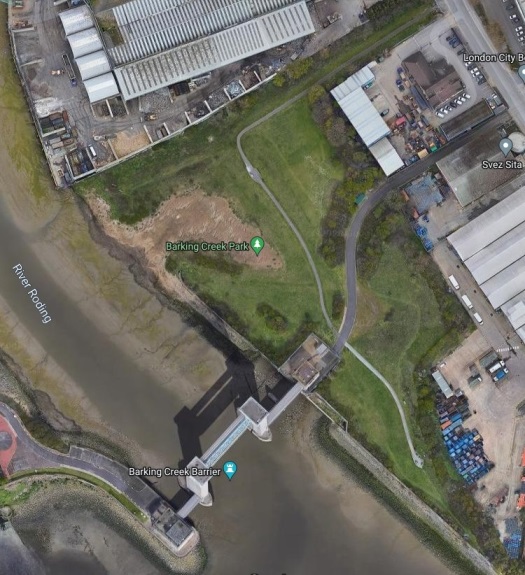 I first visited the place in September 2021. Here's the entrance to the footpath as seen on the Google aerial view of the park: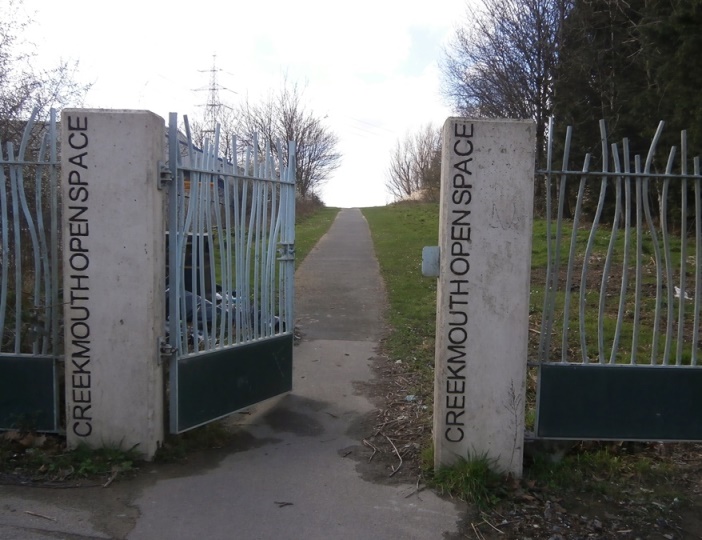 This is the Barking Creek Barrier itself as seen from atop the flood wall, which steps allow you to climb over and clamber down to the foreshore.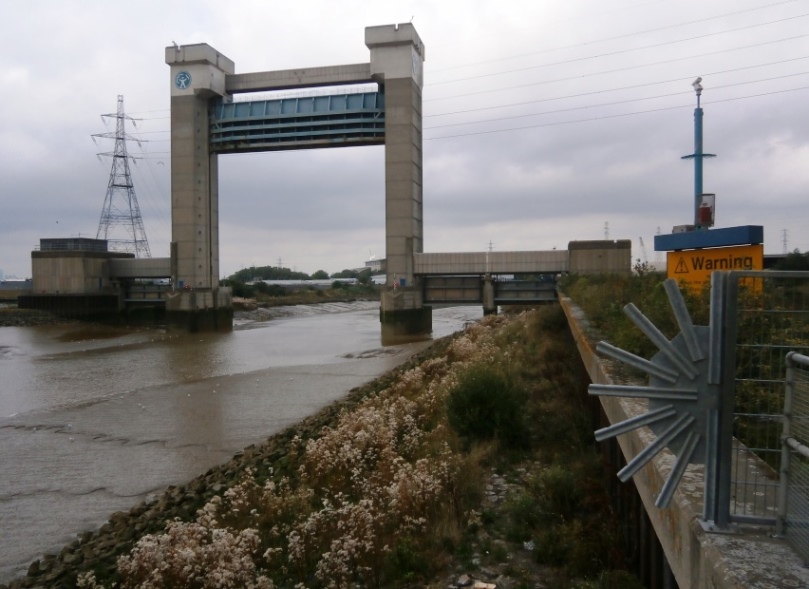 In the park is an engraved plaque showing the village as it was, the park being located on what had been the land between the houses and the river. Among other things it lists the names of the families who lived there.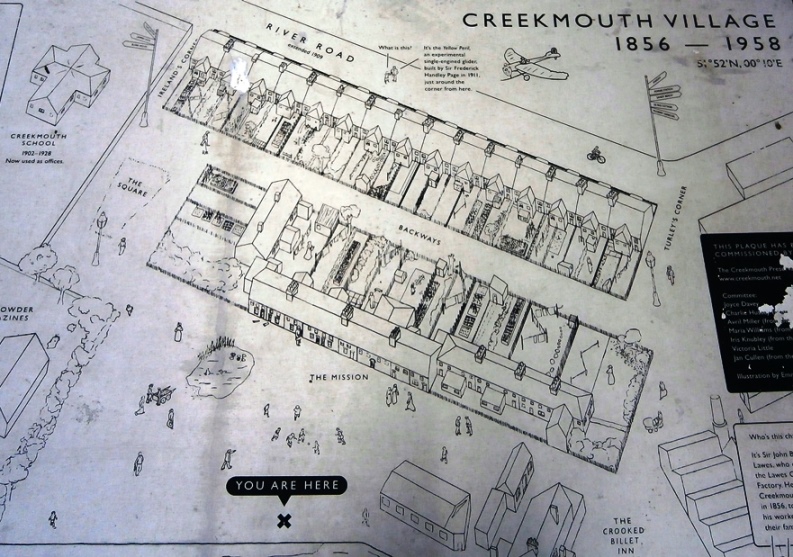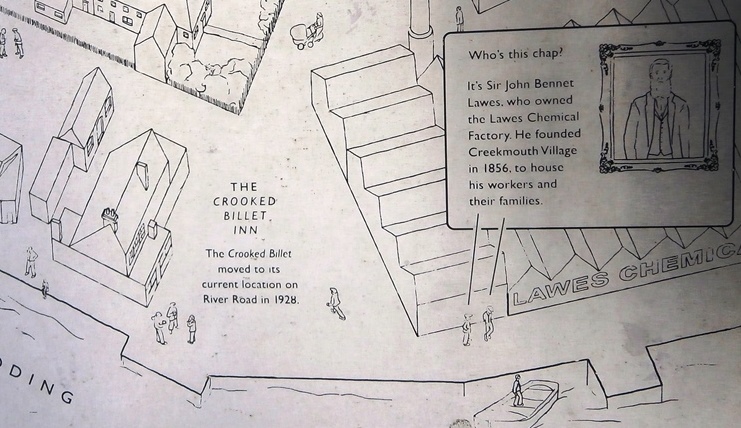 The old school building, as seen in the upper right-hand corner of the aerial view.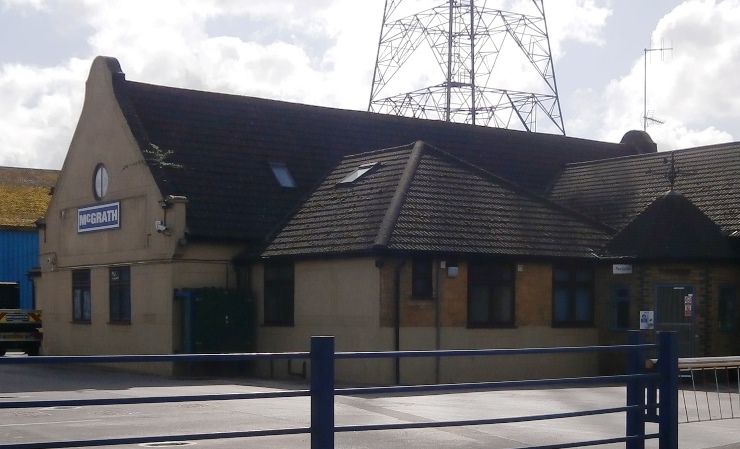 As for what happened to the village, the North Sea Flood of January 1953 happened. The village was inundated, and the authorities decided it made more sense to move the residents out and demolish the village rather than attempt to restore it. The flood caused major damage and loss of life in countries around the North Sea and was the result of a combination of a high spring tide and a severe European windstorm over the North Sea, which caused a storm tide. The combination of wind, high tide, and low pressure caused the sea to flood land up to 5.6 metres (18.4 feet) above mean sea level.
Links:
Ah, I forgot to include this yesterday. Located outside Barking Station, not only is this is the first free bicycle repair station I've encountered but I had no idea they even existed before this. A very cool idea.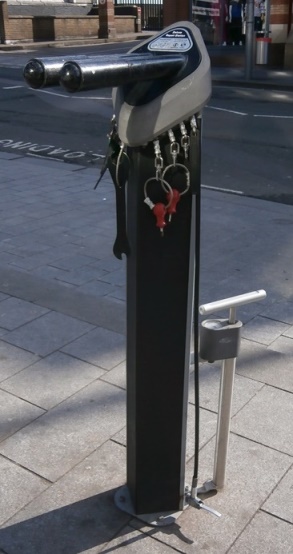 BARKING RIVERSIDE OVERGROUND EXTENSION
7 Mar 2022
With all the roaming around London and the South-East I do, and the photos I take, it's past time I started publishing these in their own blog, so this is that.
The GOBLIN - Gospel Oak to Barking LINe - is an Overground route I regularly use so learning that an extension is being built was a welcome bit of news. It allegedly opens in the autumn, but given that the promotional video (at link below) has it opening in 2021 (ok, yes, COVID) I won't be too surprised if this slips into 2023. However, it looked like there was enough already built to make it worthwhile for me to have a nose around over there, which I did yesterday. It was a bright, sunny, and bloody cold day.
The GOBLIN currently comes in to Barking station on single line, where it terminates. As seen below, it looks as if the line once continued on beyond the current buffers but that this was gated off. Oh, and then there's that structural support column they put there when building the concourse above. Now, the column could be replaced by a support structure that straddles the track and allowed it to be reopened, but this is still a single track. Very occasionally when I've ridden the GOBLIN it has terminated at another platform, so presumably the extension will not pass through the station on the single track line but will be rerouted to other, shared tracks.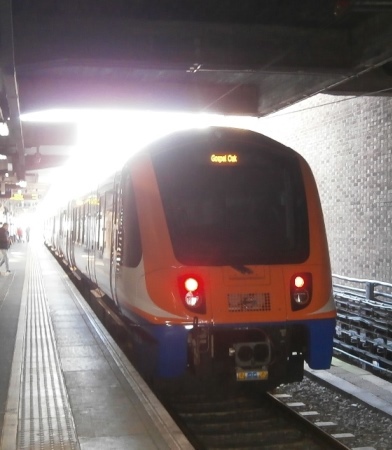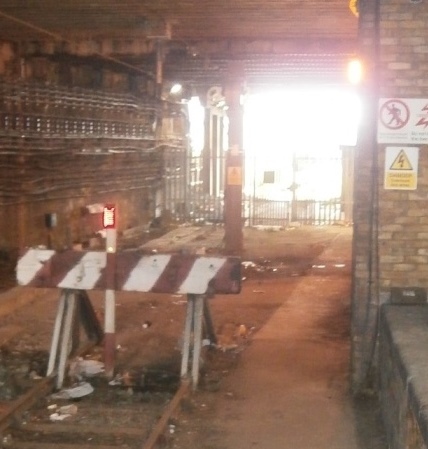 The photo below was taken from the Renwick Road bridge looking back towards Barking. The new tracks are, obviously, the ones laying on the cleaner stones.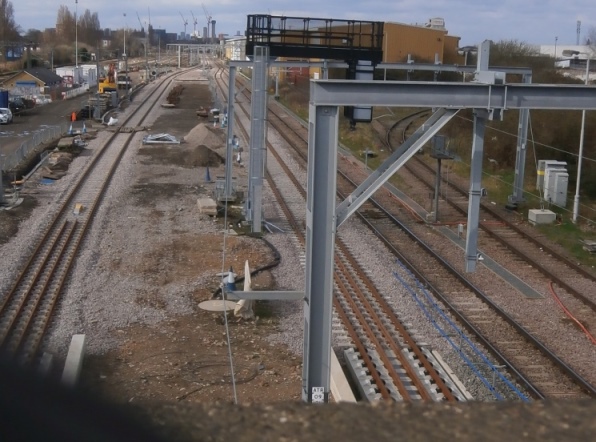 The view from the other side of the Renwick Road bridge, showing the bridge and a now concrete track bed. This is because the instant the line clears the bridge it begins to rise towards the new viaduct....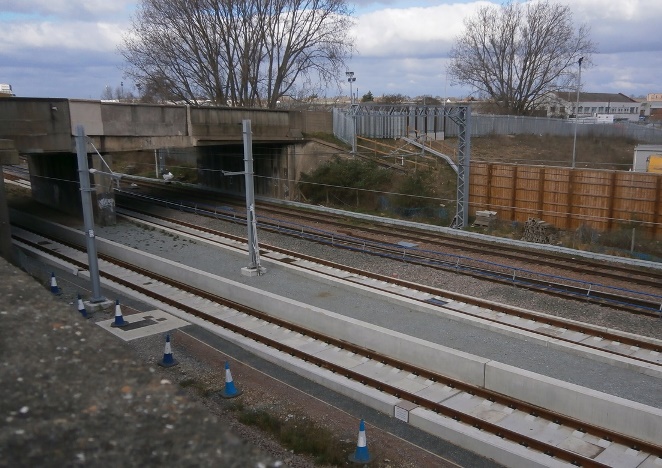 ...as can be seen in this next photo.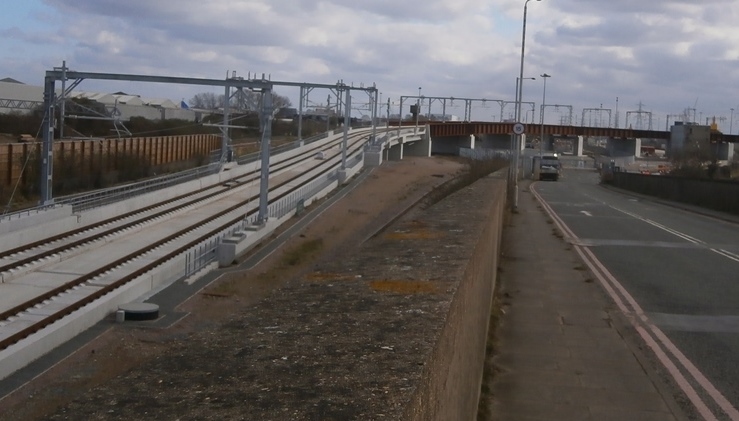 Here's the viaduct sweeping around....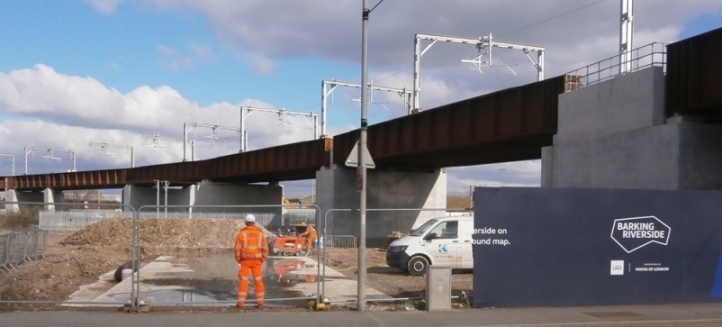 ...and connecting to a new bridge over Choat's Road.

I think the wide stairs here (detail below) signal that this is where the intermediate station between Barking and Barking Riverside will be situated, but if so there's nothing to see of it yet. At the very least there would be roofed rain shelters.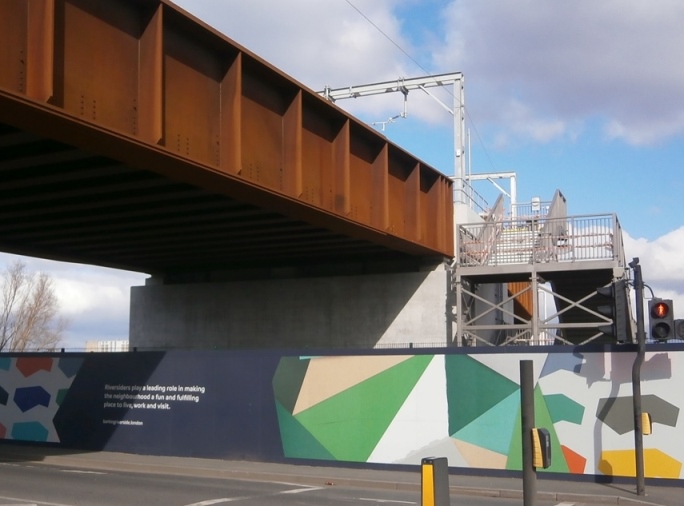 From the Choat's Road bridge on, the remainder of the viaduct leading in to Barking Riverside station is concrete.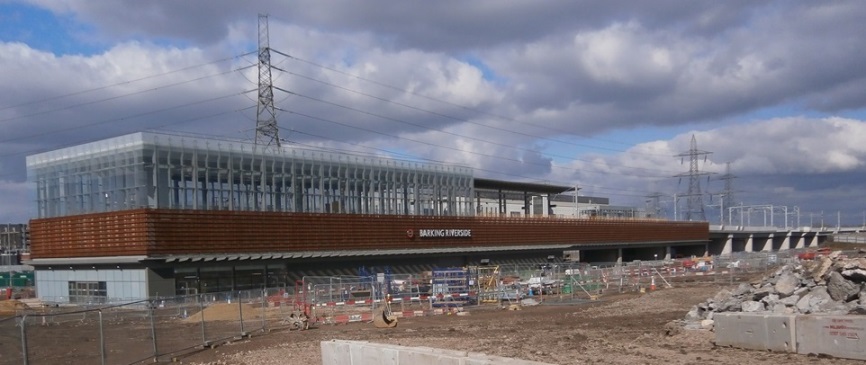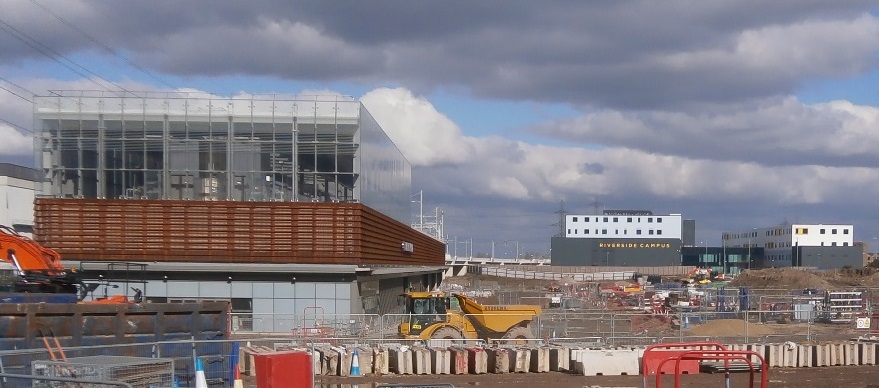 As can be seen, the station itself is near Riverside Campus, a large high school. What can't be seen is how close to the Thames the station is. Should a decision be taken in future to build a bridge at that point, the line could be extended across the river to Thamesmead and on to Abbey Wood, which would allow passengers to connect to the existing rail network. If it could be further extended to Woolwich Arsenal it would become a very useful line.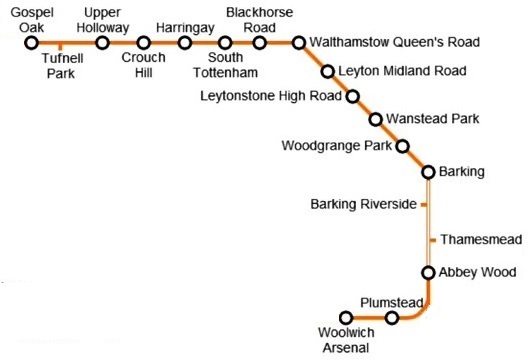 Indeed, this was at one point considered as part of a larger project (see "A London Orbital Railway?" link below).