Monday 23rd April
RON ELLIK:

One by one British fandom filed downstairs then, as the day brightened and sobriety returned to our all-night Brag game. The Slaters set up their stand for Peterborough on the card table, and someone suggested breakfast. It was Monday, and the night was over.

After breakfast my main task was co-ordinating with the Jeeves family, with whom I was to travel to Sheffield that morning. This may sound easy, but I had to keep moving to keep awake once I'd eaten, and I did it by walking from one of the two hotels to the other all morning.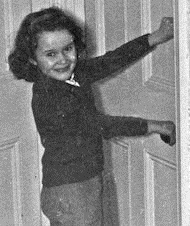 Early off, Susie Slater came into the West Park with a popsicle; "penny ice," I think she called it. It was a muggy, hot day, and it seemed that all fandom turned on that pretty child to rob her of her tiny, but cold, popsicle. She looked frightened for a minute, then in a very businesslike way she took sixpences from everyone and went out to get more. I have a picture of Jimmy Groves very soberly working at a "penny ice" (at sixpence?), with the red colouring that many of my photos took when indoors -- he looks preposterous. (Photo by Dave Barber.)
And I said goodbye to one and all -- to the German fans, the Cheltenham fans, the Irish, the London, the Scot fans -- and Terry, Val and Sandra Jeeves and I headed south to Sheffield. The convention was over.


JAMES WHITE:
After breakfast we returned to the two Con hotels and spent the morning waking people up and saying goodbye. Our train did not leave until mid-afternoon and so I was able to watch the convention dissolving around me -- the Gerfans piling into their station wagon and driving off; Ken Slater, his wife, portable bookshop and lovely little daughter pulling away in their van; and the others who staggered away with suitcases so loaded with auction material that toothbrushes were carried in the breast pocket. There seemed to be a lot left unsaid to an awful lot of people and I expected to feel sad at coming to the end of such a wonderful convention, but somehow I didn't.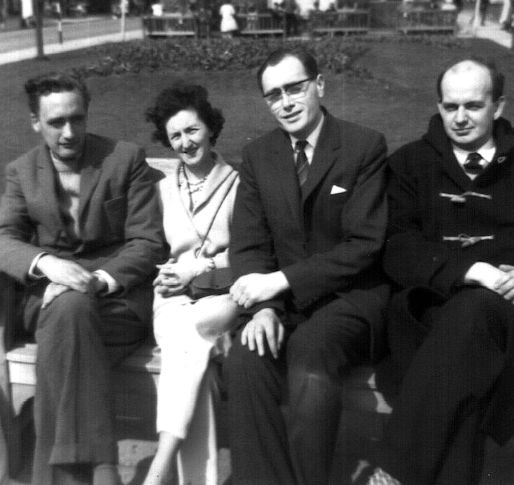 Walt Willis, Ethel Lindsay, James White, Ian McAulay (el)
Then we all lunched with Ethel and Ella, who also left us to the train where we were joined by the Bentcliffes, and sat talking in the sunshine outside the station for a long time. Ethel said "See you in Peterborough, James" and Ella was rude to us all again, but even I could see that her heart wasn't in it. All this time I was still half convinced that it was yesterday afternoon and wholly convinced that it had been the nicest afternoon I had ever known. And so it was, when the train entered one of the long tunnels on the other side of Leeds with a roar that woke me suddenly to pitch blackness, that I reached across to touch Ian and Walt and yell that Sunday night had caught up with us.
Symbolically, and rather dramatically, the Long Afternoon of Harrogate had come to an end.
*

SOURCE NOTES & ACKNOWLEDGEMENTS

Thanks are due to Greg Pickersgill for general research assistance and for scanning the convention Programme Book. Below is a listing of the original reports used in compiling this composite report, with links to these and others:

In 2018 the Eastercon returned to Harrogate for the first time in more than half a century but there was another convention held there in 1991, namely MEXICON 4.

.....Rob Hansen

*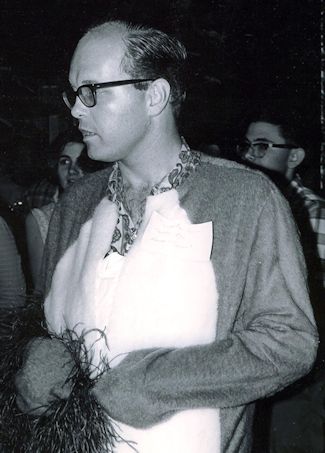 Ron Ellik in squirrel costume, convention unknown (el)
Ron Ellik's account of the convention was extracted from his TAFF report "The Squirrel's Tale". Those wishing to read of his adventures in the UK before and after the Ronvention can find the full report here.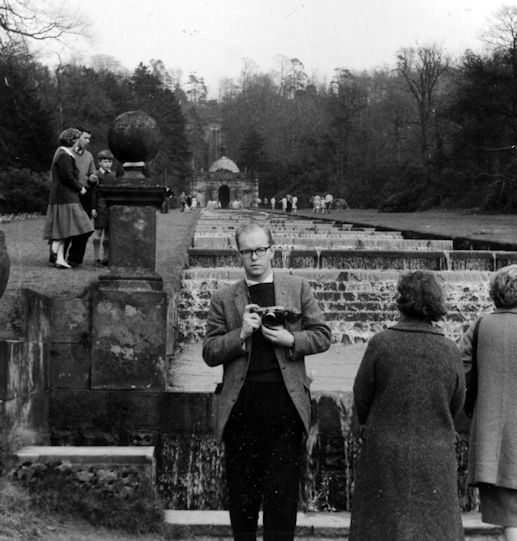 Ron Ellik at Chatsworth. (tj)
Ellik's letters to fellow TAFF administrators Ethel Lindsay and Arthur 'ATom' Thomson, while primarily about the business of TAFF, are nevertheless lively and entertaining. Those can be found here.
Ellik wasn't the only visitor from overseas to visit other parts of the country after the convention. According to the Science Fiction Club of London visitors book, German fans Tom Schlück, Rolf Gindorf, Wolfgang Thadewald, Thea Grade, Horst Margeit and Guntram Ohmacht visited them on the April 27th, four days later.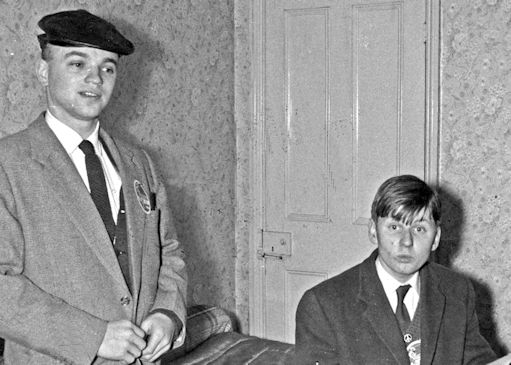 unknown German fan, Pat Kearney (db)