Sunday 22nd April
RON BENNETT

Ken Slater ran a quiz game on the lines of the radio and TV "Take Your Pick" competitions. The top prize of a bottle of Haig went to Jimmy Groves whilst George Locke won a plastic bucket and bowl and Michael Rosenblum found himself owning a pair of cheap earrings. Other prizes during the weekend were awarded to Eddie Jones for his display on BASTION, to Bob Parkinson for the highest auction bid (£2), to Phil Rogers for spotting the Con's deliberate poster mistake (directions to the West Park Assembly Room), to Terry Jeeves for the password (this was "Wilson Tucker" and was won when Terry tried to sell Ron Bennett a copy of "The Lincoln Hunters.") and to several fans for displays in the photo competition. Ethel Lindsay won the "Beautiful Britain" section (with the only entry) and first prize in the "What is It?" section went to Harry Harrison, with Eddie Jones second. Ron Bennett and Eric Bentcliffe won prizes for their pictures of "Fans."

RON ELLIK:

Easter Sunday might have dawned gloriously in that northern city, but I didn't know about it until vastly after the fact. I lay insensible, and of course I missed breakfast again -- but that didn't matter, because I was up just in time for lunch. Sunday was a muchly relaxed day, despite piling-up of programme items scheduled on from Saturday; the judging of the photo contest was over before I got to the Clarendon, and I was just in time to go back to the West Park for the BSFA Annual General Meeting.

During the AGM I sat still and listened -- the concept of a national fan organization holding all its business during one annual meeting startled me, and I learned quite a bit; I was also entertained by the first competition for the next consite in the memory of British fandom. London had come to Harrogate expecting to take the 1963 con away with them -- but that was because no one has ever wanted a convention in advance, and they figured to break a tradition.

Amazingly enough, Peterborough (it's 40 miles north and slightly east of London) also wanted the convention -- so they had to shake the dust off the rule book and actually hold a vote.

RON BENNETT

At the BSFA'S Annual General Meeting Ella Parker bid for the 1963 Convention on behalf of London and Ken Slater spoke on behalf of Peterborough. It was suggested that the issue be left until the afternoon when the vote would be taken. Discussion on the point took place informally at lunchtime and after the Professional Panel the vote was taken, the return being Peterborough 39, and London 23. It was generally agreed that poor presentation of a worthwhile scheme for a prestige hotel swung the favour to the Peterborough backers.

The BSFA'S new officers took over at the AGM with Terry Jeeves stepping up to take over as Chairman for the coming year. Bobbie Gray was elected Vice-Chairman and Jill Adams took over as Treasurer from Ted Forsyth. Ken Cheslin was elected Secretary and Jimmy Groves relinquished the post of Publications Officer to Michael Rosenblum and Ella.Parker, two experienced publishers who will have the job of putting out VECTOR, and the BSFA NEWSLETTER. Peter Mabey continued as Librarian and reported in detail of the Library's standing saying that it is now the largest SF lending library in the world.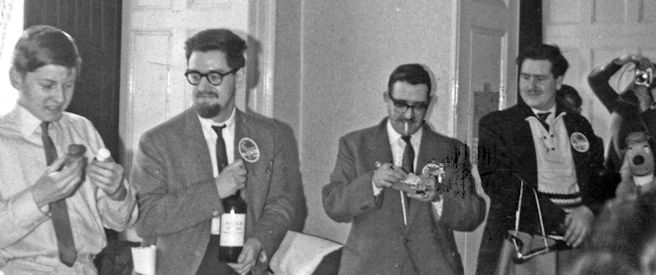 Pat Kearney, Jimmy Groves, Mike Rosenblum, Ken Cheslin (db)
The Dr Arthur R. Weir Memorial Fund was discussed and it was agreed that the money collected during the past year, some fourteen pounds, should be devoted to a Fan Recognition Award in Doc's name. A British Fantasy Award was also discussed and Tom Boardman offered to publish an anthology to raise funds for this award, on the lines of a similar anthology project already in operation for the mystery writers under his wing.
RON ELLIK:
Tom Boardman made a surprising offer to publish a special anthology professionally, proceeds to go to the Dr. Arthur R. Weir Memorial Fund to establish a Fan Recognition Award in Doc's name. There are some fourteen pounds (about $40) in the Fund now, and British fandom has high hopes for a fitting memorial to that surprising and well-remembered fan.
That afternoon I spoke to the new BSFA officers about the N3F/BSFA alliance, and we determined that first steps would be made with small-scale exchanges of publications and information about activities sponsored by the groups. Afterwards, I set up in the assembly hall of the Clarendon again, fixing myself to a doorway near Slater as he conducted a scientifictional quiz game, bringing fan after fan into the range of my camera.
When the game was over, Mike Rosenblum brought out a great store of ancient fanzines and photographs, and talked for all too brief a time about Britain's past in the sf fan field. He went back to pre-1937 fan days, covering the Leeds SFL Chapter and the first convention in England, the SFA and the old BFS, and a hatful of other things of intense interest to natives and visitors alike; perhaps it was the tight packing of the crowd, perhaps it was that British fans know each other so well, but I'm sure Mike's talk would not have held a U.S. assembly as well. The lot in the Clarendon was totally attentive, intent on the reminiscences of one man; there are too many strangers at American cons, and too many differing types of fans.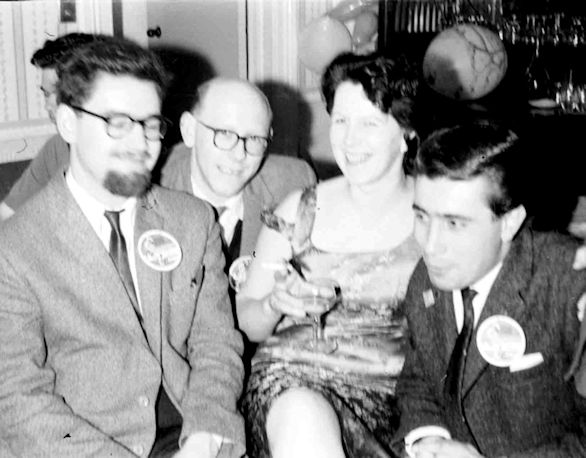 Jimmy Groves, Ted Forsyth, Ina Shorrock, unknown German fan
RON BENNETT
Michael Rosenblum gave what was generally agreed to be the most interesting talk of the weekend with informal reflections over the past 25 years. He read from Speer's original Fancyclopedia and spoke of the days when the Clayton Astounding was brought to this country as ballast and could be bought for 3d or 4d a copy. He mentioned Hornig's club for letter hacks and Douglas Mayer's formation of the first foreign chapter of the SFL in Leeds. Other chapters were formed and eventually the first British convention was held in January 1937. Michael distributed photosheets (originally published in THE NEW FUTURIAN) which showed attendees to include Eric Frank Russell, Arthur Clarke, Walter Gillings and Ted Carnell. He spoke of the beginnings of New Worlds and the disintegration of British fandom within a fortnight when war broke out in 1939.
Fanzines at that time included Liverpool's Satellite and Gargoyle, he said, and his own FUTURIAN which was later combined with Ron Holmes' SCIENCE FANTASY WAR DIGEST to become the FUTURIAN WAR DIGEST. Michael spoke of the formation of the British Fantasy Society, originally a temporary war organisation, and his own virtual gafiation until 1953 when a new Leeds group (LSFA) was formed. He was asked questions about the whereabouts of various fans of the last twenty years and also how present day fandom compared with that of 25 years ago. Michael said that both fandoms appeared to contain their thinkers, but whereas the fandom of yesteryear worried about the wrongs of the world and thought that perhaps it could put them right, fandom today worried just as much but was more inclined to live for the joys of the hour. The talk had to be terminated because of the lack of time available.
JAMES WHITE:
Ian said that he wouldn't drink that day but save his small capacity for the party that night. He looked like Death warmed up, and from my First Aid and Nursing lectures I decided that his symptoms could be ascribed to one or all of a number of conditions which included malaria, morning sickness, jaundice, alcohol poisoning or rigor mortis. In the interests of fairness and because he is a friend of mine, I would not wish to state the one I thought most likely.

Eric Jones, James White, Ian MacAuley, Ethel Lindsay,
Walt Willis outside the Clarendon

Phil Rogers leaving the Clarendon
After the serious constructive business was out of the way -- Peterborough won the 1963 con to the surprise of everyone including the people who had voted for it -- came the Professional's Panel. This was something which I had been dreading because I don't speak well and prefer to *write* my spontaneous witticisms using approximately twenty minutes polishing on each one. Somehow I didn't think the panel could wait that long for a lousy White-type pun. I prepared to take my place feeling scared and not a little envious of people like Brian and Harry and Tom Boardman who could talk off the tops of their heads as if they had never used the tops of their heads for doing anything else. But the Professional's Panel wasn't too bad after all, I didn't have to say very much and what I did say I said too softly for anyone to hear or object to it; and there were certain undercurrents of intrigue which very few people suspected which kept my mind off my tied tongue.
Sometimes I wish I lived in the probability world where that Professional's Panel went exactly the way we professionals had planned it ...
Harry Harrison possesses, among his many other fine characteristics, a diabolical brain. Brian Aldiss's brain is such that it can contemplate mile-long spiders without qualms -- spiders have six feet but no qualms anyway -- and they both remembered that my brain, together with its necessary locomotive appendages, had taken part in an unscheduled gun-battle during the '57 con. Tom Boardman joined in the plot immediately it was mentioned, being a person with boundless enthusiasm for practically everything. I don't know if Steve Hall was in on it or not -- it was a last-minute thing and there might not have been time to tell him. E.R. James certainly wasn't in on it, he being the person indirectly responsible for the whole thing.
E.R. James, a quiet-spoken, likeable and shy individual had, despite those characteristics, aroused feelings of envy within the breasts of certain pro authors by lecturing the convention membership on Yogi while standing on his head. In an effort to reassert themselves in the public eye the diabolical, peculiar, enthusiastic and big brains of Harrison, Aldiss, Boardman, and White respectively devised a little treat for the convention which they hoped would be rather more spectacular.
The way it was supposed to go was for Tom Boardman to keep filling, the water carafe with water from a large gin bottle. He was to do this surreptitiously, but in such a manner that the audience would see him. It was a very warm afternoon and the other members of the panel had courageously agreed to drink water for the hour given over to the panel. As an added touch I, whom everyone knew was a confirmed water and/or tomato juice drinker, was to grimace slightly every time I knocked back a glass. The idea being that I thought the water tasted peculiar, but not knowing what gin tasted like was drinking it anyway. Then gradually the polite answers to questions from the Chair and audience were to take on a more caustic edge. We would become less than polite about each other's stories and graduate to criticisms of personal habits. Not knowing much about each other's personal habits we planned to invent some as we went along. Some of these were to be a trifle on the bizarre side, but as vile pros used to engendering the suspension of disbelief we thought we could make them sound plausible.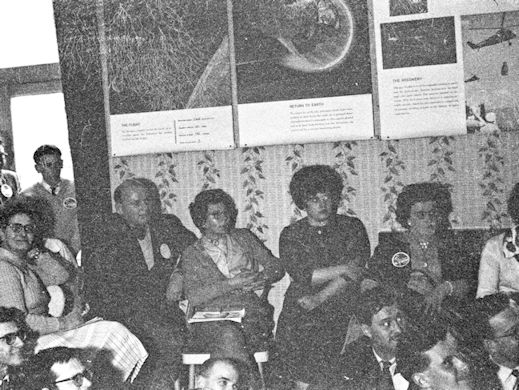 Audience, Bill & Bobbie Gray rear left centre (sr)
At this stage we expected E.R.James to step in to try to calm us down, or at least aid Ron Bennett in the chair in doing so. This would be the signal for us to start coaxing E.R.James to show us how to stand on our heads, and the Chairman would be politely but firmly restrained if he tried to stop us. We did not foresee any trouble in this, as Ron Bennett without his elephant is at a disadvantage. We would start to stand on our heads ourselves, singly and in unison. Naturally we would topple and fall against one another, and say "sorry" to each other in loud drunken voices, or phrases like "who d'ye think you're shovin' mate?" And Harry Harrison would start using horrible language on all and sundry -- actually it would be quite clean language, out of deference to the ladies present, but he would speak loudly and with feeling, in Danish. Various refinements were expected to suggest themselves as we went along, such as asking the people who asked questions from the audience to come out and fight, but the main idea was for it to end with a grand old drunken brawl all over and around Ron Bennett...
What actually happened was that, just as Harry Harrison was becoming impassioned in his replies to questions, and Brian Aldiss was waving his arms more than usual and I was breaking in on him---and the audience had gone quiet, possibly because they suspected something but more likely because they were beginning to hear us properly for the first time -- Ron Bennett wound us up. Looking at his watch he said it was time for the auction and thank you gentlemen for a most interesting discussion.
All I can say is he should have waited a bit. It would have been much more interesting.
Up in Brian's room later we sympathised with each other and wondered how we had all had the idea that the panel was to last a full hour. When the half hour had finished we had just been warming up. It was during this meeting that Tom Boardman launched his idea for an sf authors' choice anthology which would not pay the authors anything but which would finance a British and/or International Hugo, the rest of the proceeds going to the BSFA. When I think now of how we all promised to donate stories to this anthology for free, hardened pro that I am, I get a certain sense of unreality. And it was also during this meeting that I saw Ian drinking whiskey out of a cut glass vase. In all fairness, however, I must add that the vase was eighteen inches high and there wasn't very much whiskey in it.
Because we had been talking about something or other during the time everyone else had been out to lunch, we missed the auction and TAFF address by Ron Ellik through having been overtaken with a strange alien craving for food. But everywhere in Harrogate seemed to be closed, it being Sunday, except a dank, noisome, first-floor cellar whose air was solid with the smell of very old fried fish. We wasted nearly an hour before we finally discovered a Chinese restaurant which was open. I think it is a very odd thing that people who we once considered dirty foreigners are the only people capable of serving clean food.
It was late afternoon when we returned to the hotel. The rain had stopped and the street and park outside were drenched with warm sunshine instead of cold water. It really was a fine afternoon and we went into the hotel feeling happy and eager to meet anybody we hadn't met yet and talk until it was time for the film, which was one I had wanted to see for about ten years and still want to see again.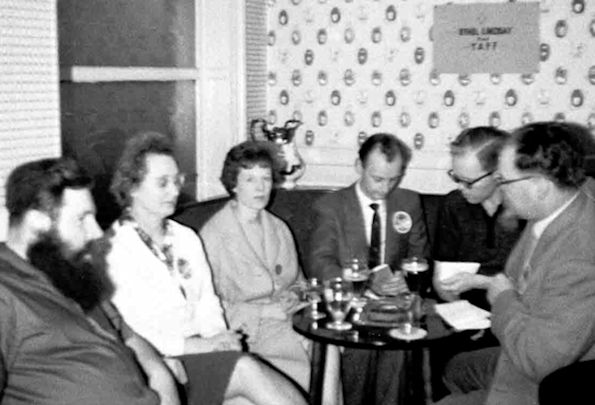 Archie Mercer, Joyce Slater, Beryl & Eric Bentcliffe, Ron Ellik, Ken Slater (db)
RON ELLIK:
In the evening Eric Bentcliffe and I entertained the (seemingly) entire mass of attendees with a talk about TAFF, its future and its problems. We had quasi-rehearsed this at Eric's home a few days before, and it went off like clockwork, corny jokes and all. In fact, I daresay I have never played to a better audience. One of the most interesting outcomes of this talk was a short list of American fans whom the British would like to see nominated for TAFF -- it amounts to a mandate.
Later a mob filled the West Park assembly room (where the fancy Dress Ball had been held) to watch a Guinness movie, 'A Matter of Life and Death'. Then we all charged over to the Clarendon for a wine-and-cheese party, brightened considerably by some of the hoariest old silent pictures I have ever seen -- Tarzan from before Weismuller, and Popeye cartoons like you have never imagined.
When the cheese and movies ran out, I found myself in a flying wedge headed for the lobby of the West Park and -- you guessed it.
That game was an extraordinary event in itself; we must have settled down around midnight, when someone asked us if we intended to stop early or late. We replied that the cards would stop being dealt when the sun's first rays illuminated the lobby; and we paid no heed to cries that the lobby opened westward.
JAMES WHITE:
After "A Matter of Life & Death" the Cheltenham Group showed old con movies and Tarzans. The only other things I can remember about this party are that everyone seemed to be enjoying himself, that at one point there was a loud splintering crash from somewhere, and that everyone watching the movies had either to sit or lie on the floor because the screen rested on a chair little more than a foot above floor level. This horizontal rather than vertical distribution of bodies made walking and talking remarkably difficult.
Brian Aldiss and Harry Harrison were in the lounge feeding meat pies to a crowd of emaciated fans. Brian had been charged 2/6 the previous night for one sandwich so tonight he had imported his own food. I heard later that he had grilled them in a metal wastepaper basket, but when they arrived they were going like -- dare I say it -- like hot cakes, I managed to get one just before Brian Burgess took off with the last dozen with some idea of auctioning them at the other party. Hearing that there was another party, in Ethel and Ella's room, I went looking for it and met Walt and Ian doing the same.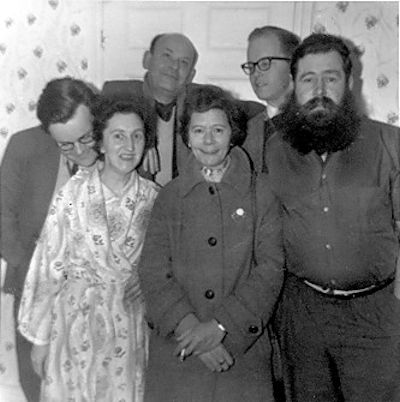 Rear: Peter Mabey, Bill Gray, Ron Ellik. Front: Ethel Lindsay,
Bobbie Gray, Archie Mercer
This was a very quiet party at first. Until people began breaking away from the other one there was only a handful there. We talked seriously about a great number of things fannish, and listened with awe to the sound of a typer coming from the next room where some fan was already bashing out a con report. Then gradually more people came in and it became impossible to sit less than eight to a bed. About five o'clock people had begun to drift away again until just Walt, Ian and myself were there and Ethel stated her intention of going to bed. Ella also said she needed her sleep otherwise she'd be a sight in the morning. I had a choice of replies to this, but refrained from making them and merely said that in my opinion anyone who went to bed at all on the second night of a convention was sissy and effeminate. Oddly enough, neither of the girls objected to being called effeminate.
We were all hungry again and went down to the kitchen on the off chance that the staff had forgotten to throw out some crusts. I don't know how the others felt, but I was hungry in italics. In the kitchen we found the walls, ceiling, floor and fittings streaming with water and clouds of steam hanging in the air. Obviously there had been a recent catastrophe with the hot water boiler. We waded out carefully and went to the small lounge, where a group containing Ron Ellik and Ron Bennett were playing cards.
RON ELLIK:
During the night, as least the following people sat in from time to time: Norman Shorrock, Ron Bennett, Liz Humbie, Phil Rogers, Sid Birchby, Dave Barber, Pat Kearney, Jill Adams and myself. I don't believe more than six of us were at the table at any one time; if anyone else joined, he was there for only a brief span.
By this time I had gotten the hang of the game -- you don't play your cards, you play your opponents'; I was winning fairly regularly, and if Norman had thought I was keen the day before, he was goggle-eyed at my enthusiasm for the game when I began raking in chips -- HIS chips. He played casually, as always, and won heavily from Bennett on some of the most fantastic hands I've seen: hands where the bet went up to a pound, where pots often totalled more than five pounds, and where tension all around the table was incredible. I learned how to be out-Bragged, and I learned how to laugh insanely at my cards no matter what; but mostly I learned how to rake in Norman's chips.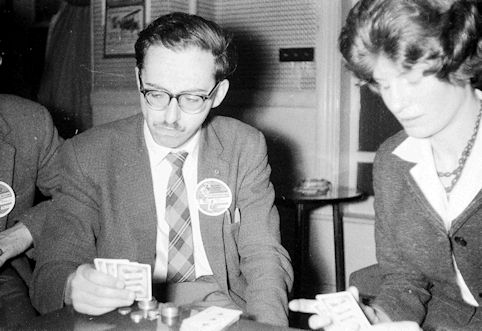 Ron Bennett & Liz
By the way, I am deliberately not describing Bennett's style of play. Anyone who has engaged in any game of skill or chance with him will appreciate the problem -- and you who have not would doubt the most conservative description. Let it be said merely and stand as inadequate but all stencil can convey that he is the most disconcerting opponent possible, and also a subtly skillful player; whenever I thought I had the game cold, Ron would completely upset me in my complacence and while doing so would take a big pot.
At something like two o'clock Sid Birchby sat down with us, and by three or so he conceived the idea that nearly destroyed the West Park Hotel -- he suggested coffee.
"But there'll be no hot water at this hour," muttered Norman, much more interested in cards than coffee.
"They have a geyser," insisted Bennett, "and it's worked just as one I have at home." And you know, it didn't register that he had said "geezer" instead of "guyzer" -- the same pronunciation I had noticed when I had trouble understanding how Mrs. Bentcliffe procured hot water. No, I just wrote it off to tapping the heat of the aforementioned Harrogate mineral springs -- the alert reader will observe that I am a peculiarly unscientific sort.
So Birchby and Bennett trundled out to Birchby's auto and retrieved his camping equipment, which just happened to contain some essence of coffee (a romantic name for instant coffee -- it's what the British call it) and they set up in the kitchen to serve the rest of us. Bennett turned the geyser to "fill" and went about getting tea and tea-things out of the cupboard; and, when the clear-plastic water-container was rising to full, he reached up --
And turned the knob the wrong way.
It continued to fill, and he turned the knob more violently the wrong way, letting out a squeal while Birchby laughed hysterically, insisting that it was identical to one Ron had at home. At this point the card-players came charging in to the rescue, to find Birchby doubled up in laughter and Bennett struggling with the infernal geyser, which was letting huge gouts of warm water all over him and the kitchen.
Norman got the fool thing turned off, and Liz helped Ron to a chair, while the remainder of us looked for pans and cloths with which to mop up. All the time Bennett was swearing at the geyser and laughing alternately, and the situation was getting funnier and funnier, as such things do at three ayem. Liz was trying to calm Ron a bit, but she kept bursting into gales of laughter; it was all anyone could do to mop up.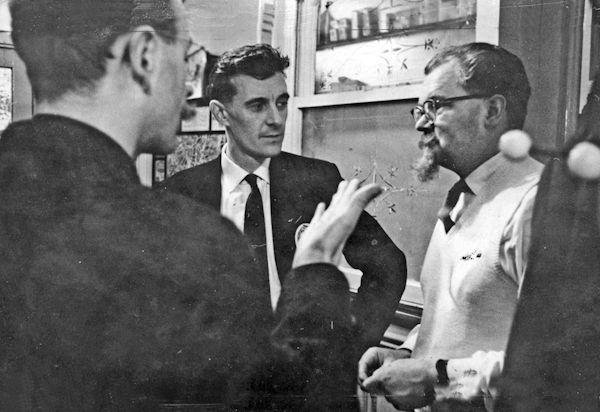 John Roles, Norman Shorrock, Ken Slater (ks)
In this incident I learned the meaning of geyser -- it's a small, wall-mounted water heater, gas-operated. This was what had been on the wall above the sink at the Bentcliffe home, but it was metal and I didn't understand its use; it must have held at least three imperial quarts, while the West Park's geyser held perhaps one, to be used for single pots of tea or to infuriate Ron Bennett.
And so we mopped up, and Norman started the just-full geyser heating, and Liz helped Sid fix tea and coffee. As I was carrying my fourth tin of water from the room, I noticed the water beginning to bubble, and pointed it out to Ron.
"Don't pay any attention to the dirty little thing," he snapped. "You have to wait until that little red light goes out."
And, since he has one just like it at home, I took his word for it. On my next trip with a tin of water, as we were getting the last of it off the floor, I mentioned to Ron that the water was coming to a gentle, rolling boil.
"When that light goes off," he said, "the water is ready. It has a thermostat which clicks the light off at just the right time."
He was still shaking from his hysterics about shutting the thing off, so I made another trip. As I re-entered the kitchen, I saw steam rising from the far wall and boiling water spurting out the top of the geyser; nobody else was paying it any attention.
"Ron!" I shouted, "the geyser is boiling!'
He looked at me as if I had not a brain left.
"That red light --" he began, and turned to look at it.
"Oh, my ghod!" he screamed, suddenly hysterical again, "that light must mean it's finished heating!"
And with a cry of "But I have one like it at home!" he leaped across Dave Barber and grappled once more with it -- only this time every control was being doused with scalding water, and it took a seeming eternity to get it under control.
He had no help this time, because one and all we stood gasping for breath, holding our aching ribs and nearly collapsing with laughter. And of course we had to mop up again, but Bennett and I had to go to the lavatory about this time. When we returned, nearly recovered, the group was put into fresh paroxysms of hilarity by Sid Birchby, who unthinkingly picked up an unusual spoon, with half the bowl missing for some reason, and attempted to spoon instant coffee with it. He stood there inanely with coffee spilling out of his utensil, while we stared, and pointed, and laughed.
From then on to dawn, someone might say spoon, or water, or geyser, or "I have one just like it at home," to find gales of laughter.
At dawn the Irish boys descended from a party in Ella and Ethel's room which had lasted the night, and we told them the story.
JAMES WHITE:
Ron Bennett stopped long enough to reassure us that the slight dampness in the kitchen was nothing to worry about and that the boiler had been unco-operative the first few times he had handled it, but now it knew who was boss. He also said he knew where there was some instant coffee and offered us boiling water prepared personally by the hands of the Convention Chairman.
While we were drinking this glorious, warm stuff, Ron Ellik gave us the details of how the other Ron had tamed the boiler. Not wanting to steal his thunder -- boilers make an explosive, hissing noise when they blow up in any case -- and in an effort to avoid puns with "highest steam" in them, I will not repeat them.
Ron went back to his brag and we began debating whether or not we should go to bed, deciding finally that we were all too hungry to sleep. Walt, Ian, the fan who climbs drainpipes and compares me with Hal Clement, and myself were beginning to brood about the injustices of the world and society in general, our thoughts being strictly from hunger. Then Ian, Walt, and the drainpipe-climber from Oxford left me in a last desperate attempt to find food....and stumbled on an unlocked refrigerator.
After we had made a large dent in the contents of the refrigerator and left some conscience money behind to cover the cost, we all felt more like ourselves. But still we were not completely happy. Possibly it was a sense of loneliness that ailed us, because we had been used to large crowds of people and now we were only four. The fans playing brag at the table a few yards away were in another world, and didn't count. It didn't feel right being able to talk without raising one's voice, or walk from one end of a room to the other without saying "Excuse me" six times. In any case someone, possibly me, suggested that we wake up Harry Harrison or Brian Aldiss and somebody, me again, thought it was a good idea. We batted it about for a while, discovering that we weren't sure of Harry's room number and that there would be an element of risk attached to waking the Harrison up, and that we had a rough idea where Brian's room was and that he was the type who was invariably polite.
It was 6.45 when we left for the other hotel to wake up Brian.
His hotel was locked but there was a drainpipe which led past a half-open window which, according to our calculations, opened into Brian's room. The fan who compared me with Hal Clement said that he climbed drainpipes all the time at Oxford and started to scale this one. But drainpipes in Harrogate are made of softer stuff than in Oxford and it began to wobble alarmingly, so he came down without accomplishing his mission. Which was perhaps as well, since we were told later that it had been Margaret Manson's room.
Gradually we became resigned to the fact that we would be unable to wake anyone to join our party and we headed back to our own hotel to freshen up before breakfast. The sun was still shining down warmly and the sky, trees and grass had a newly minted look. I think we were all feeling a little poetic and philosophical about things, because it was suddenly borne upon us that when we had gone into the West Park Hotel to see 'A Matter of Life and Death' the local meteorological phenomena had been identical with the conditions around us now. It made us wonder where Sunday night had gone, even if there had been such a thing as Sunday night. We had all been so busy enjoying ourselves and the time had passed so quickly that we began seriously to doubt Sunday night's existence.