Stuff by me:

My TAFF Report
An account of my first visit to the USA and of my experiences at the 1984 Worldcon

THEN
A history of SF fandom in the UK, 1930-1980

British Fanzine Bibliography
A bibliography of British SF fanzines, as researched and compiled by Peter Roberts, Vince Clarke, and me.



ARCHIVE

MARVEL: THE FINAL DAYS OF THE THIRD REICH * link
16 January 2010
At some point, someone will tell the story of the final days of the Third Reich in the Marvel Universe. Whether they will take the time and trouble to research what has already been established over the years for that period is another matter. Here, in 13 pages taken from a bunch of different comics is what we know to date. If you know of something significant I've missed please let me know.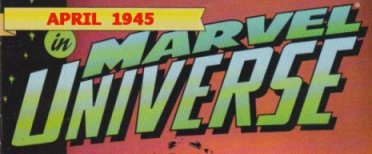 NEW NAME, NEW PREMISES * link
16 January 2010

With the move to a new website I figured it was time to move my very occasional blog here, too. Previously called FRIDGE MAGNET - a name made up on the spur of the moment when I first had something I wanted to post - I'm taking this opportunity to retitle it. I found the new name in one of my old apazines along with an explanation of why it would be a good one for me to use. I agreed with my earlier self, so here it is. Why BRASH NEON should be appropriate is left as an exercise for the reader.


PREVIOUS BLOG ITEMS:
Archive:
pre-2010

LINKS:
Avedon Carol * Patrick & Teresa Nielsen Hayden * Roz Kaveney * Neil Gaiman *