Standing: John Chapman, Clifford D. Simak, Carl Jacobi, Cyril Eggum, Douglas Blakely, Phil Bronson
Sitting: Arden 'Buns' Benson and Squanch Foot, Charles Albertson, Oliver Saari, Ken Peterson, Samuel D. Russell
(photo courtesy of Dwayne Olson - taken at third official meeting of the Minneapolis Fantasy Society)
| | | |
| --- | --- | --- |
| Clifford D. Simak | Phil Bronson | Samuel D. Russell |
Redd Boggs:
For nearly a year after Pearl Harbor, it looked as though the Minneapolis Fantasy Society (MFS) might survive World War II without too much difficulty. New members like Gordon Dickson, Manson Brackney, Art Osterlund, and Sheldon Araas were being recruited faster than the armed forces were grabbing the old ones. Oliver Saari and Arden "Buns" Benson, as seniors in the Institute of Technology at the University (1942-3), were exempt from the draft; John L. Gergen was too young to register; and many MFS members were rejected - so many, in fact, that at the end of 1942, Manson Brackney remarked wryly, "If things in the MFS keep going as they have been...we shall have to be known henceforth as the M(4F)S."
As you will remember from the previous chapters, Doug Blakely had been drafted shortly before Pearl Harbor, while Cyril Eggum went into service with the National Guard and Bob Madsen accepted an appointment to the United States Naval Academy at Annapolis. After 7 December 1941, many MFS members received draft notices, but Donald Wandrei and John Chapman were the first to leave. Wandrei left shortly after formally joining the MFS in January 1942. Chapman had married in February 1942, but this did not prevent him from being inducted a few months later. Incidentally, he and I were members of the same school squadron at Jefferson Barracks, Missouri, presumably at almost the same time, but neither of us was aware of the other's presence till too late. Rod Allen was drafted during the summer of 1942.
Though eligible for the draft, Clifford Simak was accepted for a civilian job with army intelligence soon after Pearl Harbor and was sent to Seattle, expecting to remain there for the duration. Carl Jacobi and Morris Dollens expected to be drafted shortly, and Director Samuel D. Russell received his notice at the end of April 1942. Against this background of uncertainty, a hastily convened meeting took place on 8 May 1942, and the attendees decided that the MFS should suspend till after the war. They vested authority to reconvene the MFS after V Day - or whenever appropriate - with Phil Bronson. Unfortunately a quorum was not present at this meeting, and some of the members objected to the sudden action taken; therefore, another and larger meeting was held on 22 May to reconsider the matter. At this meeting, the MFS lost no time in reversing the original decision and reactivating the club. The new-found optimism derived largely from two factors: Director Russell announced that he had been rejected by the army, and Clifford Simak suddenly decided to return to Minneapolis for the duration.
For several months thereafter, the MFS vibrated with almost unprecedented energy and enthusiasm. Meetings and between-meetings activity continued at a steady pace; as in the palmiest days. John Gergen brought out the first issue of his general fanzine, TYCHO, and followed it With the first issue of a newssheet titled the MFS BULLETIN. Phil Bronson published the ninth issue of THE FANTASITE shortly afterward, and the MFS found itself faunching for new projects to tackle. In the autumn of 1942, at the Michiconference held in Jackson, Michigan, the MFS agreed to publish Jack Speer's FANCYCLOPEDIA, then in the planning stage. Unfortunately, the MFS became moribund before this work [which was then] published in 1944 by the LASFS. That same autumn the MFS also divulged plans to complete at last the long-proposed MFS History. This was intended to be a booklet running about thirty pages, with the writeup done by Sam Russell and Gordon Dickson. To the knowledge of your historian, this history was never published, and the present work is the only one that has been written.
In the autumn of 1942, Phil Bronson decided to migrate to the West Coast. This was a momentous decision for the MFS, because the club ultimately wound up losing almost as many members to the LASFS as to the U.S. Army. "Phil is rather pessimistically inclined toward the draft situation," reported the MFS BULLETIN Vol. 2, No. 1, "and wants to be with his family in Santa Monica) when he has to go. After making and scrapping, several tentative plans, Bronson announced that he intended to leave on Thursday noon, 13 December 1942, and that Morris Dollens - who had recently been placed in 4F - had decided to accompany him.
Bronson, who had been living in Minneapolis, moved back to Hastings to prepare for the migration, and during the weekend following the regular MFS meeting of 28.November - held Saturday instead of Friday so that members could attend the Minneapolis Symphony concert at which Shostakovich's Seventh Symphony was performed - Bronson played host to the hordes of Minnesota fans who descended on Hastings to wish him bon voyage. He claimed after that the mob consumed "two hundred sandwiches, eight troughs of potato chips, six jars of pickles, six dozen doughnuts, and 95 cups of coffee," not to mention the numberless bottles of beer, conveniently chilled on the back porch, which they guzzled. The party was so lively and so well attended that a sheet was hastily mimeographed to proclaim the occasion as the First Hastings Stf Con.
The tenth issue of THE FANTASITE partly mimeod by Bronson and Brackney before the HastingsCon began, was published before Bronson left for California. This was the final Minnesota issue of this famous fanzine, although two more issues (May-June 1943, and February 1944) were published from Los Angeles. Bronson left as scheduled, despite Saari's last-minute attempts to dissuade him, and though there seemed to be some uncertainty about his plans right up to the last minute, Dollens accompanied him (Dickson accused Bronson of Dollensnapping). Four nights later the two migrants attended a LASFS meeting - about twenty fans, in all were present - and the day after that held an MFS rump session in Santa Monica when Private Rod Allen, on a three-day pass from Camp Young, California, called on Dollens and Bronson.
A regular MFS meeting was held in St. Louis Park the same evening, at the home of Clifford D. Simak; only six members were present. The following meeting, at John Gergen's, drew eight attendees, but it was obvious that the era of large gatherings was over for the duration. The emphasis henceforth was on informality. "Instead of attempting to hold regular meetings with the sparse attendances, what with most of our members gone or going into the armed services, we get together and have interesting time talking," reported John Gergen, adding, "and indeed, we had a very fine meeting." During this period, Sam Russell, Manson Brackney, Gordon Dickson, Oliver Saari, Charles Albertson, and Art Osterlund were the most regular attendees aside from John Gergen himself. Arden Benson, Carl Jacobi, and Clifford Simak were still in Minneapolis but were seldom able to attend meetings.
Meetings were often held at Gergen's home in Southeast Minneapolis and were held at frequent intervals. Gordon Dickson wrote in the MFS BULLETIN #18, February 8 1943:
The MFS is at present a little bewildered - and who can blame us? Our compound befuddlement is the result of the frequent meetings Gergen has been calling of late.... Our meetings of late have been on the rapid-fire order. I bumped into Saari on the campus today - and Benson. "Coming to the meeting at Gergen's Sunday?" I asked. "God!" shrieked Ollie, "another? I just left the last one the other day!" He collapsed into a snow drift. Buns threw a handful of snow in his face. "Poor boy," sighed a passing coed sympathetically and dropped a nickel into Ollie's famous hat, which was lying upturned on the icy sidewalk. It's little episodes like this that give the tenor of our feelings in the frozen northwest.
With Dollens gone, the recording of science fiction plays, a familiar activity for nearly two years, perforce came to a stop. MFS members even found it difficult to reply to a recording sent them by Bronson, Walter J. Daugherty, and the LASFS, but finally discovered "a little recording shop" in downtown Minneapolis which on several occasions they patronized for recording discs intended for the LASFS and others. In March 1943, the MFS contemplated cutting "a last greeting to fandom" as a farewell gesture, but the disc seems never to have been made. While Dollens was still in town one of the last recording sessions resulted in a record of chatter which was put on a new "glass" record and sent to Bob Tucker. "Fortunately," Gergen reported, "it broke on the way."
Probably the last movies of the old MFS were taken at the HastingCon of 29 November 1942. Dollens managed to film part of a poker game, showing one member holding a hand of five aces, and a scene of fannish horseplay in which Bronson sprayed various people with a fizz bottle and got his comeuppance from Ollie Saari, who zapped him in the face with a water-pistol charged with beer.
Before the extinction of the prewar MFS, most of the members had grown old enough to enter taverns, and in these latter days Delaney's Bar began to rival the New Elgin Cafe as the after-meeting hangout of MFSers. A proposed letterhead for MFS, shown in B-R-R-R-ACK! #2, featured Delaney's Bar, beer bottles, and a rocketing hip flask, though early meetings were largely stag aside from the incidental presence of mothers or sisters, various MFSers had now discovered the opposite sex, and a number of female guests were present at various meetings, in particular the Halloween 1942 party.
After trying twice to enlist and being rejected for poor vision, Brackney was inducted into the army on 22 February 1943. Before reporting for duty, he made a last trip to Joliet, Illinois, to visit Walt Liebscher whom he had met at the Michiconference of 1942. At the MFS meeting of 11 February, members sat around the table and listened while Manse detailed his trip...exchanged messages, and told the latest news from Illinois. Gordon Dickson soon followed Brackney in donning an army uniform, though he did not make a farewell trip to Illinois. He became, according to Bronson's reckoning, the eighth MFSer in uniform.
Meetings continued to be held, in the now-familiar hasty and helter-skelter fashion, into 1943; the last meeting reported in detail in the MFS BULLETIN took place on 17 February of that year. Probably the club would have disintegrated even before that had it not been for the enthusiastic support of John Gergen who had assuredly become the sparkplug of the MFS during these last days. A youngster of only 13 or 14 years of age who had first appeared in fandom early in 1942, Gergen began to play a pivotal role in MFS affairs by founding the biweekly newssheet MFS BULLETIN in June 1942. Although this fanzine was intended only for the edification and entertainment of MFS members, it was exchanged with a few "outside" fanzines from the beginning, and after issue 47 (undated, but published in November 1942) it widened its appeal to become a regular news-magazine:
We had hoped at first to publish a two-to-eight-paged BULLETIN promptly every two weeks, featuring news-items and notes of MFS interest. The idea proved unfeasible. So a new policy is in effect immediately: The BULLETIN is to appear as a regular biweekly newssheet, featuring countrywide news, from the various fan-clubs, fan centers, and fans.
On a modest scale, the MFS BULLETIN, or Mafusby, as Walt Liebscher dubbed it ("Mafusby, Mafusby my blue-eyed Mafusby"), became almost as famous throughout fandom as THE FANTASITE, and Gergen soon garnered a measure of fame far beyond the boundaries of Minnesota. The last wartime issue of the BULLETIN, Vol. 3, No. 11, whole number 23, dated March 15 1943, was a single-pager wholly devoted to news of "country-wide fandom," without a single reference to MFS doings. This issue was the last whisper of fanac in Minneapolis for exactly four years.
While the MFS was riding high, fan activity in outstate areas had not loomed large, but a few fans had appeared. One was Robert Mastell of Hibbing, who was a letterhack in THRILLING WONDER STORIES about 1939 and later became a well known fan. Another Hibbing fan, appearing a few years later, was Art who began to subscribe to fanzines around the country early in 1943, but soon after he became active he joined the Westward migration and appeared in Shangri-LA. Later he moved to New York City, where he still resides.
Gordon Dickson regarded the war, he said in MFS BULLETIN #20, as a "god-given opportunity" for the MFS to expand its influence world-wide. He pointed out that, early in 1943, in addition to the original MFS, at the time still active, there were branches of the MFS strewn everywhere: John Chapman headed the India branch; Cyril Eggum the Africa one, and there were many branches right in the United States, including Annapolis (Bob Madsen, director), Indio, California (Rod Allen, director), Oakland, California (Doug Blakely, director), Somewhere South (Don Wandrei, director), and Alamogordo, New Mexico (your historian, director). But by far the most important MFS bunch during the war years was the one in Los Angeles.
By June 1943, Sam Russell and Buns Benson had migrated to Shangri-LA to join Bronson and Dollens. While still identifying themselves as MFS members, these four fans joined the LASFS upon arrival and continued to play an active role in fan affairs. Francis T. Laney's AH! SWEET IDIOCY! describes how Bronson and Benson took part in the Knanve feud with the LASFS in 1943-4 and how ftl persuaded Russell - whom he calls "a completely wonderful person" to become co-editor of THE ACOLYTE which had become one of the leading fanzines of the day. After publishing one issue of THE FANTASITE in collaboration with Walt Daugherty soon after his arrival and another (a solo job) in February 1944, Bronson succumbed to what Laney described as "lotus-eating." "'Aw, let's just sit back and blow smoke rings', he used to say when we'd suggest doing something," reports Laney. Though Russell remained active in FAPA and Vanguard till about 1946, the other transplanted MFS members drifted out of fandom during 1944.
Meanwhile, back in Minnesota, the MFS had ceased to exist as an active club sometime early in 1943. However, there were a few faint signs of life afterward. In September 1944, Carl Jacobi, John Gergan, Art Osterlund, and Clifford Simak met in the Marine Room of the Rainbow Cafe, Lake and Hennepin, for an "informal meeting." Jacobi reported the death of A. Merritt, and a discussion of his works followed. Afterward a story by Jacobi was read for comments and criticism. On a later occasion, a small gathering took place at Simak's house when Brackney and Dickson came home on leave. Gergen was again present, but Jacobi was unable to make it that evening and, by that time, Art Osterlund was in the Seabees. Four years were to pass before the MFS was recalled to life.
- NEOLITHIC #21 (February 1962, ed. Ruth Berman)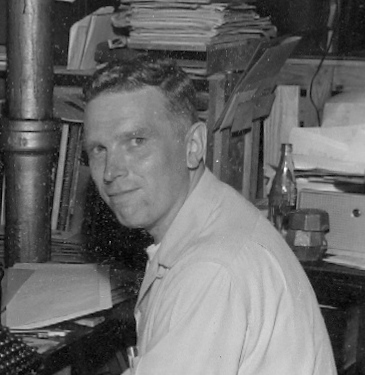 Redd Boggs, 1953 (photo by Dean Grennell)
This is part of a serial history of MFS that should be collected and made available online if anyone has all the parts.
Related: