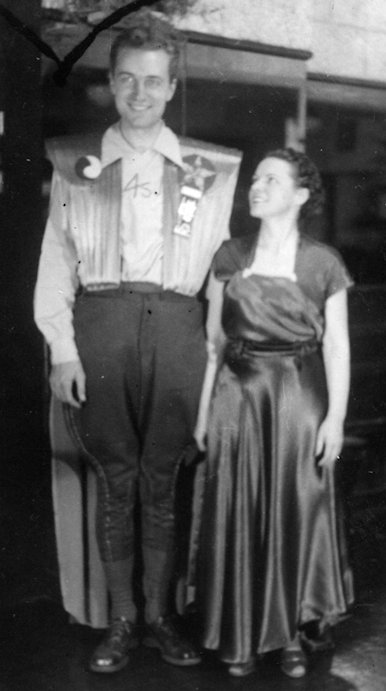 Forry Ackerman and Myrtle 'Morojo' Douglas at NYcon, 1939
- (photo from Ted Carnell collection)
The first people to appear in costume at a convention were Forrest J Ackerman and his girlfriend Morojo. She made the costumes they wore at the 1939 Worldcon, held in July that year in New York. They have been duly celebrated for this innovation by cosplayers/costumers in recent years. This wasn't the only appearance of that 4SJ garment, as can be seen in photos taken of Ackerman and Ray Bradbury larking about in Los Angeles in 1941 here.
As for when the idea expanded beyond Ackerman and Morojo, here's Mark Reinsberg writing in FANTASY FICTIONEER #2 (January 1940), a fanzine published by those running 1940's CHICON, the second Worldcon:
A unique idea was submitted by Jack Speer and Milton A. Rothman , which deserves mention in "what *can* be done" department. It calls for fans using their imaginations in making "science fiction costumes" patterned after characters who have became famous in the professional s-f field. Jack points out that the idea has been tried out on a small scale before by various groups and individuals, but that a "fashion show" at the Chicon would be no less spectacular.

Quoting from Speer's letter: "Yours truly is planning a Dick Calkinish rig, complete with balsa-wood flying bolt. After we (Rothman and Kummer, Jr.) got to thinking about it, the possibilities seemed endless. If he can dispense with his glasses some way, Milt plans to come as Dracula, and mentioned that Leslie Perri would make a good Dr Acula's Dawter. Kummer is thinking about dressing as an atom, and bringing along some of the awesome electrical equipment he showed us. Almost anybody can comb his hair down and be a mad scientist. We insist that the girls represent something more than ths scientist's beautiful daughters that the reporters fall in love with. Almost any costume shop can supply a got-up suitable for representing Schachner's Kleon the Greek; while to represent a zombie would require no costume at all - just good acting.

Continuing with excerpts from the some letter: ".... At any rate, the costumes should require as little explanation as possible. For example, if Ackerman came dressed in gray leather, there would be no question as to whom he represented. Bob Tucker with a pigtail and Oriental robe would be unmistakable as his own Hoy Ping Pong. Someone about Julius Schwartz's build would make a good Frankenstein dressed in a hair shirt. (It would add interest to the convention should he go around knocking peoples heads together). I don't know how anyone could make himself look like Tweel, but we thought it would be nice to try. It would be a good thing if the costume were keyed to the personality of the wearer. Thus, Moskowitz could be TWS's Petus Manxus in a Roman toga; while our Il Duce of Flushing Flats, if he could borrow a Bund uniform, might come as the New Lasher... Robt. Thompson could wander all over the convention hall as Karpen the Jew. Van Houten might make a good Prester John. Dan McPhail could be a Paul illustration. And, if the police would allow, Kornbluth would make an excellent Alley Oop. Imagine Weisinger as Giles Habibula!

Concluding: "Some of these suggestions for costumes have been made up more for your amusement than in the expectation that something like them might be worked up. But this idea in itself definitely looks like a hot one. Start planning your characterization now. We might be able to get Life to come to our party in lieu of Time." - Jack Speer.

This idea seems to be, as Speer said, a "hot" one. It appealed instantly to the Convention Committee as just the out-of-the-ordinary thing the Chicago Convention needed to make it unique. A contest would only be the beginning of the possibilities. Think of a parade down the city's main streets, the publicity for the Convention and science fiction that would mean! And the fun for the participants! A mere fifty different costumes would insure the idea of a great success.

Moreover it would spice the whole program, and easily be unusual enough for magazines like Life, Look, etc. to feature in the type of article fandom would like to see science fiction represented in. We like the whole idea, and, if fandom voices approval, the Convention will include the costume contest (fashion show - and perhaps even that gala parade!). Let's hear from everyone!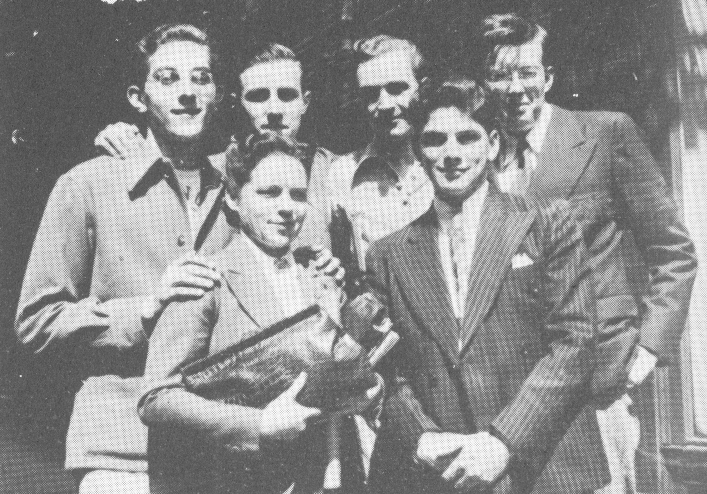 CHICON (1940) Rear: Erle Korshak, Mark Reinsberg, Ackerman, Paul Freehafer
Front: Morojo, Richard Meyer. photo from ALL OUR YESTERDAYS by Harry Warner Jr. (Advent, 1969)
CHICON was held on Sunday 1st & Monday 2nd September, 1940, at the Hotel Chicagoan in Chicago, Illinois. It reportedly attracted 128 attendees. The masquerade took place Sunday evening. Here's Harry Warner Jr's report from ALL OUR YESTERDAYS:
'Filksong' was a term that had not yet been invented, but songs were sung that consisted of new lyrics with a science fiction theme set to familiar tunes. And the masquerade didn't start until 9:00 p.m., faithful to the tradition that convention events may not proceed on schedule.

Speer and Rothman were masters of ceremonies. Speer attempted to promote a word game, in which an intelligible sentence was built up by answering correctly a science fiction quiz, but this was too intellectual for the time and place. Costumed fans walked one by one to the dais, and identified the characters they represented. Dave Kyle won first prize as Ming the Merciless, Emperor of Mongo. The adjective recurred to fans in his connection at a much later convention. Lowndes in a pale orange robe took second award, as the Bar Senestro, of The Blind Spot. Leslie Perri had originally made the costume for Wollheim. Morojo and Ackerman, dressed as at the Nycon, put on a skit representing people of the future, and placed third. E. E. Smith, Rocklynne, and Tucker were judges.

Others in costume included Kornbluth, as the invisible man; George Tullis as Johnny Black, de Camp's humanized bear; Pogo as the High Priestess of FooFoo, an early manifestation of pure faanishness; Elmer Perdue and Earl Singleton as competing Jurgens; Rothman as a typical scientist; Siegel*, in normal garb, representing his famous character not yet stripped down for action; Speer, Korshak, and Reinsberg, all dressed as Buck Rogers; Smith, not competing but in black to represent Northwest Smith; his daughter Honey as Nurse MacDougall, the "Lensman" novel heroine whom she had inspired; Tucker as Hoy Ping Pong; and a late improvisation that was a smash hit, Widner as Giles Habibula, constructed out of Pogo's hat, Trudy Kuslan's pillow, and an anonymous bartender's wine bottle.

There was also a skit that night, in which Morojo depicted the ingenue, Ackerman was a monster, and Reinsberg was the rescuing hero.

The convention got a good press from Chicago's dailies. Some of the masqueraders had walked en masse to two newspaper offices Saturday night, to encourage the reporters to do their best. But the custom of going outside the hotel in masquerade outfits suffered a blow just after the party that proved fatal. Speer, in a golden radio helmet, flying belt vest, helium gun, and shorts, attracted the attention of a policeman. The officer first threatened to call a patrol wagon, then tossed in a heretical manner several auction originals to the street, and simmered down only when Speer proved his identity and business by means of cards showing him to be a federal employee.
(* Jerry Siegel, of course, appearing as Clark Kent)
Links: