I was unable to find an actual street map of 1940s Los Angeles online so this one showing the Greater Bixelstrasse Area is taken from a transit system map issued quite a bit earlier (tip of the hat to Ahrvid Engholm for finding it). I've tinkered with it a bit but some anachronisms remain, most notably Orange Street. By the 1940s a section of road had been built across Westlake Park to connect it to Wilshire Boulevard, which it then became part of. At the time of this map South Bixel Street terminated at Seventh so I had to extend it across Eighth, removing the name of Mallard Street which it then linked up with and incorporated. Interestingly, when the freeway was later driven through the area the two became separated once again but the stump of what remains of the former Mallard Street is still called South Bixel Street despite now being entirely divorced from it. Which is at least useful for anyone interested in doing a fannish walking tour (and since C and D are apparently a bit less than a mile apart such a walk looks entirely feasible). Such an excursion should finish in Clifton's, of course, with a meal in the Brown Room if possible, Clifton's being one of the few places from back then still standing.

Mike Fern also had a place somewhere on this map, and Charles Burbee lived a short bus ride (or longish walk) away at 1057 Normandie.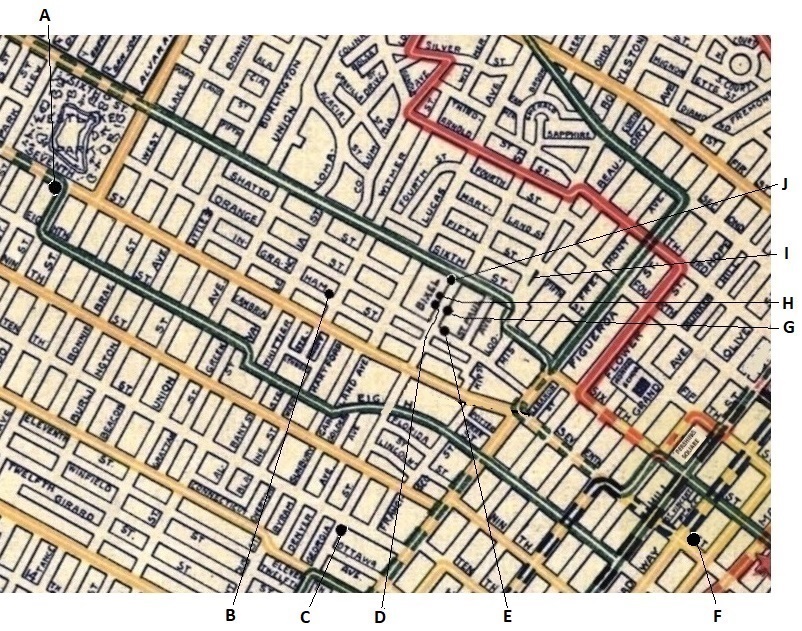 2200 West 7th Street - The location of Park View Manor, across the street from Westlake Park (subsequently renamed MacArthur Park). Venue in 1946 for the 4th Worldcon (and LA's first), and in 1948 for the first Westercon.

1305 West Ingraham Street - Home address for Walter Daugherty from mid-1940s. Venue for weekly LASFS meetings from March 1949 to mid-1950s.

1104 South Georgia Street - The 'Fran Shack'. Francis Towner Laney's home for a couple of years from Jan/Feb 1944. Formerly a grocery store until its Japanese-American proprietors were sent to an internment camp in 1942. Now the location of the Ritz Carlton.

637 ½ South Bixel Street - Second LASFS Clubroom, April 1943 to March 1949. Formerly a beauty shop. Whether its proprietors too were Japanese-Americans who suffered the fate above is unknown.

1055 Wilshire Boulevard - First LASFS Clubroom, November 1941 to March 1943.

648 South Broadway - Clifton's Cafeteria. Venue for weekly LASFL/LASFS meetings from mid-1930s to November 1941.

643 South Bixel Street - Tendril Towers.

628 South Bixel Street - Morojo's apartment. From late-1945, the Slan Shack Pro Tem.

5th and Beaudry - Now the Putt Putt Dog Park. This is the small park where, if the weather was good, the residents of Tendril Towers would play miniature golf after work after first having dinner across the street at the coffee shop in the Professional Building on Sixth.

6th and Bixel - Location of Sharkey's, a bar where denizens of the Bixelstrasse and visiting fans would sometimes drink.
Not shown is 'Mary's place' - exact name and position on Bixel Street unknown - which Kepner described as "a store a half block from the club that handles likker, soft drinks, ice cream, second-hand mags, and a few groceries. We used to stroll down there in groups of six or more to get ice-cream or pop just before she would close for the evening--that was when there were a dozen or more people in the club every night."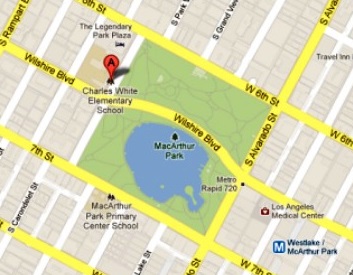 (Westlake) MacArthur Park with Wilshire Boulevard
************
Free fan history ebooks:
Fan history books - print versions: