FEMIZINE
The first all-female fanzine was STF-ETTE, published by Pogo (Mary Corinne Grey) of LASFS in September 1940 (there was a second issue in July 1941) and not as previously stated here the one-off BLACK FLAMES (January 1946) edited by Virginia 'Jim-E' Laney, also of LASFS. The latter apparently qualifies as the first anthology of SF stories by female writers.
| | |
| --- | --- |
| cover by Fay Dishington | Virginia Laney (photo John L. Coker collection) |
*
Ethel Lindsay's reminiscences about being a woman in UK fandom in the 1950s can be found here.
*
FEMIZINE was launched at SUPERMANCON, the 1954 Eastercon, held that year in Manchester. The idea of an all-female fanzine had been bubbling up for a while and several letters had passed between Frances Evans, Joan Carr, and Ethel Lindsay shortly before the convention in which they decided it was time. Carr volunteered to edit the zine and the first issue duly appeared in time for the con. As can be seen from the photos below (taken at the event by Eric Bentcliffe) there was a certain amount of excitement among female fans at this finally happening: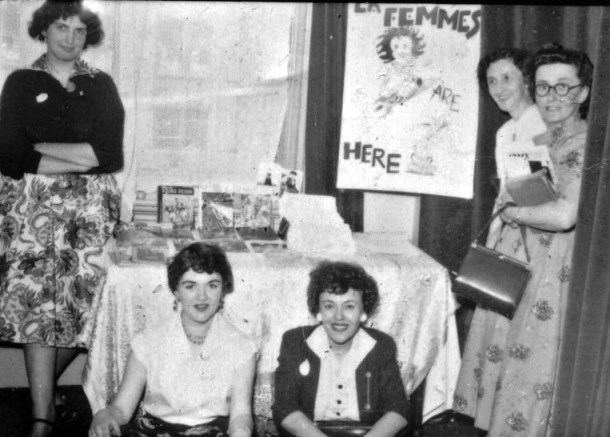 Shirley Marriott, Frances Glynn, Frances Evans, Ethel Lindsay, unknown.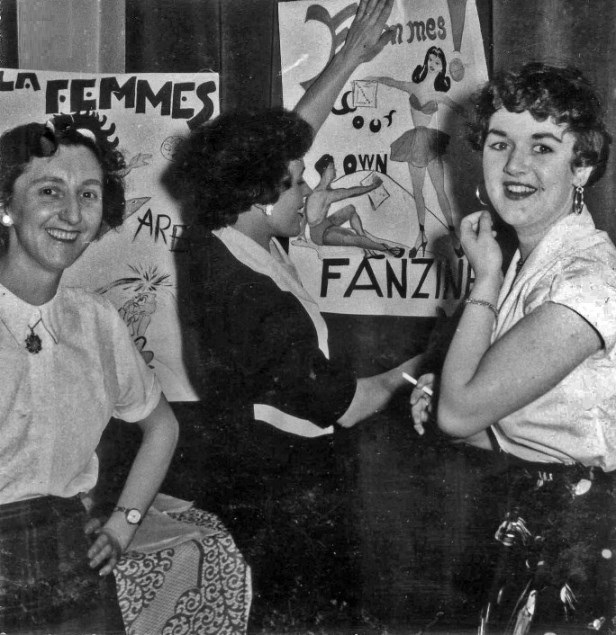 Ethel Lindsay, Frances Evans, Frances Glynn
Unfortunately 'Joan Carr' did not exist. She was created as a hoax to be played primarily on the Nor'west Science Fantasy Club (NSFC), who then met regularly in Manchester. Frances Evans was in on it from the beginning, but no one else was. Hiding behind that pseudonym was a man - H. P. 'Sandy' Sanderson, who even (with her agreement) used photos of a female cousin to further his subterfuge.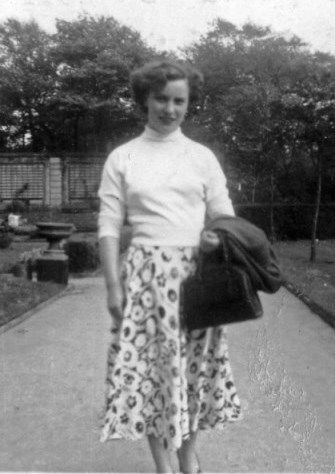 'Joan Carr'
FEMIZINE soon developed a life of its own, becoming a rallying point for female fans in the UK during the 1950s. This was the decade in which women first really began to assert themselves in the hitherto male-dominated SF fandom of these isles. In this context FEMIZINE is a fanzine that is both historically and culturally significant. FEMIZINE ran from 1954 to 1960 and saw fifteen issues in all, plus mini versions bound into a couple of combozines.
The Joan Carr hoax was eventually revealed in issue nine and seems to have taken the wind out of the sails of the UK's female fans, despite Sanderson having bowed out with issue six, and it would be over two years before the next issue appeared.
Note: As with most fanzines that are many decades old you will occasionally encounter words and attitudes that would be unacceptable today. Decades from now similar warnings may well be considered necessary for today's fanzines as social attitudes continue to evolve.
This is a contemporary gallery of many of those who contributed to 'FEZ':
UNITED KINGDOM

Sheila Ashworth

Daphne Buckmaster

Pamela Bulmer

Frances Evans (Varley)

Joy Goodwin (Clarke)

Irene Gore (Potter)

Ethel Lindsay

Ella Parker

Dorothy Ratigan

Ina Shorrock

Bobbie Wild (Gray)

Madeleine Willis
OVERSEAS - (US except where noted)

Elinor Busby

Christine Moskowitz

Anne Steul (Germany)

Bjo Wells (Trimble)
Below is a listing of all the issues with links to each:

'Joan Carr'(H. P. Sanderson) editor (issues 1-6), Joy Goodwin editor (issue 7), Pamela Bulmer editor (issues 8 & 9), Ethel Lindsay editor (issues 10-15).

Bobbie Wild (by then Bobbie Gray) took over the editorship from Ethel Lindsay but never actually piblished any issues.

Related material:

Ella Parker:

Madeleine Willis:

Joy Clarke:

Daphne Buckmaster:

Ethel Lindsay:

For those interested, Ethel published a memoir in SCOTTISHE of her time as a nurse in the pre-NHS British health system. It ran in the 'Natterings' column from #23 - 42. Link to first installment here. Observations about her work as a nurse in the NHS - which she was during the entirety of the time she published it - are also scattered throughout SCOTTISHE.

Anne Steul:

Elinor Busby:

Bjo Wells (Trimble):

Articles of interest:

More here (click on cover):