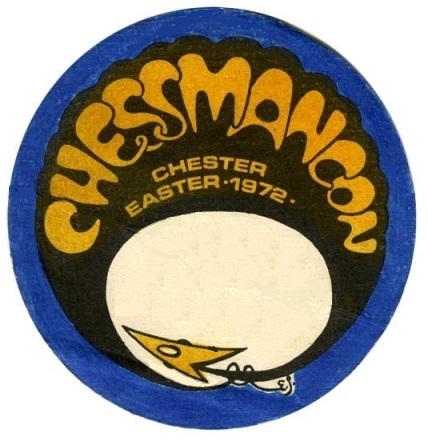 The convention badge
CHESSMANCON, the twenty-third post-war UK National Science Fiction Convention, took place over the weekend of Friday, 31st March to Monday, 3rd April 1972. Named for both its location (Chester) and the city (Manchester) from whose Delta Group most of those organising it were drawn, CHESSMANCON was the fourth MANCON, the others being MANCON, SUPERMANCON, and THIRDMANCON. The 1976 Eastercon would be MANCON 5, and there was a Manchester convention called MANCON 6 planned for July 1991 (so not an Eastercon) that was cancelled, more on which can be found here. The next Manchester Eastercon in 1998 would be named INTUITION. No sense of history, some people - or at least that's how it appeared. In actual fact the initially all-female committee decided that them running a con named MANCON risked too many tiresome 'jokes' and were also concerned about any association with the still well-remembered and famously awful MANCON 5. By 2016 this was less of a concern and that year's Eastercon went by the more traditionally city-evocative MANCUNICON, which once again contains MANCON. (I wonder what a future MANCON 8 - or 9 if you count the cancelled one - will be called when it eventually happens?)
Presumably because of its name, the organisers of CHESSMANCON decided to include a chess tournament. Sadly, I don't think SUPERMANCON made any reference to Clark Kent, or THIRDMANCON any reference to Harry Lime. So far as I'm aware, CHESSMANCON is the only con to be named after *two* cities.
CHESSMANCON was held at the Blossoms Hotel in Chester.
Larry Niven was the Guest of Honour. The previous Eastercon had an official Fan Guest of Honour, a UK first which was not repeated at this one.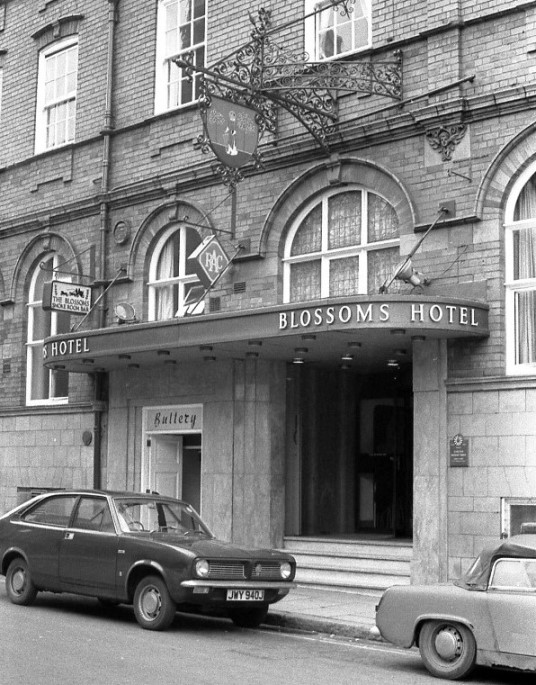 The Blossoms Hotel
Committee:

Tony Edwards, Chairman
Harry Nadler, Vice-Chair
Bill Burns, Treasurer
Chuck Partington, Programme
Norman Shorrock, Hotel Liaison
Dave Britton, Art Show
Eddie Jones, Art Consultant
Report below edited together from those by Bob Shaw, Rob Holdstock, Peter Weston, and others. Comments by me appear in parentheses and are italicised. Source notes can be found here.
The photos presented herein come from a variety of collections, though this doesn't necessarily mean a particular picture was taken by that person. The collection photos are from, where known, is noted in parentheses thus: (lo) Lars-Olov Strandberg, (mb) Merv Barrett, (pm) Peter Mabey, (gp) Greg Pickersgill, (mm) Mike Meara, (im) Ian Maule. As always, a tip of the hat to the late Peter Weston for identifying many of the people in these photos and for supplying them in the first place, though rather more than usual did not have the photographers initials attached.
Here are links to pages devoted to the individual days and to convention literature.
The Fortean Connection
***
Thursday 30th March
FRED POHL:
Chester is a pretty little ancient English city surrounded by a pall of smoke and a Roman wall. The wall is great fun; you can walk all around the old city, on top of it, viewing things like a reconstructed hypocaust ("What's a hypocaust?" "Oh, about $15 with a full load of smack."), a Roman garden, the River Dee, the flat swampy place where the River Dee used to be when Chester was the main port for that part of England (but isn't now, because it silted up on them and all the shipping went across the way to Liverpool), and so on.
The place was the Blossoms Hotel, the time was Easter Sunday weekend, 1972, the occasion was the Chessmancon. The official attendance was around 250, making this one a mammoth in the English Eastercon series. Guest of Honour was Larry Niven, who gave a reprise of his Philcon 1970 GoH speech, somewhat updated and delightedly received by all but the few who had heard it before. [Not so much. See later.] Stars present included Brian Aldiss, Harry Harrison, E.C. Tubb, Bob Shaw, James White, David Kyle, Christopher Priest, Donald Wollheim, James Blish, Anne McCaffrey, Brian Ball, and I'm sorry to say quite a few others whose names escape me.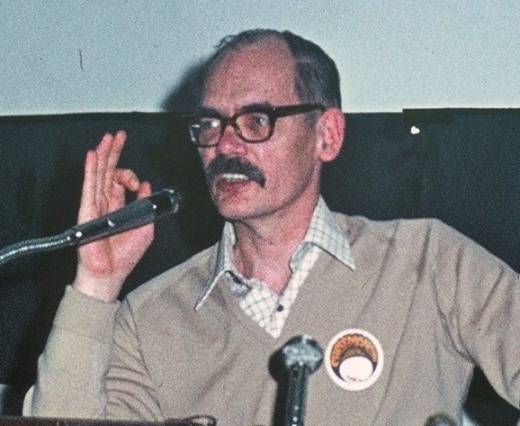 Fred Pohl (mb)
The occasion was bright, cheerful and productive, but there was sorrow in it: Ted Carnell's funeral took place in London the day before the con officially opened, and many of the mourners went direct from the funeral to Chester.
PETER ROBERTS:
Last year at the Worcester Eastercon everyone told me how good a time they'd had on the Thursday evening before the official start of the convention, so I arrived happily and expectantly on Thursday afternoon, found no one in the Blossoms, and walked the mile and a half to my overspill hotel, the notorious Peacock. This bustling place was a giant Twenties pub and was closed until the landlord arrived at 6 p.m. "We generally go to bed at eleven o'clock," said his wife. "But I daresay you'll be back before then?"
Looks like a really good con, I thought.
However, things became somewhat brighter with the arrival of Greg Pickersgill, famed FOULER editor, and ex-Australian comic fan John Brosnan. We kept the poor landlady up till half past one waiting for Roy Kettle who, as it happened, was still sleeping peacefully in London. She had her own back the next morning, though, and charged John £4 for the double-room...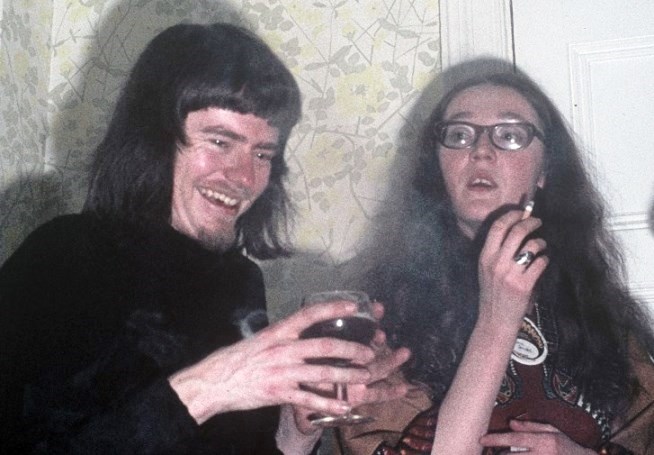 John Brosnan, Jenny Chandler (mb)