REPETERCON - THE 1964 EASTERCON
REPETERCON the 1964 UK National Science Fiction Convention - the sixth to be run under the aupices of the B.S.F.A. - took place over the weekend of Good Friday, March 27th to Easter Monday, March 30th. It was held at the Bull Hotel in Peterborough (see it today here), as it had been the previous year. Guest of Honour was Ted Tubb. In SKYRACK, Ron Bennett reported that: "virtually the same number of fans attended this year as did last, 125 with a SEm of 3 points! Once again there were many new fans present, though this year the professional turn-out was somewhat disappointing, not only when compared with last year's all-time record."

Officially the 1964 British Science Fiction Association Convention, it had first been dubbed 'RePetercon' by Brian Aldiss in HYPHEN #33 (Jun '63) when he concluded his con report with "Yours, James, till the Repetercon". This seems to have quickly caught on and though the name doesn't appear in the Programme Book or on the con badge, it *is* used in progress report THE EAST FANGLIAN TIMES.

There was a third convention held at the Bull in 2004. Not an Eastercon this time, it was called REREPETERCON and celebrated the 40th anniversary of REPETERCON. Peter Weston organised it.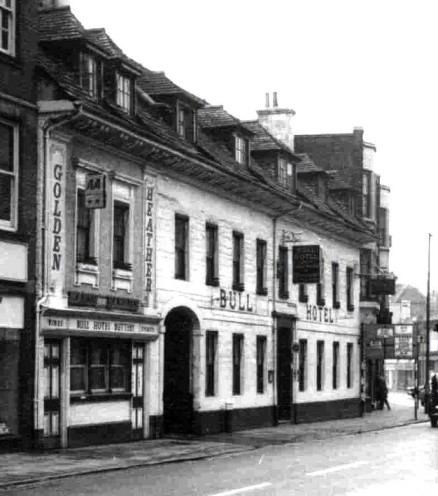 Report below edited together from those written by Wally Weber, Jim Groves, Langdon Jones, Harry Nadler, Charles Platt, Charles Smith, Bob Shaw, Ron Bennett, and Archie Mercer. Comments by me appear in parentheses and are italicised. Source notes and links to complete, unedited versions of those reports can be found here.
The photos presented herein come from the a variety of collections, though this doesn't mean a particular picture was taken by that person. The collection photos are from, where known, is noted in parentheses thus: (tj) Terry Jeeves, (el) Ethel Lindsay, (ns) Norman Shorrock, (db) Dave Barber, (cp) Chuck Partington, (dh) Dicky Howett, (ww) Wally Weber. As always, a tip of the hat to Peter Weston for identifying many of the people in these photos and for supplying them in the first place.
| | |
| --- | --- |
| | REPETERCON saw the final appearance of the Eddie Jones-designed con badge that would be used for four consecutive Eastercons, with only the colour changing. This year it was orange. |
Here are links to pages devoted to the individual days and to convention literature.
List of registered members
Prologue:
WALLY WEBER:

The non-stop flight from Seattle to London (or from March 18, 1964 to March 19, 1964, if you want to look at it from the fourth dimension) was pleasant and quick. London's Heathrow Airport looked freshly built for the occasion and, like most of the new construction I was to find in England, looked like any newly built fantastically expensive Stateside building. Realizing that Ella Parker would be at work on Thursday until late afternoon, I loitered for some time at the airport, then spent the rest of the day sightseeing in London. Around 7 o'clock I finally called Ella and was informed, as only Ella can inform, that she had skipped work that day to be on hand when I arrived.

To rectify this, the first mistake I've ever made in my whole life, I arranged to meet her for lunch on Friday. I shrewdly arrived an hour early and, discovering she was not there, naturally assumed I had been too late. At least I was spacing my blunders one day apart.

Friday night I witnessed one of Ella's weekly fan gatherings. She has the fans trained for neatness. For example, when Langdon Jones saw tea about to be spilled, he immediately threw himself under the falling drops to protect Ella's rug. Fans visiting Ella seem to have a fierce desire to survive.

In the interests of surviving, I tried to leave for Ireland on Saturday, March 21st, but the flights were all booked. I ended up taking a flight that left so early on Sunday morning that Ella had to go without sleep all night to be sure to get me up in time for it. You could tell, I was making life very interesting for Ella.

Walt Willis and family met me at the airport near Belfast and immediately took me on a tour of the major attractions of Northern Ireland including a quarter-of-a-million-dollar wastebasket, the giant Potato Crisp industry, and the modern M-1 super-highway.

After spending a few days with John Berry (exploring a castle, playing billiards with coins, looking over space stamps, playing records, sightseeing, and swilling Guinness because it is good for me), I returned to the Willis home. There I got to see one of the world's most interesting paper hangers since Adolph Hitler, marvel over fannish artefacts in the attic, attend a gathering of those famous Irish fans you've all read about, and witness a suspenseful procedure for acquiring airplane tickets back to London.
| | |
| --- | --- |
| Madeleine Willis (ww). | ATom, Ian McAulay, Walt Willis, all at Ella's (ww). |
Eventually Madeleine and I ran away to London together, but Walt followed us after seeing his daughter safe in the hospital, and Thursday night, March 26 found Walt, Madeleine, Ethel Lindsay, Ella and myself trying to get some sleep in preparation for the Peterborough convention which was to begin the next day.
(Wally's photos from that week can be found here.)
ARCHIE MERCER:
The shortest distance between two points is a straight line - in the opposite direction.
Therefore, when at half past four on the Thursday I quit work an hour early, saddled my trusty scooter Laideronette and set off for Peterborough - which lay towards the north-east - naturally I travelled south-west. Peterborough was pulling hard in the opposite direction, however, and Laideronette responded strongly to its attraction. First I found it hard to stay in top gear, then impossible. Before long I found it increasingly difficult to stay in third gear, then in second.
Abandoning all thoughts of circumnavigating the globe to approach Peterborough from the far side, I coaxed Laideronette into Bridgwater at not much more than walking pace and drew up thankfully outside the Walsh abode. There the Mercatorial effects were off-loaded and transferred to the mighty Walsh automobile, and soon in company with Tony, Simone and Sarah I was following half the milk tankers in the South of England on the road to London.
Pausing only to offload Sarah with her aunt in Berkshire and frighten their cat, we continued on into London. Pausing (in turn) only long enough to stay the night at George Locke's palatial apartment overlooking the Chelsea Royal Hospital we continued on with George and the auction material to arrive in Peterborough at around mid-day on Good Friday.
Friday 27th March - a.m.
LANGDON JONES:
It was at nine-fifteen, after a mad struggle to leave the house on time that I finally set off for Ealing Broadway Station, where I was to meet Charlie Smith, the other half of Ealing Fandom. We arrived at King's Cross at 10.15, fifty minutes before the train was due to leave. In vain did I try to explain that I had suggested we left early so as not to miss the train; he just wryly pointed at the 10.50 train to Peterborough, still standing quietly by its platform, showing no signs yet of leaving. This was the train before ours. I consoled Charlie by saying we could have a leisurely cup of coffee, a very leisurely cup of coffee, in the buffet.
Unfortunately the buffet was closed.
This caused Charlie to utter expletives that I consider very unbecoming to one whose job it is to mould the innocent minds of the young. We wandered dejectedly along the platform and then - wonder of wonders - discovered another buffet that was open. We trooped in and came face to face with a group of fen. I left Charlie talking, and went to join the queue for refreshments. By the time I came back, half the wait was over. After I had finished my British Railways Hot Cross Bun, the wait was three-quarters over. We went out to the barrier then, and awaited the arrival of the rest of the London, Irish and American contingents. Everyone arrived in little groups, and eventually we all found our way to our reserved compartment. For the sake of posterity I shall try to remember who went up. There was Ella Parker, Ethel Lindsay, Jill Adams, Ted Forsyth, Jimmy Groves, Sheila Barnes, Desmond Squire, Chris Priest, Mike Moorcock, Walt and Madeleine Willis, James White, Wally Weber, I think, and probably, one or two I forget.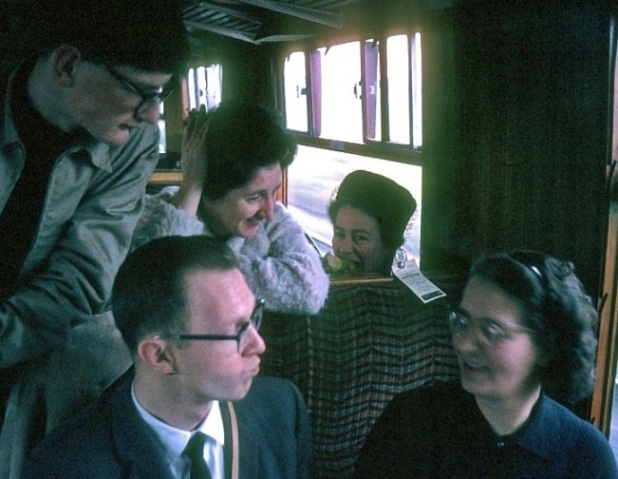 Rear: unknown, Ethel Lindsay, Madeleine Willis. Front: Wally Weber, Ella Parker, (dh).
We found that that all the seats were reserved except one. In this seat was an inoffensive-looking character who was quietly reading. Ella Parker came up and did a double-take.
"What's he doing here?" she asked, pointing her finger at him. He looked round to see the terrifying spectacle of a ferocious Ella, with her finger hovering a few inches away from his face. I'll give him credit. He didn't flee, gibbering in fear. He was a real man He just sat there; perhaps trembling a little.
"Er - er - er – "
"All these seats are reserved", growled Ella, her voice increasing in volume. He gripped the edge of his seat and swallowed convulsively. Sweat began to stand out on his brow.
"Er - this one isn't reserved".
"What?" bellowed Ella, "they're all reserved!" He whitened, and his teeth began to chatter.
We tried to explain to Ella that the seat really wasn't reserved, but she began to get more and more ferocious, and the poor fellow's teeth began to chatter so hard that pieces of tooth were flying all over the compartment. Abruptly he got up and fled to the relative safety of the next compartment. We later found a ticket to Hull on the floor, and found that the fellow had dropped it in his terrified flight.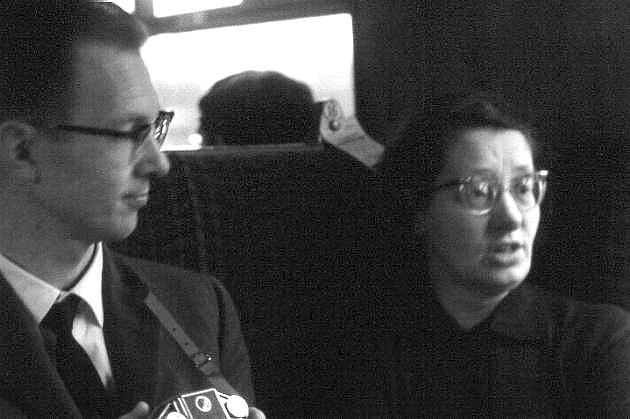 Wally Weber, Ella Parker.
We soon began to sit down. I sat opposite Charlie, then Mike came over, and then finally Willis Himself came down and sat next to me. Me. Mind you, never let it be said that having Ghod sitting next to me unnerved me at all. I think that Charlie will agree that I conducted myself with complete decorum. I am a mature adult, not a slobbering sycophant, and I conducted myself like a mature adult. Walt was wearing quite nice-tasting shoe-polish........
Arthur Thomson was not going up until Saturday, but he turned up anyway to see us off. As the train began to move, he put both hands to the side of the carriage, and pushed. Soon he had the train moving at a respectable speed, and dropped behind, waving.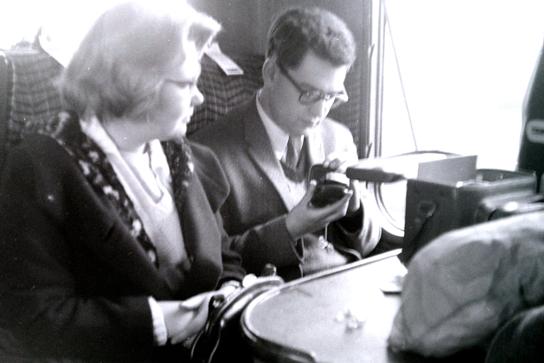 Doreen Parker, Jimmy Groves (ww).
JIM GROVES:
My Convention really began when the SF Club of London decided to organise its usual party travel to the Consite. As Secretary, I did the booking. Among others a good proportion of Irish fandom turned up in London and was included in the party. Also with us was the TAFF delegate, Wally Weber, from Seattle, Washington. As usual, with an SFCoL outing, the general public got a traumatic shock. Arthur 'ATOM' Thomson, our not-so-tame artist, had drawn one of his usual posters for the train window. This one bore the legend ANNUAL OUTING OF THE ESCAPED PRISONERS SOCIETY!
CHARLES E. SMITH:
A guard saw it and expressed surprise, saying, that most of us would, have had to be child POWs. At which point Willis spritely suggested that we must have been stalagmites. I'm still wincing.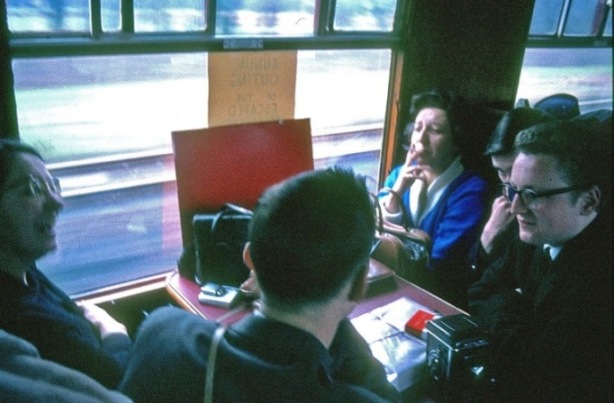 Ella Parker, Wally Weber, Jill Adams, Chris Priest, Dicky Howett (dh).
LANGDON JONES:
Maxim Jakubowski turned up in the carriage with a French fan, whose name I never did pick up. The French fan spoke very little English, and Mike Moorcock, rather unkindly, began explaining to him that Norman Sherlock's amplifier, which he was carrying, was really a Heironymous machine, and even got him twiddling the knobs.
Then Mike suddenly reached into his bag and brought out a couple of mouth-organs and a kazoo. I had heard Mike play the mouth-organ once before, in a taxi on the way back from Ella's. As soon as he started to play the taxi began to swerve violently. The taxi-driver must have been tone-deaf. If he hadn't been, we'd have crashed. So in self-defence I grabbed the kazoo and started to play Schoenberg. Somehow I've always had this strange ambition to play Schoenberg on the kazoo. Anyway, when I finished I felt much better, I don't know whether the others did though.
Needless to say, the train journey was sheer hell. Trapped between Willis puns and Moorcock mouth-organ playing, I even tried to escape through the little ventilation window. However, we saw a couple of slag-heaps, and realised that we must be nearly there. And before long the train drew into Peterborough North.
Once off the train, we all accumulated outside the station, there meeting George Scithers and someone whose name I forget. (Remember that phrase - you're going to hear it a lot.) After a little aimless milling around, we eventually started off in the direction of The Bull.