The one that impressed me most of all though was that of Paul Hammett's exquisitely beautiful wife, Joan. It wasn't stefnic, -- she was dressed as a typical English schoolgirl in a gym tunic and sandals and her hair in plaits, -- but it was so realistic that most everybody was completely fooled by it, and didn't connect this brat with the sophisticated, groomed Joan that they all know. She had every childish mannerism right down pat, -- even to the way she tugged excitedly at people's sleeves before speaking to them, - and Paul was having a high old time going around introducing his child bride to all and quandry. I offered to babysit for him, but he wasn't having any.
Pete Daniels, of Liverpool fandom, was leading the dance hard, and blows a very hot horn indeed. I haven't danced since I went deaf ten years ago, but I could feel the beat from the way the floor was vibrating and I badly wanted to try again. Arthur persuaded me that I could, and Little Sister Ethel Lindsay said she'd be glad to dance with me, so I trotted out onto the floor for the next quickstep with her. She was good and patient, and after a couple of false starts, I found my old groove again, didn't tread on Ethel and had myself a pretty big time. Afterwards, for the next ten minutes, I wandered around happily asking everyone if they'd seen me, and being reassured that they hadn't missed a single misstep. Truly, I do so enjoy being told how wonderful I am.
JAMES WHITE:
The band packed up at 2.30 and Mari Dziechowski, Mal and I who had been listening to them from close up, went back along into the curtained-off section used as a dining room. As we trooped along the carpeted floor we noticed that already things had been set out for breakfast. Suddenly we were accosted by a night porter who told us politely but firmly not to come through this room again. He gravely gave the reason for this interdict: we were getting dust in the cornflakes.
We three despoilers of pure and innocent cornflakes slunk away, trying not to raise a cloud that would increase the poisonous dust fallout.
The small lounge, where we found ourselves next, was well filled ...most of Irish Fandom, the Bulmers, Boyd Raeburn and Peter Phillips being some of the people present. Boyd Raeburn was apparently being introduced the the local sport of snogging by Pamela Bulmer, chaperoned by her fond husband who was supplying the fog. Peter Phillips, once more fuzzy round the edges, was eyeing the process owlishly and pulling, or at least bending Boyd's leg. There was no harm intended, of course, but Boyd's leg was not built to bend that way. I admired the way Boyd kept control of and Chuck Harris terminated what could have been an awkward incident. But immediately after this Phillips started playing a harmonica, quite brilliantly, with his left leg wrapped around his neck. Then he produced a sort of musical banister which he called a recorder and began to play that as well, and at the same time. At this point he fell off the table. After tottering to his feet he stated gravely that the discord he had just produced had been due to the harmonica and the recorder having been in different keys: then he reeled away, bumping the doorway on both sides as he left. It is impossible to describe or to dislike Peter Phillips ...!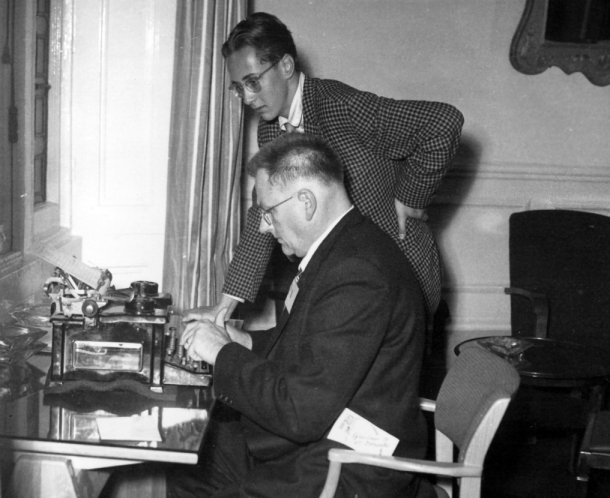 John W. Campbell, Rainer Eisfeld
Some heretics among those present began suggesting that we go to bed. Mal and I left for a patrol of the other lounges in an attempt to find something reportable for our promised conreports. The BBC and the masqueraders were still occupying one lounge; another skiffle group had started in another, the ensemble including guitarists Dan Morgan and John (Hynan) Kippax. In the lobby John W. Campbell was deep in apparently philosophical discussion with Rainer Eisfeld and another German fan who seemed to know no English. Rainer was translating both ways and the result was sheer Marx Brothers. In another lounge a group contained such people as Forry, the Dietzes, Bert Campbell, Steve Schultheis and Bob Madle. At the moment they seemed to be discussing cars. We left and came back full circle to the small lounge, where Walter was alone in front of a typer doing an airlettered report for Len Moffatt. We discussed the discovery by Chuck Harris and Walter of the fabulous Ray Nelson, who had been at the convention for two days without anyone recognising him, then Madeleine lugged Walter off to bed.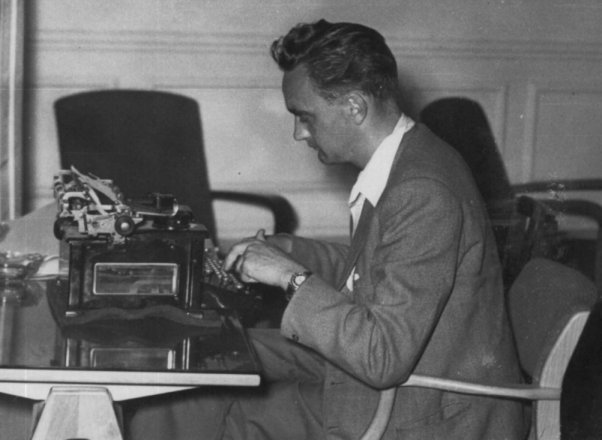 Walt Willis, typing some of the very words that appear in this composite report
The BBC men had now spent several hours collecting material for what could be no more than a five minute spot on their 'Tonight' programme, and they were still at it. The skiffle group had exhausted themselves and gone, but there was a huddle of fans around the Ackerman-Dietz-Madle group in the corner of the large lounge, and George ATW Charters was benevolently overseeing a poker game between Ron Bennett, a very nice girl whose name I didn't get who was Ted Carnell's secretary at Nova, Peter Phillips, and some nameless others. Somehow, Mal and I found ourselves in a party containing the Silverbergs, Arthur Thomson, Ellis Mills and at some distance Wally Weber. I remember at one point a curious Tower of Babel effect overtaking us. Arthur suddenly began speaking alternate sentences with a Cockney and a broad Scottish accent, Ellis's and Wally's voices were definitely doing peculiar things, I was breaking into Wally's Western drawl, and Bob Silverberg was speaking pure North Irish. I'm sure this was the first time anything like this happened, probably because there has never been a convention like this before. I could see the light of madness beginning to grow in Barbara Silverberg's eyes as she protested wildly, "Bob, stop it! You're putting question marks everywhere, like him! You're beginning to lilt...!"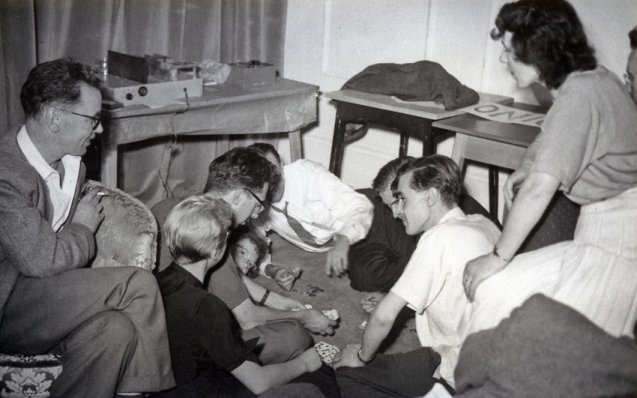 George Charters watches as Ron Bennett, the Shorrocks and others play poker
A couple of hours later, the Silverbergs, after nearly falling on their faces a couple of times, dragged themselves off to their room. I was beginning to feel tired, so was Mal, but nothing could have got us away from that convention or those people. Weber was not technically a member of this group, because he insisted on sitting three yards away from the rest of us so that he could pretend not to be with us when the level of punning got too low. He also kept reminding Mal and me of how nice it would feel to lie down in a lovely soft bed, the fiend. To counteract this, I suggested to Mal that we go up to our room and dunk our heads in the wash-basin. This we did, and as we were leaving we paused at the door and looked back at our beds lying there so seductively and smugly. We snapped our fingers at them and sneered. They wilted, visibly.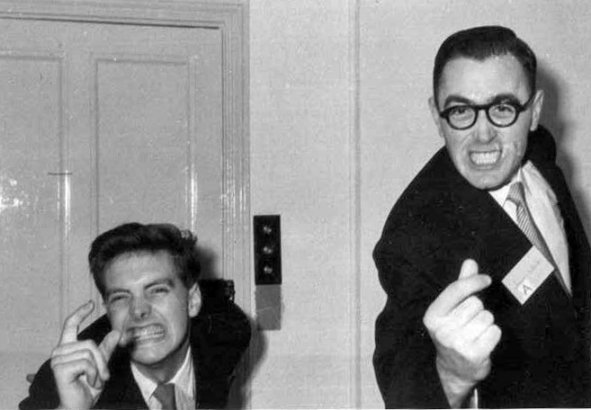 Mal Ashworth, James White, and the power of the psneer (ww)
It was at this moment that we felt history was being made, that what we had done was no empty gesture but an actual weapon of war. After a sneer like that, why going to bed would be like fraternizing with the enemy. It had been at that moment that the art and science of Psneeronics came into being, the foundation of an entire new field of knowledge. But just then we were too tired to foresee this: proudly and kind of humbly we returned to the lounge.
George Charters, who had booked into a hotel 3 miles away so that he could be sure of getting his sleep, was still perched benignly on a table watching an extremely fuzzy Peter Phillips taking his cautious and sober fellow players to the cleaners. About this time, roughly 6am, the BBC technicians began to evacuate the hotel. Friendly jeers followed them and somebody shouted "Yah, weaklings!" Someone pulled the curtain aside to see them off, and daylight was revealed outside. A tired, ragged but triumphant cheer went up: we had done it!