THE FIRST CONVENTION (1937)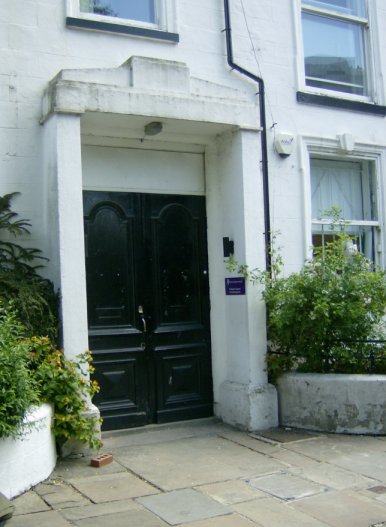 14 Queen Square as it is today. Leeds Theosophical Society is now
at no 12. (photo Rob Hansen, June 2011)
In January 1937, the Leeds chapter of the Science Fiction League brought something new into the world: the first ever SF convention. (A counter claim is made for an earlier visit of New York fans to meet Philadelphia fans at the home of one of their number, but this is hard to take seriously - see THE FIRST EVER CONVENTION, link below.) At a time when travelling any distance was much more difficult than it is today, several of those attending travelled hundreds of miles to be there. Held in Leeds' Theosophical Hall, at 14 Queen Square, the main order of business was setting up the Science Fiction Association, the UK's first national SF organisation.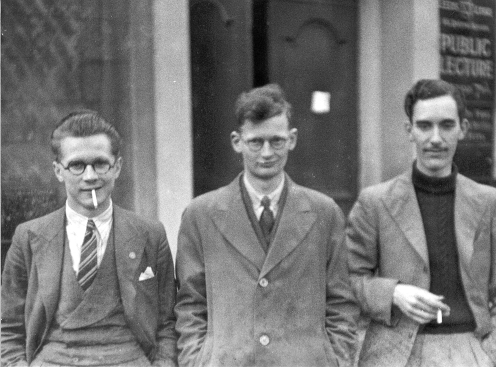 Walter Gillings, Arthur C. Clarke, Ted Carnell, in front of Theosophical Hall.

After the convention - or conference, as they called it - a souvenir report was issued (see below). Recently unearthed is a report on the convention written by Ted Carnell in 1943 for his fanzine SANDS OF TIME. A link to this has now been added here:

Early convention literature did not contain a list of those who attended, unfortunately. The list below was assembled from those mentioned in the souvenir booklet. Fourteen fans appear to have attended, though there was a bit of confusion on this point. As Sam Moskowitz explained:
"Although the conference's OFFICIAL SOUVENIR REPORT claimed an attendance of 'about twenty', Eric Frank Russell, who had been there, stated there were thirteen, and an extant photograph of the group shows only eleven. The report names fourteen...."
See list of those 14 known attendees below.
| | | |
| --- | --- | --- |
| G.A.Airey | Doug Mayer | Herbert Warnes |
| A. Miller | Maurice K. Hanson | Albert Griffiths |
| Harold Gottliffe | Les Johnson | J. Michael Rosenblum |
Known attendees:
George Airey (Leeds)
Ted Carnell (London)
Arthur C. Clarke (London)
Walter Gillings (Ilford)
Harold Gottliffe (Leeds)
Albert Griffiths (Bradford)
Maurice K. Hanson (Nuneaton)
Les Johnson (Liverpool)
Douglas Mayer (Leeds)
A. Miller (Leeds)
J. Michael Rosenblum (Leeds)
Eric Frank Russell (Liverpool)
B. Saffer (Leeds)
Herbert Warnes (Leeds)
Apart from the headshots above, all photos in these pages were actually taken at the convention. The remainder of these can be seen on the next page (link below). In some cases the quality is not always all we might wish, but these are the prints that have come down the years to us. Most if not all of these appear to have been taken by Harold Gottliffe. My thanks to his daughter, Jill Godfrey, for her kind permission to use them here.
| | |
| --- | --- |
| Eric Frank Russell | Arthur C. Clarke |