2. THE RETURN (1981)

MALCOLM EDWARDS (23 Jun 81):

Dear Mr Clarke,

That was quite an old catalogue you were shown, and the books you were interested in are all gone. We do have one copy of THE ISSUE AT HAND - a 1974 hardcover reprint in near fine condition but without d/w - for £2.50 plus 50p postage and packing, if this interests you. We will be producing another catalogue in August, probably, and will certainly add you to the mailing list.

Pardon my curiosity, but are you by any chance the same A.V. Clarke who collaborated on a couple of novels with Ken Bulmer in the early 1950s, and was active in the sf fan world at the time?
*
MALCOLM EDWARDS (1 Aug 81):
Dear Mr Clarke,
Apologies for the delay in sending this - it being the holiday season, I've been having one.
I don't have Gunn's ALTERNATE WORLDS, but I know a colleague who does have one or two paperback copies: GREG PICKERSGILL, 7A LAWRENCE RD, EALING, LONDON W5. I'm not sure of the price.
I mentioned the Bulmer collaborations as the items least likely to cause bafflement if you were somebody else. I was actually wondering if you were the same person who wrote for HYPHEN, etc.
*
VINCE CLARKE (11 Nov 81):
Dear Malcolm,
We had a short exchange of letters in August... no, I'm not pricking your conscience about your next booklist... much... and I was unaware at the time that you were not some unfannish, deeply bookish bibliophile. Guided by Terry Hill, I've been casting a tentative eye at some of the current fan news, and I see from MATRIX 38 that I underestimated you.
As you probably are aware, I fafiated from fandom in 1960 with a splash; since then I devoted some very hard years to bringing up a daughter and, latterly, looking after an invalid mother. During those years my pro- and fanzine collection lay up in the attic and it was psychologically impossible for me, as well as being fairly impractical, to disturb them and my memories. My mother died, my daughter has happily married, and coincidentally young (to me) Terry Hill started writing to people whose addresses appeared in TALES OF WONDER. We're now regular correspondents and have met several times. Having hurdled some mental barriers I find that I'm quite curious about the current fanzine field; all I have to do at present is to work, look after a house, and pamper the needs of an elderly toy poodle, and after the sort of 20 years I've had these are no great chores. I wouldn't say that I'd become an active fan again, as things have altered quite considerably, but... well, this is to say that if you could see your way clear to *lending* me TAPPEN 1 you would satisfy the curiosity of an o-o-old fan and be sure of a letter of comment from a rather uncommon viewpoint!
I have received a copy of TWLL DDU, but would reckon that, with its long report of a trip to a Con, that it's somewhat unrepresentative. There certainly seems to be more polarisation of interests than there used to be. With your background I would think you tend to keep things more balanced. No?
*
BOB SHAW (18 Nov 81):
Dear Vin¢,
How's this for a voice from the past?!
I heard recently from Brian Burgess that your daughter had got married, and that started me thinking that I should drop you a line and let you know that you haven't been forgotten in certain parts of fandom. Having said that I'm not sure what else to say - a gap of some 25 years has an inhibiting effect on a correspondence - but I still remember with gratitude the way you gave me a home for a week or two when I first went to work in London. And, although I have forgotten the purpose of the exercise, I clearly recall an hour we spent in your back garden trying to electrocute ants with a grid bias battery. Present day fans never seem to get up to fabulous activities like that.
Anyway, I hope you are well. And if you ever get around to producing another issue of SFN I promise to loc it by return post.
This is probably the most disjointed letter I've ever written, but it is meant to express a sentiment rather than to convey a specific message...
*
WALT WILLIS (19 Nov 81):
Dear Vin¢,
Obviously it's quite impossible that I should be writing these words and sending them to such a well remembered address. But I have this vivid illusion of having received a letter from one Terry Hill vouchsafing the information that not only are you alive in WWW but that you wouldn't mind hearing from me. So, overlooking the fact that these attributes are probably incompatible, I offer a timid, hello?
The only alternative possible to that one ((unreadable)) in a million, by way of explanation and question, and I hardly know where to start. However, since Terry implies you're interested in fandom again, I enclose a fanzine. Reading between the lines (do you still think the dotted ones are the worst?) will probably answer a few questions anyway, and the reason I'm sending you this fnz is that to *these* people you will be an Elder Ghod, like me. (The job of Ghod doesn't pay well, but the hours are good.)
As for me, well I have retired, a little prematurely, from the civil service and am still enjoying idleness. I don't write anything except an occasional letter and I am not really in fandom at all the way I used to be. However Sixth Fandom, our fandom, has become a sort of cult among US fans (old and new). I am sure that White & Steffan, to whom I have sent news of your renaissance, will put you on their mailing list. It's up to you entirely but my impression is that the best way for people like us to keep in touch with fandom is to comment on fnz like this and send them some items and fillers. They will give you a picture of the current field, which is much wider and more disparate than in our day.
James White is alive but having eye trouble. Bob Shaw is well & famous and living in the Lake District. Wives are well. George Charters has disappeared into hermitry. I had a long letter from Chuck the other day all about golf. He lives in Daventry but still works for Fords. Atom is alive and well and still in the fringes of fandom. (He gets PONG.) Lee H is well, living in Florida, and will be Fan GoH at Chicon '82.
What about you? Much news, many questions, please?
Affectionately, Walt.
*
VINCE CLARKE (23 Nov 81):
Dear Walt and Bob,
In the post this morning I received letters from both of you - Walt via information from Terry Hill, and Bob from Burgess (of all er-people). It was a highly charged sensation...I blundered out of the house to go to work without being able to finish either missive; fifty-nine going on sixty I shouldn't have those emotions. Thanks.
I was never one of your strong characters, anyway. After the Inchmery breakup I said that I'd like to keep on in fandom, but almost immediately the bad mental associations overcame my resolution. I had my time and money pretty occupied, admittedly, but I just couldn't face that surge of memories; I accumulated half-an-orange-box full of unopened fanzines and further troublings of conscience.
When Nicki was 4 1/2, I moved back to the ancestral home (well, ancestral since 1936) as I didn't fancy her going to Primary School in New Cross. There's a school only 2/300 yards away. It also helped with the family finances, as my Dad had just retired.
To compress 20 years into a readable para. or two ain't easy. It was mostly grey, with some black shading - my parents died, I've had a couple of operations; the bright parts mostly involve Nicki; I had a helluva time trying to find out whether she had a fantastic memory or first-class intelligence, or both. It turned out to be both; she is now, after some damned hard work, a certified Dispensing Optician with letters after her name, yet, and manages a Medical Eye Centre.... opticians shop to us. After a couple of abortive romances, she met a serious young man, who has just become a Chartered Surveyor... *he's* got letters after his name, too. They married in September (big white wedding, 150 guests for the 'do' afterward) and now live about three miles away. The mortgage is £250 a month ('only' £280 after tax deductions) but as their combined income is about 6 times mine I guess they can afford it. And they seem to be, most importantly, happy.
I'm now nominally alone, but with the important exception of a 11 year-old white toy poodle, weighing about 4lb., who thinks she runs the household. She can't live with mistress Nicki, as new husband is hay-fever sufferer who is also allergic to small white woolly pests. (No no, I didn't mean it....aaarrrrgh!)
I collected cheap s-f where I could, especially after a shop called THE EDGE OF FOREVER opened in Welling, of all places. Mostly comic and media stuff, but always the latest s-f; they've even started stocking LOCUS. About two years ago, Mike Ashley wrote, saying he was researching into various facets of the '50's scene... pseudonyms, etc. For about the first time in 20 years I poked amongst the fanzines etc in the attic, but although I answered his first letter, mostly negatively, I just couldn't answer his follow-up.
Then Terry Hill of Maidstone wrote: "Dear Sir, I am at present compiling and researching a comprehensive index to "Tales Of Wonder"....tribute to Walter Gillings."
Well, Wally Gillings was far enough back for me not to be too bothered about thinking about him and his surroundings; I wrote back a fairly negative reply (after all, Wally was of an earlier fan-age) but ended with a PS. "I presume you're all fixed up with the TOW's, Scientifiction, etc., you need for research.... I'm not going to penetrate the depths of the attic unless you ask."
Bam! The floodgates opened..."Dear Vincent....I feel a bit of a fraud, really, as you presume in your PS that I have all the prozines and fanzines in which Walter was involved, but I haven't.... A couple of years ago I had the immense good fortune to find a complete set of TOW with an asking price of £6. Comparative neo that I was I umm-ed and ahh-ed a bit and decided that they were worth it. I was about twenty miles up the road when it began to dawn on me just what I had bought. Then some months ago I made the acquaintance of Mike Ashley by the tactful device of ringing him up and getting myself invited to meet him...."
Apparently Mike Ashley was working on a tribute, but was so overworked that Terry offered to help him out, especially as he indexes all of his collection. It was a nice letter, and I invited him over. Since then, we've been over to each others houses and had 45-minute long 'phone conversations and generally got on very well. He's in his late twenties, married (wife expecting first in a couple of weeks) and in the old days would have been good trufan material. Who else but a wacky trufan would take the trouble to write to addresses *from TALES OF WONDER*, in 1981? His short career in London fandom has been fantastic. Apparently he drove a delivery van for his (electrical wholesalers) firm before I knew him, and spent a lot of time hopping off the van and into likely shops where he might buy s-f. He's accumulated a fantastic collection, including some real pornographic s-f, but the most fabulous is his bound magazines. From what we can surmise, somebody, possibly named Pryke, bought virtually every pre-war 'zine, possibly via Tony Thorne when he was acting as Op. Fantast on the Medway in Kent in the 1950's, and then had them professionally bound, and I do mean bound...like the old Victorian volumes one sees sometimes. Then, and we presume there's been some sort of shady goings-on, possibly involving non-payment to whoever supplied them to him in the first place, though aware of their value, he's filtered these out through one of these broken-down second hand furniture Shops (the sort with a STAG AT BAY in a gilt frame in the window and the proprietor at bay in the back of the shop) where Terry's been buying them for a song. He's got every AMAZING from No. 1 to the outbreak of war, every WONDER, every QUARTERLY, everything except ASTOUNDING (and certainly not ASF April '43). The source seems to have dried up, now.
Thinking about it, I could hardly have found anyone better to gently ease me back into fannish life than Terry. He doesn't know the full story of what happened to me, but he edges around the period ever so delicately; on my holiday he had a day off and we swept through Charing Cross Road, FORBIDDEN PLANET, and other fantasy sources, finally ending up at FANTASY CENTRE in Islington where Terry paid £25.00 for Don Day's Index, and I met Dave Gibson who said after Terry introduced me:
_________________________________________________________

AREN'T YOU THE CO-AUTHOR OF 'SPACE-TREASON'?
_________________________________________________________
and actually produced one from the shelves.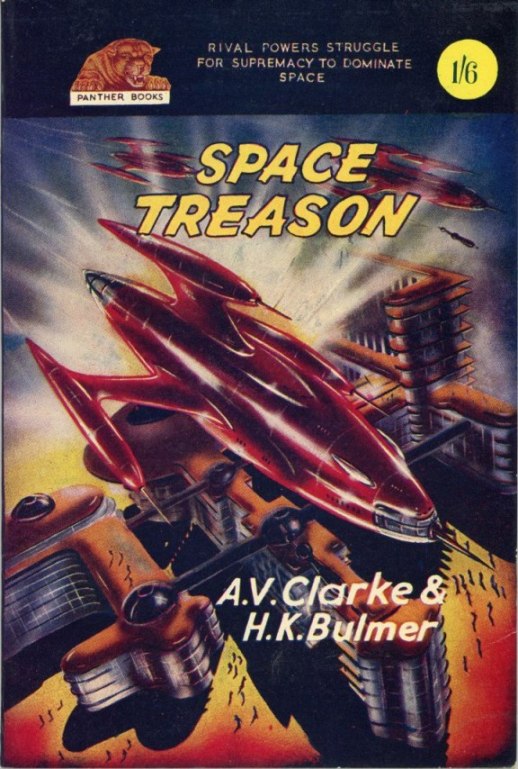 Thinking I'd find some familiar names, not knowing even if you, Walt, were alive let alone your address, I borrowed Terry's BSFA material. You, Bob, were BNF'ing it (I saw Terry's copy of your Con speeches.... marvellous) but not a single other name I knew; I even joined the BSFA to get more material, which shows you I was getting awfully serious about reentering some sort of fandom. I was somewhat dismayed by various fanzines I read, but after further research found that in this 1980s fandom no one seemed to like anything (except Bob Shaw's speeches) so subscribed to TWLL DDU and ANSIBLE.
As luck would have it, the first ANSIBLE I received shortly afterwards had a news item that read..."Sandy Sanderson & his wife...showed up (at the Denvention) from Long Island gafiation for the first time in 20 years...." It says something for my return to some sort of sanity that this only caused shivers for an hour or so, and this mainly because of the faint intimations of some sort of telepathic resonance.... weird.
And I couldn't get any damned addresses of people I wanted to write to. I wrote a letter to Malcolm Edwards and received a copy of TAPPEN 3 this last weekend, and still no familiar fannishness. And tactful Terry said he was still trying to find your address, Walt.... reckon he wanted to shield me in case you didn't want to correspond.
Oh yes, and during the summer I've had some correspondence with Phil Harbottle, erstwhile editor of VISION OF TOMORROW and full-time Fearn fanatic. He wanted information on pseudonyms of Fearn and whether I'd been 'Inquisitor' (and why had fandom had a grudge against JRF??) His letters sent me really re-raking over the fanzines I'd already gone through for Terry and his Tribute, and completed some of the work in getting me to face the past that Terry had started. I still have some memory scar tissue though...blanks I am only slowly penetrating. (I wonder If I could get a scholarship to the Church of Scientology?)
Harbottle to me: "Despite your protestations of lack of bibliographical interest or insight during the '50's, some fascinating snippets are scattered all through your writings. ((-Ah, egoboo after all these years"-)). Witness, for example, your own souvenir booklet of the LONDON S-F CONVENTION 1952. It is fannish all right, but it packs in loads of historical insights, quotes etc. ((-Y'know, maybe Fearn wasn't so bad after all.-)) Plus the kind of tantaliser which is one reason for my contacting you: Page 7 "John Brunner introduced himself as probably the youngest pro-author in the country, having had stories (Note plural - PH) published under the 'Gill Hunt' housename at the age of 17...(At this point I find that the scrap of paper on which I was taking notes covered with a rather obscure Willis-Clarke combination running 'A nice Gill, but one of the droving kine' (presumably a typo for 'droning kind'). You see what I mean? Yours is the only reference to Brunner's early work that I've been able to find after searching scores and scores of '50's fanzines ((-certifiable?-)) and instead of recording the first novels of someone who became and is one of the most important sf writers in the world you cock it up with a Willis pun! Now we'll never know!" ....and goes on to say can he borrow the Willis Con report in QUANDRY ((-spelt right-)) if I have it....
Me to Harbottle: " I've looked through about 95% of British fanzines Published in the 50's and I'm afraid that I have to confirm What you expected; no one except myself really took much heed of John Brunner's True Confessions...John was very young...wasn't taken seriously...enclose photograph...with other Junior Fanatics. Also, you're guilty of selective reporting as you didn't mention the rest of my comment..."I mention this to show the difficulties under which I was trying to memorise a coherent account." Shame! I'm enclosing the Willis report. Also, while we're on the subject, you do me an injustice. "...one of the droving kine" was a painful play on words, not a collection of typos. In those days, there was what is now termed a 'pop' song (popularised by Guy Mitchell, I seem to recall) which contained the words "she was a nice girl, but one of the roving kind." There was a tenuous connection between 'Gill' of milk) and kine (cattle) which needed working on and which is all now very anachronistic, which probably accounts for the fact that our minds weren't fully on the speaker. (I now attempt TIMES crosswords)."
Appeal to Fandoms Leading Expert and Critic, and Fandoms Bleeding Expert on Puns.... is explaining a pun 29 years after birth a record? (or disc-covery!)
I'd have loved to see Phil Harbottle corresponding with Chuck in his prime.
Well, I'm more or less up to date in this letter. A few current notes.
Bob, your letter (to me) was better than your books, and I think *they're* terrific. To think that the Bob Shaw, to whom I had to explain once that lightning really *killed* people in this country, wrote all that, has appeared on TV...it makes me feel all grandfatherly. I've a real fannish foto taken here, showing a one shot being hammered out here with Frank Robinson (of Cardiff), Jim Rattigan, Mike Wilson (where...?), self at typewriter and you in the background with that quizzical air... beautiful.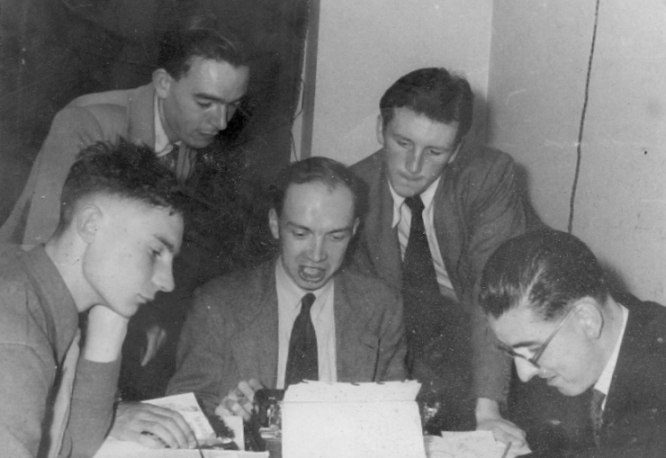 Mike Wilson, Fred Robinson, Vince Clarke, Bob Shaw, Jim Rattigan (photo Vince Clarke album)
Also, although I've had as of 1981 about 49 years of s-f reading, I think WHO GOES HERE the funniest s-f I've ever read... and read...and read. I guess you're hellishly busy, and I'm not expecting an answer, but thanks... the drinks are on me at the whatever-the-thing-is-called -Con. And you'll *certainly" get a copy of the next SFN.
Walt - if I knew what loving a brother was like I'd probably love you like one (DNQ). Your letter was like tracks in the sand to a Robinson Crusoe...in fact, it looked in places like tracks in the sand; what's happened to that neat blue penmanship? Wouldn't they allow you to take the pen when you retired? (Don't tell me, the swine were using it.)
I really envy you retirement; I suppose if Maggie Thatcher allows the economy of the country to run down a bit more they might bring in a retirement-at-60-policy, and get the unemployment problem out of the way that way, but aside from Man with the Scythe it looks right now as though I'm on the treadmill for a few more years. No workaholic me, though I have a job which I find fascinating at an Engineers Merchant. When you lift up the phone you don't know whether the next enquiry is for one bolt to fit a car, or a 72-inch gap-bed lathe worth $5000. I've been there (at Dartford, a small town about 6 miles away, of which more some day) about 4 years, and I don't think a day passes without me being asked for some article for the first time.
Your snippets of information (phrase courtesy Fearn Fan Club cited above) were fascinating. Is James's eye trouble due to the diabetes? I seem to remember Nicki talking about the subject once, cause and effect. Why is Bhob up North instead of down in the Warm South? Is it something to do with the Bheer? Please pass my warmest regards to Madeline for keeping you alive all these years; have you put on any weight? Losing hair? Etc? I've lost a lot of hair; Terry in a recent letter used the phrase "distinguished looking toffee apple" (I'd lent him some BEMs) and I'm certainly nearer that shining stage.
Chuck was writing about GOLF??? Or was that "Gulf"? (Don't you think the later Heinlein should take a hint from Campbell, and also become late?) I take it that there's been no medical advance to alleviate Chuck's disability? Would he write me?
Yes, I'll write to fanzines as you suggest, and we'll see what happens. Right now I'm feeling so euphoric that I'm tentatively thinking of titles for a fanzine to be published about next August... say GERIATRICS ARISE, or SIXTH FANDOM STRIKE'S AGAIN. From the fanzines I've seen so far, there would seem to be a gap about an A4 wide for a happy 'zine.
You end...much news, many questions, please. Well, what did happen to fandom? What happened to OMPA? (I saw a mention of it in VISUAL ENCYCLOPEDIA.) What happened to HYPHEN? What...oh, hell. You know what happens in those Utopias and Dystopias when a Visitor from the Past arrives..write a book. Preferably in instalments. And typed.
With very best wishes to you and yours.
*
WALT WILLIS (2 Dec 81):
Dear Vin¢,
Yes. indeed I remember the. "golden Age of letters". I also remember Chuck complaining that you had to insult me to get a typed reply. I'm sorry about the handwriting but I have a sort of block against using the typer that is only very gradually being eroded, and I wasn't quite sure enough of your still being the person I knew to set out into the glare of print.
I needn't have worried. In a spy story you could use the fact that while a person might disguise his face, hair and everything, he can instantly be recognised by his tennis service action, golf swing, and literary style. You give me the impression of being more relaxed than before but apart from that you are exactly as you were, stylistically speaking, and thank goodness for that. I always did love the way you write, and I have read your letter over and over with nostalgic pleasure.
One of the last things I did before I left work was to try and find out something about you. It had come to me that Nikki must be nearly 21 now if she was alive at all, and for all I knew you were dead and she was alone in the world. So being a bit of a sentimental slob I had this fancy of myself as a Mysterious Benefactor, rather like Magwitch in Great Expectations. If I was going to try and find out through the government machine obviously I had to do it before I retired, and the first thing I thought of was to have someone in London check the electoral register for 4 Pepys Road. If it was still a nursing home they might know there what happened to Nikki. However before I actually did anything except check the London telephone directory, someone told me (I'd been asking around in fandom) that you mere still alive though not interested in fandom. So I gave up the Magwitch idea, which was just as well from what, you tell me. But I'm very pleased about Nikki, pleased and relieved, and only very very slightly disappointed at not being able to play the dramatic Dickensian role I had in mind.
Curiously enough, Madeleine brought me this afternoon the contents of a disused drawer for winnowing and one of them was a pocket diary for 1960 in which I had entered a few quotes for later use. One of them was "Just call us Bloody ProVincials".
I wonder does Harbottle know or would be interested in the Brunner story in Slant?
I loved your exegesis of the "droving kine" quote. I'd forgotten that. But the one I most remember is "elan of try", presumably because you had to explain it to me.
Yes, I think James's eye trouble is due to the diabetes. Yes, I've put on some weight but I still have what the Liverpool group would call a fur amount of hair. Yes, Chuck was, writing, about Golf - his whole family is nuts about it. Oh how I agree with you about Heinlein.
I think Chuck would love to write to you but he doesn't write much, even less than me perhaps: I owed him a letter for a long time and then a few weeks ago he wrote again out of the blue to tell me about this new driver he'd got and I sent a long reply. Nothing since, and I think I know what's happened. First, the new club hasn't worked out, and second my letter was long enough for him to feel it required a Proper Letter in reply. I may not hear from him again for years in that event. If you like I will sound him for you, but if you would like to astound him yourself his address is 32 Lake Crescent, Daventry, Northants.
Sorry, dunno about. Ompa. I think it lasted for years, and years. Hyphen reached No.36 (I think). One of the things I meant to do when I retired was sort out my fmz, and I mean to do that Real Soon Now. We're going away for a fortnight's holiday this weekend. It'd be nice to have a letter from you to read over Christmas waiting for us, like an epistolatory version of Scrooge on Ice (a work for which you should be remembered for ever.)
*
VINCE CLARKE (19 Dec 81):
Dear Walt,
But what do you do about *copies* of hand-written letters? I expect your memory is better than mine - almost everyone's is these days - but I can't even imagine scribbling of a few doomed, perishable words to which I would expect a reply. Poison pen letters - yes; but source material for my opus "Collected Writings 1922-2022"...no.
Of course, I'm a child of the typewriter age. In the house of my grandfather - let me rephrase that to sound less like a Russian grammar - in my grandfather's house, where I lived until I was fourteen, there was a typewriter on which I tapped out letter by painful letter the alphabet and other classic compositions. When Granpa died (he married for the second time when he was in his sixties and lasted about two years thereafter, the dirty old man), I inherited said typewriter and stopped hand writing at the round schoolboyish stage. In fact, when I found fandom, and started penning hurried p.c.'s, P.S's to letters and other scrawls, I found that I'd more or less forgotten that joined-up lettering stuff, and had to re-invent my own. Talk about Bulmer's STEAM (Pat. Pending) (Which would be a good name for a Cow Laxative, no?). My writing was, naturally, based on Pica typewriter script (I was never an elitist, just a pica perfectionist) and was slow. So I've typed & carbon copied since time immemorial. I even typed a message on a Christmas card the other day... though mind you, this was only to one of these modern 31st. Fandomers.)
The present t-writer, by the way, is an ancient Noiseless Remington 6; I acquired it when I was living in Pepys Road (not in a *nursing home*, above a nursery, clotty), when I still had hope that I could do some fanning at night, after Nicki was asleep. Also wouldn't annoy the neighbours. The typer can be adjusted so that the typeface hits the platen and paper with varying pressures, and therefore the least noise. I also have the old Royal on which I cut so many stencils on HYPHEN and less dashing fanzines.
So you had a second trip to Chicago - I see that I have a lot of reading (WAW memoirs) to catch up with, if it produced anything like the HARP STATESIDE. But you're a nut to let it create a sense of moral obligation of that magnitude. You always were the most sensitive person I've ever known, but writing because you thought you had to, instead of just pure enjoyment, was just silly. Your writing in the decade of the fifties created a sort of ideal which lifted the standard of many of us, and I would confidently say left fandom in your debt for ever more, not vice- versa.
With your usual bloody modesty you've left out the name of your book (the title, I meant, said he hastily, knowing that Willis was quite likely to come back saying the name of the book was Eamonn) and whether it was published over here. Let me have some details, pullease? I'd like to increase your royalties, man.
Thank Ghu for that safety belt in your car crash. how did it happen, anyway? Personally, I've never learnt to drive (I've grown lazier as time goes on) but Nicki took to it without trouble... even went to evening classes on car maintenance, where they fought each other for the privilege of repairing the other guy's car. She only had one accident of any consequence; she'd been out to visit the then boy friend (now husband), and coming home rather late (about 11.30) lost concentration going around a big broad street corner and crashed into a parked Datsun. It subsequently transpired that the latter was parked within 'X' yards of the corner without lights, which was illegal, and had also been in an accident a week previously. Nicki was unhurt - seat belt again, which I'm happy to say I installed - the Datsun owner claimed £1800 from his insurance, and we repaired the Morris at a cost of £28.50 and a few hours hard labour. Son-in- law Alan is an enthusiastic car mechanic, tho' rather accident prone. Give him a spanner and he goes around snapping off the heads of bolts like Madam Guillotine.
So you had a stroke - what precisely do you mean "practically" unscathed? You alarm me.
I managed to get a stress-induced (I think) patch of ill- health in the early seventies; I gave up the job where I'd been for fifteen years to manage a hardware/plumbers shop a couple of miles away (can you imagine we selling a bathroom suite?). Unfortunately the small group of which it was a member (7 shops, firm a century old) was taken over by a monster group about a year later. They closed down all the other shops except mine and one other, and started to remould mine...even to sending the pattern of the floor tiles they wanted. About the same time my Dad died and soon afterwards I had thrombosis in the leg. I was off work with no sign of getting better for a month, and decided that I'd had enough of standing on my feet behind a counter or demonstrating in the showroom (remind me to tell you sometime of how I sold a motor mower without even touching one before) and I sent in my resignation.
Three weeks later I was taken to hospital with severe stomach pains. I was told they were going to operate for two ulcers. Three weeks later, when leaving the hospital, I mentioned that I'd never heard of ulcers causing pain such as I'd had. The Doctor said brightly "Well, there's ulcers and ulcers, but what caused your pain was appendicitis...they found it when they opened you up! They wouldn't sign me off as fit for work for six months, tho' half-way through that time I was digging up the garden... laying lawns and other strenuous activities. Actually, I've now got my sneaking doubts about the clinical details above, but that's enough for now.
I'm very glad that your retirement seems to be working out alright, and as long as it means that you'll have time to write a column for my 'zine I heartily approve. You say that I seem more relaxed, and the same goes for you. Me, I've lost that responsibility for Nicki which to a certain extent gripped me up to the time of her marriage, when I could accept that she was now Grown Up (tho' she's been more intelligent than myself for several years), and (except for the poodle) can feel free. I've been told on a couple of occasions I've got high blood pressure, so I've willed myself not to get uptight. Seems to work. I suppose dipping a toe into fandom is re-entering the womb (dig that mixed metaphor) which is another relaxant. Unfortunately, right at the moment it means I'm piling up obs. quicker than I can satisfy them but in view of your strict injunction to write for Xmas threw everything aside (sorry, poodle) and got down to it.
Ted White and Dan Steffan both sent me 'zines...Ted a whole year's supply, which I haven't had time to really peruse yet, tho' I sent an airmail to Ted and the next missive must go to Dan.
Dan's 'zines were received on Thursday morning, and I immediately sent CRH a poctsarcd and yourself also, meaning to write to Chuck on the weekend, and of course your letter crossed my pc to you and was received on the Saturday. I'm rather disappointed to say I've had no reply from Chuck as yet, tho' I made the letter as provocative as I could. Oh, well, we'll get him back from the Glades some day. Copy of letter to him enclosed. I've had permission to use the firm's copying machine without cost for reasonable amounts of stuff.
Eric Bentcliffe also wrote with a copy of that leaflet and three WALDOs and a nice letter; we didn't get on terribly well years back, but hell, he's a fan. I don't know whether I'm capable of producing any thing original for him at the present time (he did suggest reprinting SCROOGE ON ICE), but in my initial reply to him I sent him copies of the original master sheets for the Mancon Quote Cards in case he wanted fillers or interlinos with a historical flavour. I was a wee bit cowardly and washed out those quotes casting aspersions on Manchester and the Con Committee such as "It'll be the best convention the London Circle have ever run".
I've had an Xmas card from Ted Tubb and Iris, and have sent out several myself to old names...seems the right season for rebirth of friendships.
Do you get any modern British fanzines? I wrote a comment on TAPPEN 3, but it was a bit like going into a room full of strangers and commenting on their clothes. From what I've seen these current fans are intelligent and sophisticated and stuff and have no sense of fannish history and find it hard to put over a relaxed tone,..everything's hard edged. From what little I've read so far BOONFARK and PONG are closest to our type of 'zines, as you so wisely remarked.
Bless you for thinking of becoming an avatar of Magwitch (how's that for "not good but obscure"?), and it just might have been necessary if things had turned out badly. I trod a very thin line in trying to make Nicki independent of me at the earliest possible age without actually alienating her, and I think it's worked out OK. Incidentally, I didn't push s-f at her, and she hasn't really exhibited any interest. I've always thought that aficianados (can't remember the spelling after all these years) were born, not made, and I'm not bothered.
Anyway, my gratitude for your thinking of the Magwitch idea, and I shall remember it.
I'll have to find out about OMPA and Ghod knows how many other things in the months ahead; also to try and find out about HYPHEN. When I visited the Fantasy Centre in Islington, mentioned in my first letter, they had a few, around about No. 20, at £1.50 each. I had meant to visit them again today, but what with it being Nicki's birthday and the fact that Terry Hill is bringing his wife here tomorrow (with brand new baby if all goes well) I didn't get around to it.
Very best wishes to you and Madeleine
*
MALCOLM EDWARDS (8 Dec 81):
Dear Vin¢ (is that right?),
Thanks for your letter, which was much enjoyed. It's interesting to get a clear perspective on how things have changed, which you can't get from people who have been around continuously.
This thing about Seacon being like, as you say, the Fall of Atlantis, is I think exaggerated in some quarters. I mean, it was only two years ago, and here we all still are. All that happened was that a lot of active fanzine fans were drawn into the organization, it was very exhausting, and they took a while to recover. More significant, in terms of fannish history, was the total slough fanzines fell into in the late 1960s. I came in in 1970, and nothing - with the exception of the purely sercon SPECULATION - was worth reading. The fandom that regrew in the 70s thus had few historical connections with that of the 50s and early 60s. Thus my comment about Burbee, Laney and so forth, while perhaps a trifle self-conscious, does reflect a truth. I know who they are, because I've read ALL OUR YESTERDAYS, and I have an American fanzine that reprinted part of "Ah, Sweet Idiocy", but I have no real familiarity with their work, and many British fans will *not* have heard of them. My ignorance on the subject of 1950s British fanzines is almost total, because they simply are not to be found; this doesn't reflect a lack of potential interest, however.
The matter of language: well, things have changed here - inevitably, I think, and beyond the point of any attempt to shock, or be daring. There was something of a controversy over that about 10 years ago, but it's long since ceased to matter. Fan writing reproduces conversational styles, and they often include four-letter words; there is simply no reason, on the grounds of what is today considered normal and permissible, to do otherwise. As you say, newspapers no longer worry. (That said, I actually don't swear a lot, and when I look back at my writing in TAPPEN it tells me that I must have been in a combative mood while I was stencilling it. It's a sure sign.)
Anyway, I'm glad it was of some interest. If you'd care to see the earlier issues let me know and I'll send them ... well, no.2 anyway; I'm not sure if I still have any of no.1.
*
VINCE CLARKE (30 Jan 82):
Dear Malcolm,
In the early fifties, there was a spokesman for Liverpool fandom named John Roles; an earnest sercon fan, he put out a fanzine and in the first issue expressed horror at the anarchic, happy-go-lucky people who were issuing things like HYPHEN. He was aware of the dangers, he said...it was so easy to forget about serious discussions of s-f, whither and where, and slip into the maelstrom of fandom for fun....
Two years later John was one of the leading zap-gun bearers at the Supermancon Convention, and drunk as a skunk. Later, he said
____________________________________________________________

FANDOM IS THE MAELSTROM I SAID IT WAS
____________________________________________________________
which made it to HYPHEN's back page of quotations.
I'm finding this all over again, and this is by way of being an apology for not replying to your letter previously. Due in part to your good offices I've been drowning in unanswered fanzines and correspondence; I might say that tomorrow I'm going to write letters in answer to Walt Willis, Bob Shaw, Chuck Harris, Sid Birchby, Eric Bentcliffe, Richard Bergeron, Archie Mercer, Dan Steffan, Rob Hansen...hell, if not tomorrow, real soon now. I'm not complaining - I lived like this for a decade or more, but it's a mite exhausting after all these years, especially as my fingers have got to learn typing all over again, too.
Well, thanks for the letter, and it was interesting that the continuity of fandom took such a break; I'm hoping to learn about the history of the last two decades during the coming months. I think you'll find quite a few or us relics popping out of the woodwork this year, and your 'potential interest' in the fifties decade will, I hope, turn into an appreciative interest. I'm still trying to sort out people...the Annish of PONG with all those letters about fandom is a blur at the moment, one name after another writing about other names, and no nothing in the way of actual writing I can tie up in my mind with the names - save yours.
Yes, if you have one of the first two TAPPENS to spare, I'd love to borrow or otherwise acquire it against an IOU on future LoC's. Dick Bergeron has asked me if I can write something about the quality of present day fan writing and tho' this is definitely a long term project, I'd like to collect material as well as sheerly enjoying the reading of 'zines. And you, sir, without flattery, seem to be one of the best around, when the Good Stuff is mentioned.