Sunday 8th September
JAMES WHITE:

At 6.45am, the card game broke up. Peter Phillips staggered off to bed and George Charters, with gentle olde worlde charm, stated his intention of walking back to his hotel, adding that as he had paid for bed and breakfast he considered it his bounden duty to go back and muss up the bread. George does not usually get his words mixed up, this was the latest he had been up since he gave his mother trouble with his teeth. Somebody found a trumpet and let go a couple of hideous blasts on it. The sleepers on chairs, table, and floor jerked feebly at the call of this pseudo-Gabriel, woke and went to bed. Then the manager appeared with a polite and reasonable request for the trumpet-playing to cease on account of the earliness of the hour, the people sleeping in the next hotel, and the obvious lack of ability of the player. I asked if it would be possible to obtain sandwiches and the manager said no, but that breakfast would be served in an hour. There was an immediate movement towards the dining room, but the door was locked and through its glass panels we could see the rows of tables laid for breakfast. The cornflakes seemed to mock us.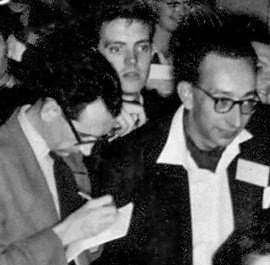 Arthur Thomson, Mal Ashworth, Chuck Harris

The sun was shining brightly through the big windows on the wan, bristly and red-eyed faces of the dozen or so diehards who had not gone to bed. I saw Arthur and Mal staring at me and I found myself staring back at them, and we came to identical conclusions simultaneously - we must look as horrible and haggard-looking as the others! We decided to have a wash and shave before breakfast despite it meaning the loss of our places in the queue.

We went to Arthur and Chuck's room. Arthur, who had a devil in him since about 3 am, immediately shook Chuck awake and told him the time. Chuck misunderstood, bounced out of bed and began dressing madly, shouting "Eleven o'clock! Eleven o'clock! I've missed breakfast again...!" When Arthur explained that it was only seven we had to rescue him and take him to our room. While Mal and I freshened up. Arthur, who had never seen a Schultheis asleep before, was completely fascinated. He disappeared suddenly to his own room and returned with Chuck and a lemonade bottle full of vodka and lime juice. Apparently he wanted to hold a wake.

RORY FAULKNER:

At 10 o'clock breakfast drew out a few hardy souls, being as how it was a free meal, but the larger part of fandom emulated the invisible nine-tenths of an ice-berg, being completely submerged in a sort of foggy, unravelled condition that rendered them unfit for human consumption for several hours. At the table it was generally agreed that if you found yourself unable to look a fried egg in the face, there was still hope for you, but if the egg covered its eye and refused to look at you, it was time to call the dead wagon.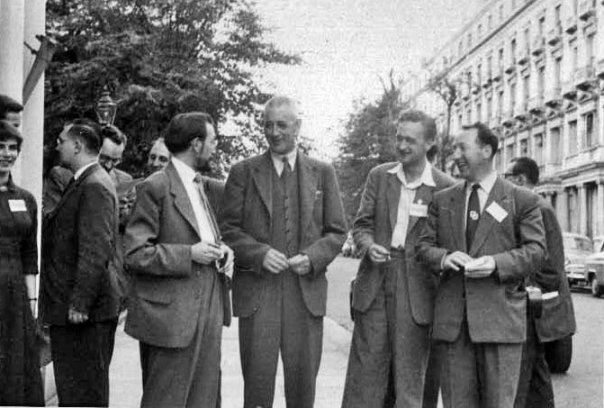 Foreground: Ken Bulmer, Eric Frank Russell, Walt Wilis, Les Flood (ww)
The so-called morning quiet period was really almost quiet in these fannish halls, as a rare celestial phenomenon had appeared in the sky over London, and there was a general exodus to the front sidewalk. It was the sun! The Americans stood about shivering, trying to find a little warmth in the feeble rays, while the hardy British beat their chests and inhaled deeply of the fresh London air.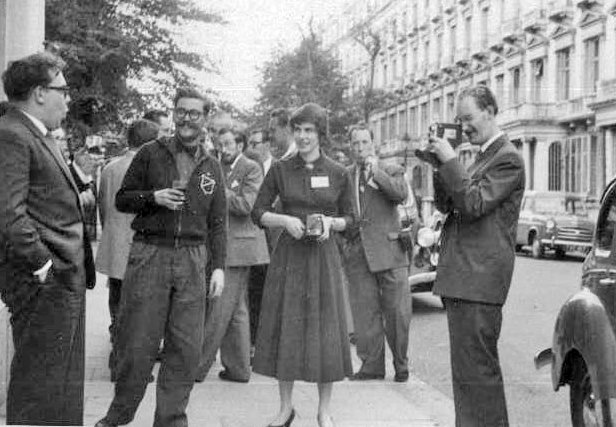 Foreground: Pete Daniels, Dave Newman, Lesley Minard, Ted Carnell (ww)
Sam Moskowitz was holding one group completely enthralled by his descriptions of the life and habits and degree of desirability of the prostitutes who throng Bayswater Road. His scholarly research had uncovered the fact that there was a state of extreme dissatisfaction existing among these ladies who were very irate over some new government measure designed to curtail their activities.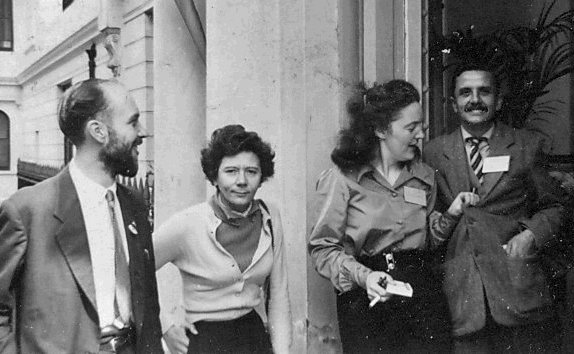 Vince Clarke, Bobbie Wild, Joy Clarke, Paul Enever (avc)
Someone spotted a lone American G.I. watching from an upper balcony of the flea bag across the street, and after a few smoke signals of mutual recognition were exchanged, he came over to see what was up. Being a reader of science fiction, although not a fan, he was quite interested, and as an added attraction, the great John W. Campbell descended from a taxi at just that time, impressing our young compatriot no end. He later turned up at a few of the festivities, and I made him promise to spread the word about South Gate in '58 when he went back to his post in Germany.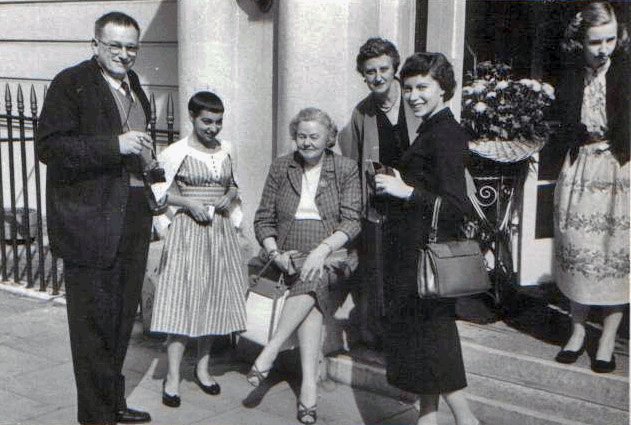 John W. Campbell, Joan Harrison, Peggy Campbell, Christine Haycock (later Moskowitz), Barbara Silverberg,
Daphne Buckmaster (ejc)
A few more haggard faces graced the dining room at lunch, expecting to nurse their hangovers in peace and quiet, but some uncouth clot in the next room started a tape recording of a "skiffle" group, at about 100 decibels, and the wails of anguish and clapping of hands to the head sent Bobbie Wild out on an errand of mercy. I guess she did something drastic - took the fire axe to the recorder or shot the operator, presumably - but peace broke out once more.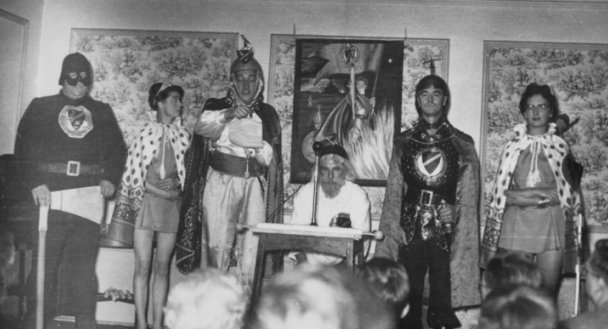 The Order of St. Fantony assembles
In the afternoon this lowly fan was given another dose of the red-carpet treatment which I have been receiving every day. With other initiates I was dubbed Lady of the Order of St. Fantony, in an elaborate ceremony staged by the Cheltenham Circle, in full medieval costumes, with real swords, armour, etc. Those who received this signal honour were Walt Willis, Bob Silverberg, Terry Jeeves, Bobbie Wild, Eric Bentcliffe, Ken Slater, Bob Madle, Franklin Dietz and Ellis Mills. We were given the test of the true fan, under threat of the executioner's axe - a real one - if we failed. It was to drink a glass of water from the well of St Fantony. It looked like water, smelled like water, and Roberta Wild threatened to sue the s.b.'s if they were making her drink water, but it turned out to be 140 proof white Polish liquor. I couldn't let American grandmotherhood down, so I shut my eyes, and swallowed all three ounces, but the rest of the programme passed in a sort of a mist.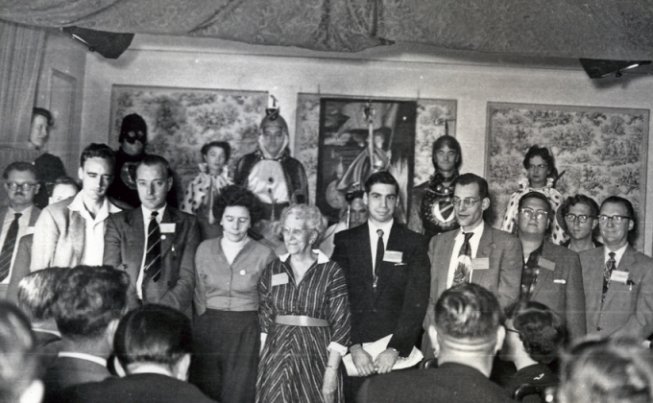 Ken Slater, Walt Willis, Terry Jeeves, Bobbie Wild, Rory Faulkner, Robert Silverberg, Frank Dietz, Ellis Mills,
Boyd Raeburn, Bob Madle about to be initiated.
FORRY ACKERMAN
A hi-lite of the Londoncon, by my lights, was The Ceremony of St Fantony. This was pomp and pageantry of a high order, done up in fine British fettle, and it was only because of the cramped quarters available for the performance that it has to be termed anything less than DeMillean, let us say a "shrinking fan's" Cecil B. DeMille production. A small-scale triumph of a large-scale enterprise, the Ceremony extrapolated knighthood and heraldry into the Space Age, and the rich and lavish costumes were a sight to behold and the solemnly proclaimed enscrollments a sound to be heard. All hail the Cheltenham Science Fiction Circle and Knight Grand Master Eric Jones and Knight Armourer Robert Richardson.
CHUCK HARRIS:

This was followed by some fine fannish films made by the Liverpool and Cheltenham groups, -- including the candid camera one made at the last Kettering Con.

When I saw some of the situations which had been filmed without the participants being aware of it, I was rather relieved that I hadn't been present myself. I'd hate to be caught like Shirley Marriott, for instance, -- shown helplessly drunk on the floor, beaming vacuously whilst somebody near drowns her with a soda syphon. On the other hand, I would have loved to have held the camera, my breath, the crowd back, anything, whilst they filmed Ina Shorrock in her bath. This, brother, was stupendous, terrific, colossal, and in glorious technicolour too. Ina is a dish at any time, but clad in nothing but a little LUX lather she's enough to make strong men scream, and even George Charters and the rest of the Oldest Guard lean forward and quietly bite chunks out of the seats in front. I tried to ask Norman Shorrock afterwards what happened to the pieces he must have clipped from the film before showing, but he was vague, non-committal, and not interested in trading for a mint set of GALAXY.

RORY FAULKNER:

Adventures in Hypnotism which followed was rather anti-climatic in effect, Harry Powers, a semi-pro hypnotist, put a group of six under his spell, including the perfect subject for such monkey-shines, Jean Bogart, the perennial convention girl and America's answer to Norman Wansborough, (This may be explained later, in case it is necessary.) However, finding myself passing into a sympathetic coma, I hastily beat it from there, and so missed most of it. What I saw was not unduly exciting, anyway, I have had a bigger kick out of watching Dr. Lee Grable hypnotize his opponent in the Olympic wrestling ring, and then knock hell out of him!
| | |
| --- | --- |
| Harry Powers hypnotises Bob Richardson (tj) | Eric Jones, Harry Powers, unknown, George Locke (ns) |
To sup at a restaurant in Queen's St, with the Irish Group, where we dined on fish and chips and merry quips. I hear that Chuck Harris is doing an "Inside" story of the Con, on the order of CONFIDENTIAL, which I hope reaches America. Need I say more?

JAMES WHITE:

George & I went out for tea and met Mr & Mrs Harry Harrison. Harry, who wrote "Rock Diver', looks as if he might have come from a long line of German generals and his voice is strictly from broken glass, but he is one of the nicest people I've met. His wife is a small, delicately beautiful woman who to my mind fits exactly the expression "a perfect doll". They have a 3-year-old little boy, well-mannered and by American movie standards atypical, who was with them at the Convention. We talked mostly about men's fashions and the IRA.

Arthur had to start work in the morning and was taking leave of us ---Mal, Sheila, Steve and I, that was. He had brought the vodka and lime juice to give to us, stating that he was afraid Chuck might run amok on it. Mal immediately started pouring out farewell drinks into tooth glasses, and had two half-tumblers filled before we could convince him that we weren't drinking that stuff. When even Sheila declined he knocked back both shots himself, stating that he didn't want to throw it away in case it ate a hole in the sewer pipes. Arthur left and we went down to see the film, Wonderbird.

RORY FAULKNER:

That wonderful fantasy film from this side, THE WONDERBIRD, was the feature of the evening. It is perfectly enchanting, being a sort of cross between Walt Disney and Charles Adams, with incredible vistas, endless stairs, and magically impossible characters. I have never seen a colour cartoon to equal it.

Eric Frank Russell and his wife Eileen, enjoyed themselves, too: it had taken twenty years to get him to a convention - his last had been Leeds, 1937 - but once there he seemed to be liking it. At 10pm on Sunday they left the hotel to go to their rooms at Piccadilly, several miles away. By 11.15 they were back for supper. Finally, well after midnight I escorted them to the Bayswater Road where, under the light of a beaming full moon, they set out to walk home, just for the joy of it.
.....Sid Birchby

Since the auction which followed had to wait until 12 to get started, I did not attend this second session, but joined an invitational room party given by Ellis Mills - the usual type; liquor, small room, smoke, mild snogging, etc. A guitar appeared at some time, and we had a British rendition of all the American blues songs, folk songs, and jazz, mingled with songs from Australia, and all areas of the British Isles - a wonderful education in international music! At 2.00 am. a few protests moved the gang to another room, and when I left at three they were still going strong.
| | |
| --- | --- |
| George Locke | Jill Adams, Shel Deretchin, Dave Cohen |
JAMES WHITE:

It had been a very successful party until things had got out of hand and we all assured Ellis of that. The main thing I remember from it was Mal and I and Silverberg demonstrating the art of the duello using the Psneer weapon: we made the momentous discovery that (a) the only defence against the psneer was to cross one's eyes and (b) the only person present who could psneer with his eyes crossed was Silverberg. Also at that party an intelligent discerning young American called Whyte - with a 'y'- asked for my autograph and called me Sir. I became suddenly aware of my three brownish-grey hairs, but it was nice egoboo even so.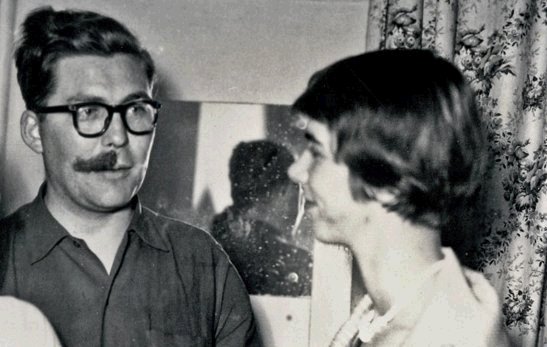 Dave Newman shaves off half his moustache as girlfriend Lesley looks on. (No, I don't know why.)

Later in the lounge we found ourselves in a group composed. of Ethel Lindsay, Walter, Madeleine, Ellis Mills and a few hazy other people. We were carrying ourselves with the conscious superiority of persons who have shunned sleep for some 40 hours or more. We psneered a little, practising our technique. At this point Wally Weber arrived complete with camera and asked what we were doing. We told him it was a new and subtle weapon we were developing for beds and things, and he said he would like to photograph it. We psneered at full strength, in unison, into his flash.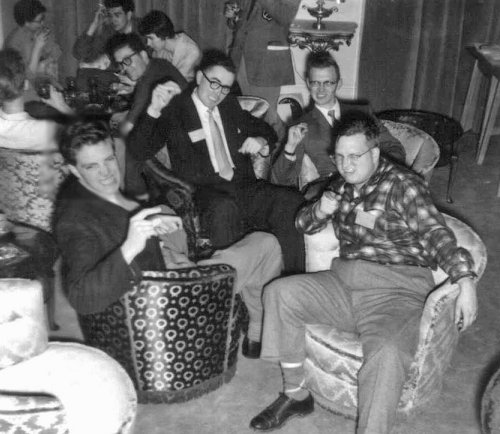 Psneering from Mal Ashworth, James White, Wally Weber, and Ellis Mills,
Note Dave Newman behind with half moustache.

Wally collapsed in a heap on the floor. Struggling weakly to his feet he held the camera to his ear and shook it gently. "Subtle?" Rattle, rattle. "Subtle. Hah hah." It was about this time that the others took an interest in the sneer as a weapon and began to suggest developments; the long-range sneer, the shot-gun sneer, the delayed-action sneer, the Intercontinental Ballistic Sneer, the International Standard Sneer, preserved in perspex at the Smithsonian Institute and so on. The lowly sneer became the Psneer and the science of Psneeronics came into being. We explained it all to Bob Silverberg later and he solemnly avowed his intention of selling it to Campbell.