Saturday 7th November 1953, pm
BRIAN VARLEY:

Lunch was taken in two sittings at 1.00 p.m. and 1.30, and during the meal conversation flowed freely, due to a good piece of organisation in having twenty seated at the same table, this definitely provoked conversation and effectively broke the ice.

After lunch the programme got under way with a study of robotics by a robot name of Len Smith, he did a good job of convincing us of the impossibility of robots but unfortunately his wiring went wrong at the crucial moment and he was carried from the stage. Next in line was the Fantableaux with the whole shower of Medians offering prizes for the first to guess the story portrayed. An interesting sideshow throughout the whole proceedings were the co-Medians with zap guns who fought a running battle all day. Good fun too, trouble was I had to wait for my suit to dry before going out on Sunday morning.

BANG!:

After a very good lunch, some of the madder types went out to buy armaments, There's one shop in Chatham that will remember the Medcon for a long time to come.... A shower of the types suddenly invaded the place and demanded water pistols after clearing the shop of its whole stock, the valiant warriors returned to the Consite and battle commenced..... this Con will go down in history as the wettest of the lot (inside the hall... we wouldn't like the Manchester types to got too jealous) This culminated in a pitched battle during the tea interval which left Shirley Marriot looking like a land-wrecked mermaid and the Convention Hall as if it had been raining inside.

BRIAN VARLEY:

Now came Bert Campbell's description of his American trip, this according to Bert was one long round of lechery. This was in part substantiated by his haggard appearance and the weight of the hirsute appendage upon his jaw. Notwithstanding his dissipation Bert must be congratulated on an excellent impromptu speech. Peter Hamilton then gave us the 'gen' on his new mag, "American S/F" which should appear in February, price one shilling. (Plug-Free sub, Peter?). A surprise interview of Mr Paterson of Scion came next, his reference to Authentic's editor as "our unknown friend" made Campbell retire in confusion. Mr Paterson appears to be a most reasonable gentleman, in fact he requested as many criticisms of Scion's new venture, 'The Vargo Statten Mag', as were possible.

Above: Alistair Paterson, editor of
VARGO STATTEN SCIENCE FICTION MAGAZINE. (photo from Terry Jeeves album).




Right: cover of first issue, vol.1 no.1, January 1954. (scan from http://www.philsp.com).
VINCE CLARKE:
The Medcon gave fans their first glimpse of the Vargo Statten Magazine, as incomplete proof copies of the first issue were displayed. Wish we'd had a camera to record the expression of one enthusiast who grabbed a copy and found that it consisted of the contents page, first story, and a number of blank pages.
The editor, in a short speech during the afternoon of the convention, gave some details about his future plans, and won approval by his evident interest in the opinions of his potential readers. A number of would-be pro-author fans wore very thoughtful expressions for the rest of the proceedings.
BRIAN VARLEY:
Another highspot followed with Tony Thorne's Epishow. This consisted of a back-projection of various well known objects, and again prizes were given for the quick-witted. Thus we went to tea, more zap-gunning and more nattering.
At six prompt we were invited to listen to The Medway Electronic Digital Computing Rotary Analytical Numerating Kontraption, (The Medcrank to you), giving answers to questions from the hall. For example to the question, "What part does sex play in your life?" the answer came that it wasn't play for an electronic brain, IT WAS DAMNED HARD WORK!!.
VINCE CLARKE:
Guests saw and heard the MEDCRANK (Medway Electronic Digital Computing Rotary Analytical Numerating Kontraption) fuse in a cloud of smoke after its reflexes were tested with the odd words "Marilyn Monroe", and fans and authors struggling to pronounce fantasy tongue-twisters in spite of hearing their own words being broadcast back with a two-second time lag.
BANG!:
The Medway contains some of the wackiest electronic engineers outside a George O Smith yarn, and the loudspeaker wore out six times during the afternoon, owing to the weird and varied noises being forced through it. There were weird whoops from en electronic brain (which burnt out in a cloud of evil-smelling smoke after having its reflexes tested with the words "Marilyn. Monroe",)
VINCE CLARKE:
There were various tape-recordings, including one from Arthur C. Clarke, the science-fiction author and astronautics expert, and guests recorded messages to be sent to the States. The atmosphere might be fairly described as electric.
BANG!:
American Philcon memories by Bert Campbell, some practically intelligible tape-recordings from the US, tongue-twisters from members of the audience and a special cheer for Norm Wansborough's attempt, interspatial atmospherics and an interstellar disc-jockey programme, a horror-play complete with eldritch screams....can you wonder that loudspeaker after loudspeaker turned red-hot, radiated far into the ultra-violent, and collapsed in a molten mess? Obviously, no.
The sky was full of things. Balloons, flying saucers and darts hurtled through the hall. Eyebrows shot up as Mr. Paterson of SCION let fly with some fulsome flattery (keeping his eyes firmly averted from the zap-gun-bearing types); pennies shot down special chutes cunningly placed so that they never quite guided the coppers to the correct prize-winning places; appropriately, a White Horse won a racing-game in the fun-fair section three times on the trot; Stuart Mackenzie had a pile of quiz- sheets to be filled in by fan-types. He remarked that it was only a pilot survey, and got the inevitable comment that by the time he was through he'd have a wonderful knowledge of pilots.
BRIAN VARLEY:
Now came the first part of the film show, the premiere of the 'White Horse' film' was given, unfortunately backwards! We then had two hours of semi-scientific shorts and cartoons, with a break for boozing naturally. Immediately after this a gentleman introduced himself as Big-head, not without reason too. (see notes - Rob.)
BANG!:
9.45pm. The Con is practically over, except for the auction. The hall is filled with a thick mist from evaporating zap-gun-water, and a number of pale twins are drifting through it. Dunno why they're twins, but they're pale because of the first rate horror-play just performed as the last-but-one item on the programme, with the back-stage radio-actives really coming into their own with creaking doors, sudden footsteps, and eldritch music, plus a character (who's been second-in command all day but whose identity is slightly hazy,) who established this seasons' latest mode for ghosts as a silk scarf cunningly draped around a sword through the jugular vein.
One disappointment we have had was the fact that on examination during the film session (an ideal time for visiting the bar), we found that the duplicator on Which this stencil should have been run-off was suffering from a coating of blackboard paint across the silk-screen; consequently, this will have to be taken home by one of the editors...probably Vince...and actually duplicated after the Con. A pity, as we could have done it here.
Considering their relatively small size, the Medway group have done wonders during this Con., and we're only sorry that they were too modest to wear identification badges so that we could name them individually; as it is, here and now we can only pass a big vote of thanks to all.
Amongst the guests, Peter Hamilton of NEBULA takes the long distance prize as far as we can see, with Norm Wansborough of Wilts, Eric Bentcliffe (Stockport) and Shirley (Bournemouth) also representing far-flung fandom. Londoners include most of the usual active, semi-active, and would-be-active-if-it-wasn't-for-my-pro-work fans; the editors of this broadsheet, the Bulmers, the Rattigans, the Buckmasters, Tubb Himself, Tony Klein, etc.; there's Brian Varley, late of Manchester and still treasurer of the SUPERMANCON (see you there?), Geoff Wingrove, who plans to bring out a lithoed fanzine shortly, Captain Curle of Grayson and Grayson, Walter Gillings, slightly bewildered after two years or so absence from the field which he did so much to create, and a 10-year old who knew what a BEM was and whom we hope hasn't been distorted for life by this soul-shattering experience.
Let's go and bid at the auction.
BRIAN VARLEY:
The penultimate item was an exceedingly good horror story told by Jim Guy with the aid of stereophonic sound, The excellence of the sound effects can be judged by the fact that 10 minutes of tape-recording took eight solid hours of preparation. Finally came the auction at which good quality books were sold, other conventions please note - no crud. My only complaint was the slowness of the auctioneers; there must be a continuous fire to keep the audience on its toes.
Still we can't complain. YOU DID US PROUD, MEDWAY!!!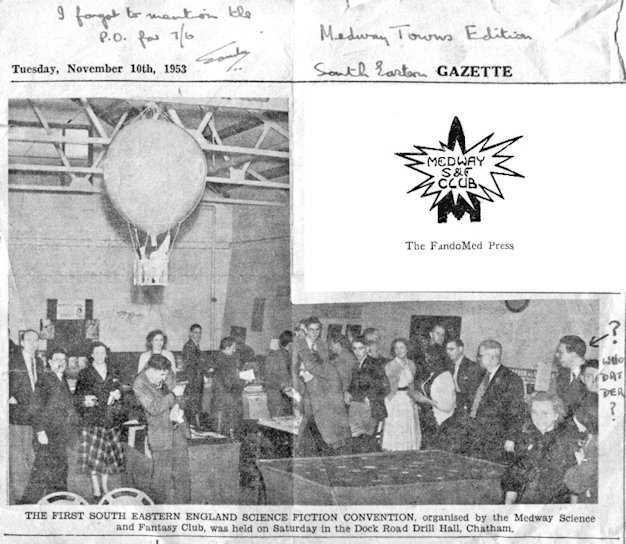 At far left Vince Clarke, Jim & Dorothy Rattigan. Next to them with 'zap gun' is Ron Tripp. Arrow points
to Brian Varley. Note newspaper blithely renaming the con. (clipping from Brian Varley)
NOTES:

A. J. Thorne was my dad who helped out.

The mysterious visitor was one of our members disguised as an alien I seem to recall... The Fan from Outer Space rings a bell... faintly.

We had another sketch wherein "as part of my work at Harwell folks", I'd sneaked a lump of enormously heavium (or something similar) and dropped it... right through the floor, the one below , the cellar... etc.. etc. to the centre of the earth and then up the other side. It returned finally and brought the house down. All to sound effects by Tom Batho on his two recorders and amplifiers.

Jim Guy performed a horror poem with sound effects I recall, which was well received. Arthur C. Clarke sent me a "Best wishes for the Con" tape which we played a couple of times.

- Tony Thorne, April 2017.


ANOTHER REPORT FOUND!
Since these pages were first uploaded, another MEDCON report has been unearthed by Greg Pickersgill. It follows on from this one. Just click on 'Next' below to find it.

And since that one was added, Owen Whiteoak has pointed out Chuck Harris's report in HYPHEN #6.

< PREVIOUS : FRONT PAGE : NEXT > :