Monday 15th July
During the day I donated £10 to Live Aid at my bank then, early in the evening, travelled into town and to The Cambridge, a pub on Cambridge Circus, for the great Harlan Ellison meet. An impressive list of people had turned up to meet him including Brian Aldiss, Bob Shaw, John Clute, Colin Greenland, Malcolm Edwards, Tanith Lee, Rob Holdstock, Lisa Tuttle (but *not* Chris), Clive Barker (author of BOOKS OF BLOOD and a friendly guy), Dave Langford, Geoff Ryman, John Brosnan, Gamma, Nick Landau of Forbidden Planet, Roz Kaveney, Chris Atkinson, Joseph Nicholas, Judith Hanna, and Tise Unpronounceable.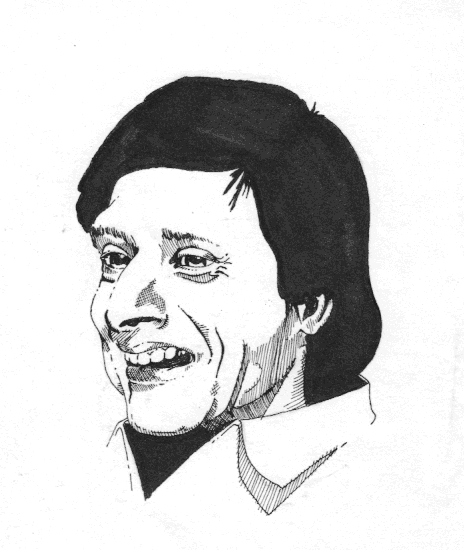 portrait of Harlan by me, circa 1981/2
Ellison was shorter than I'd expected, neatly dressed, and wearing a great, black bomber jacket with a tiger on the back and the slogan: OVER THE HUMP TO BURMA - 1941, presumably a reference to Claire Chennault's Flying Tigers. He played darts, made a point of talking at least once to everyone there, and though a little superficial seemed like a personable enough guy. Bob Shaw had just that day finished a 400 page novel and this trip down to London was a treat to himself. When the pub closed at 11pm he still had a 180 mile drive ahead of him.
Avedon and I left for a meal the same time Ellison did, but unlike him we retired to a local Wendy's for baked potatoes, returning to the pub for a while afterwards before heading home.
(Back when I used to draw I didn't do many straight portraits, but that one of Ellison is probably the best of them. It saddens me that I allowed my skills to atrophy to the point where producing something like that is probably beyond me now.)
Tuesday 16th July
Chris Priest and Pam Wells came over this evening, Chris to deliver another stack of fanzines and Pam to run off some more of NUTZ on my duplicator. Unfortunately, she ran into all manner of trouble and had to give up so as to allow the over-inked drum to dry out for a few days.
Chris amused us with tales of THE LAST DEADLOSS VISIONS, then told a fascinating story about seeing the Beatles perform at The Cavern in Liverpool before they were famous. Sadly, he also informed us he and Lisa were splitting up.
Friday 19th July
Since so many people were at ALBACON up in Scotland where Ellison was GoH there seemed little point going to tonight's BSFA meeting. In any case, Avedon brought Roz back with her and she stayed most of the evening.
Saturday 20th July
We met up with Avedon's friend Linda Melznik by Camden Lock shortly after noon. She was part of a travelling show giving performances of GODSPELL, one of which was to be performed that afternoon in a pavilion erected over the 'dock' by the lock. We chatted over drinks and a meal in a local pub, then Avedon and I left for town, where we bought a number of Motown compilation albums.
(I liked the Camden of the period more than I do its current version and fondly remember things like Compendium Books, the delicious Japanese red bean buns available on one of the market stalls, and the general late punk vibe of the area. I had a hand in its transformation as a member of the team who worked on the large J. Sainsbury supermarket that's now there. I really hate(d) the design of the store, particularly the way the architect used things like fish-plates and tensioning bars as surface decoration, which seemed to me to be taking the piss out of engineers. Other architects lauded it, but a tabloid newspaper compared the rear gates to those at Auschwitz. The company may not have been happy with the comparison, but I thought it was hilarious.)
In the evening, the weather having gone from glorious to cold, we travelled over to Duckett Road in Harringey where Chris Atkinson was hosting a gathering of various people not at ALBACON including Pat Charnock, John Brosnan. Leroy Kettle, Cath Mitchell, Mike Dickinson, and Jackie Gresham.
Sunday 21st July
Over to Ealing for Friends In Space and our first glimpse of Linda Pickersgill since her return from the US. She was very tanned and was as bright and chirpy as usual. A good, chatty evening all round, though it was pissing down when we left the pub. Still, we didn't that that get us down or the obnoxious Geordies making a lot of noise on the tube home.
Monday 22nd July
Took my first ever transatlantic call at work today when Patrick rang from New York to tell me he'd received a registered letter from Bergeron that morning demanding a copy of my letter of 13th December. Ho hum. Patrick was letting me know he'll be replying that if Bergeron wants any of my mail he'll have to get it from me.
Tuesday 23rd July
Kate Davies came over during the day - she and Avedon had a 'picnic' on our living room floor - to help clean my Gestetner so it's ready for Pam to run off the rest of NUTZ on Thursday.
Thursday 25th July
Pam and Kate were there when I in this evening, but Pam had only arrived an hour earlier so there was no chance of running off NUTZ. We decamped to the Boleyn at 8pm for the first meeting of what Avedon chooses to call the 'North East London Sluts'. We four are the only ones who show up. Oh well, better luck next time.
(This was a short-lived attempt to start a get together local to us that fizzled out after a handful of meetings. London fandom of the period already had plenty of regular meetings. Turns out it didn't need another.)
Saturday 27th July
Dave Ettlin and his wife Bonnie flew in today and arrived here early afternoon (old friends of Avedon's - see my TAFF report chapter 'The Man Who Laughed at Death'), and after they settled in Dave proceeded to wipe me out at backgammon. In the evening we to local restaurant the Shamir for an Indian meal. This was my first time there and I found the food a bit too mild. We tried and failed to find a decent local pub afterwards, The Boleyn failing to pass muster because of the loud live music blasting from it. The following day I did my tourist guide bit, taking Dave & Bonnie around the usual sights, getting very wet in the process.
Wednesday 31st July
We received a phone call from Teresa Nielsen Hayden this evening informing us Stu Shiffman had been on an operating table for 12 hours yesterday. Fuck. The operation appears to have been successful, but there's a lot of R&R to follow before we know for sure. Poor Stu!
< PREVIOUS | FIRST | NEXT >